Mom & Baby look alikes!
---
Mocha had a baby a few years back. Her name is Bailey. These pictures are from this summer. Both Mocha & Bailey have the same markings everywhere it's so cool!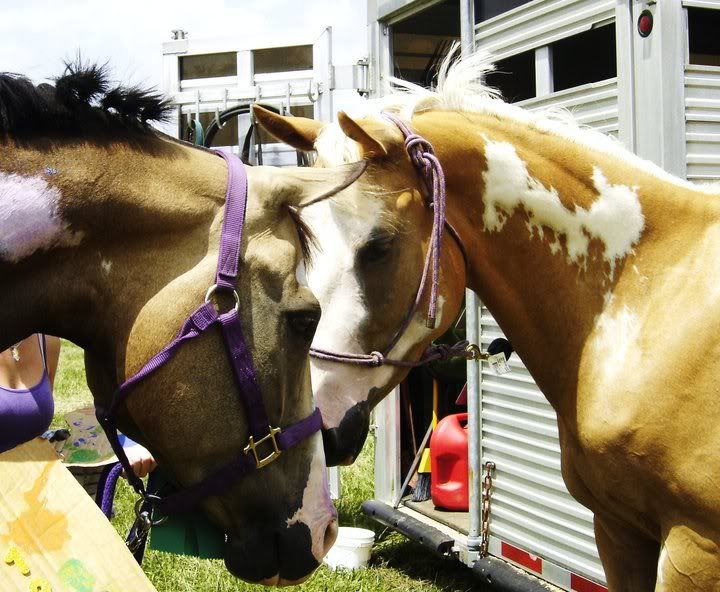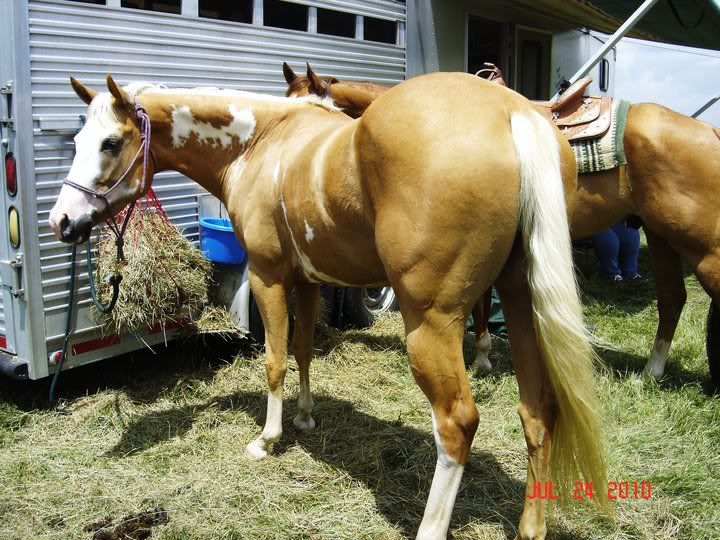 Anyone else seen this? I think it's soo cool!
Abby doesn't have her mom's markings, but she has the exact same body. Her papers are still in her mom's owner's name, so I looked her up on facebook and showed her pictures of Abby. She thought they looked the same too.
Abby's mom. I believe her name is Jess. She's the buckskin overo on the left.
Abby. Her head looks really dumb in this picture..but whatever and this is the best side picture I have.
Oh wow! that's cool! they're build is the exact same!
& they're both gorgeous by the way!!
Posted via Mobile Device
Banned
Join Date: Jul 2009
Location: In a land far far away, or so I wish.
Posts: 12,825
• Horses: 0
Though do have similar markings on their body and neck (not legs) though one is a buckskin and one is a palomino, so saying they look alike is stretching it.
Well I mean duh on the different colors. Of course a palomino isn't going to have black legs Lol but I've just never seen horses & they're mother having such close markings. No they don't look alike per say but I think you can tell they're mother & child.
Posted via Mobile Device
Can't see them enough to really see, but that is really neat! We had a mother daughter that looked alot alike, they actually didn't have any markings, both were completely solid, mom was black and daughter was red, but they were built identical.
Posted via Mobile Device
Green Broke
Join Date: Aug 2010
Location: Southwestern Ontario, Canada
Posts: 3,324
• Horses: 0
We had a sister and brother look alike. They actually ended up going to the same Mennonite guy who wanted a pair of flashy church horses. They both had 2 hind stockings and I think both had narrow blazes. Or one had a blaze and the other had a star and a snip.
---
It is impossible for a man to learn what he thinks he already knows. --Epictetus

I have pics of sire-daughter/son look-alikes.
First picture is of an AQHA stud Colonels Peppy Lena, followed by 2 photos of a filly he sired out of my WelshXQH mare named Lovely Little Lena as well as a shot of his very first foal, General (a yearling in the pic).
They both got their father's head, temperment and coat color. In the sun Lena & General both shone the same bright bloodbay as their sire and General's body markings were identical to those of Colonel's.
Next is a pic of my '09 filly Mouse and her sire Docs Golden Edition
---
"If a horse fails to do something that is because he was not trained to do it. If a horse fails to do something properly that is because he was not trained properly."
www.wildestheartart.com
this is a filly i was looking at and her sire and the marking on their shoulder and their blaze are pretty similar.
---

Baby, Sparta, Carmen, Henry, Hooch, Mercedes, Butterscotch
They don't look alike, but have the same marish attitude.
[/IMG]