Is my mare pregnant!?!?!
---
Okay, when we first got my mare, Blossom, it was May 21, 2010. (5-21-10) and we noticed she was already big, but my dad said most Quarter horses are really big anyways. The man who sold us Blossom, said she could possibly be pregnant by a gray stud in the pasture by the man who sold it to the man who sold it to us lol.
Well the other day we were trying to ride this new saddle we got on Ebay and and tried to kick us for putting the lead rope around her neck. Since then she has been having these violent mood swings.
Thats when my mom said, "Holy cow! is she pregnant!?!" I guess I see her everyday and did't notice how big she has gotten!, what do you think?
The first 2 pictures were taken on 5-22-10, The next are today and yesterdays.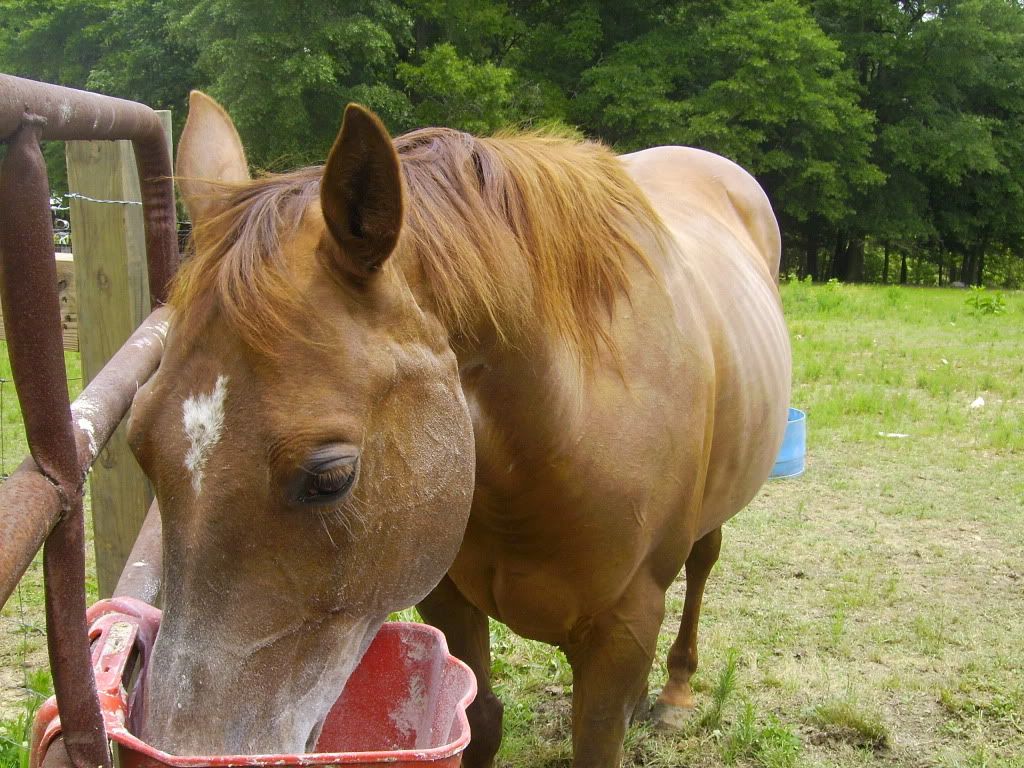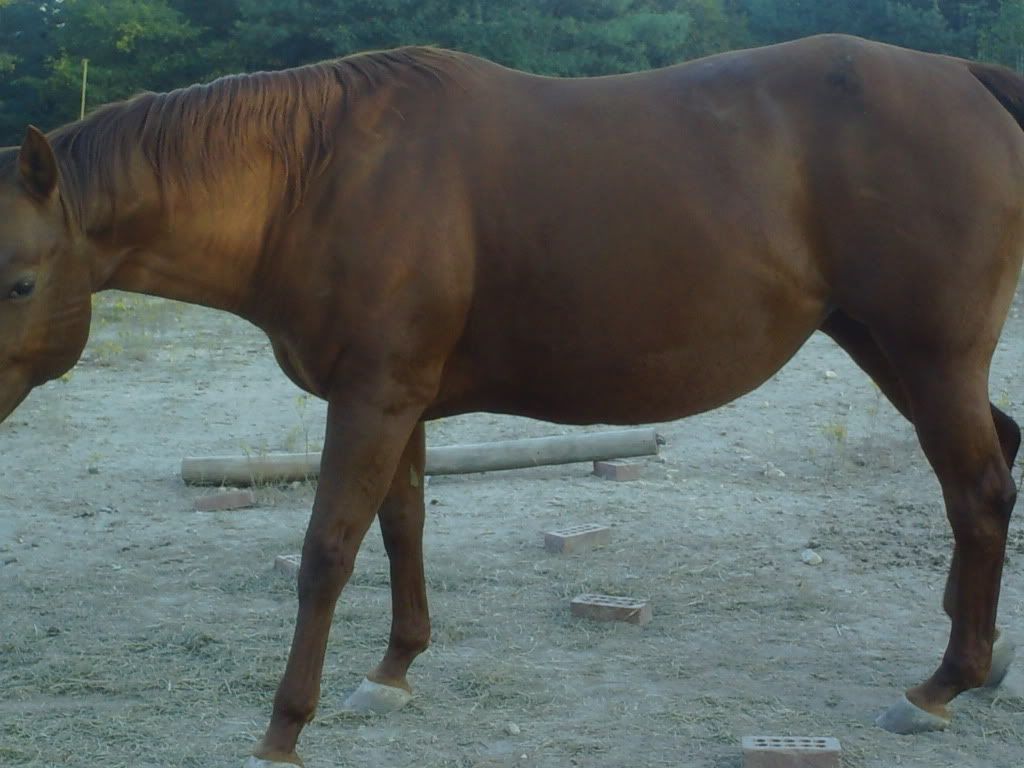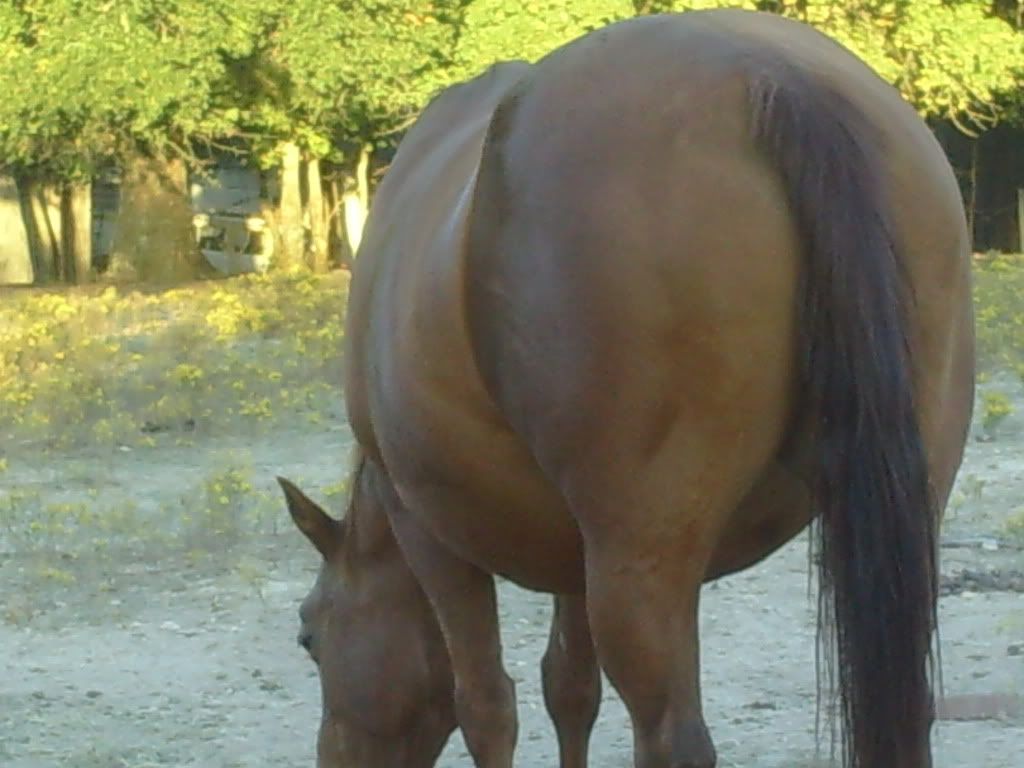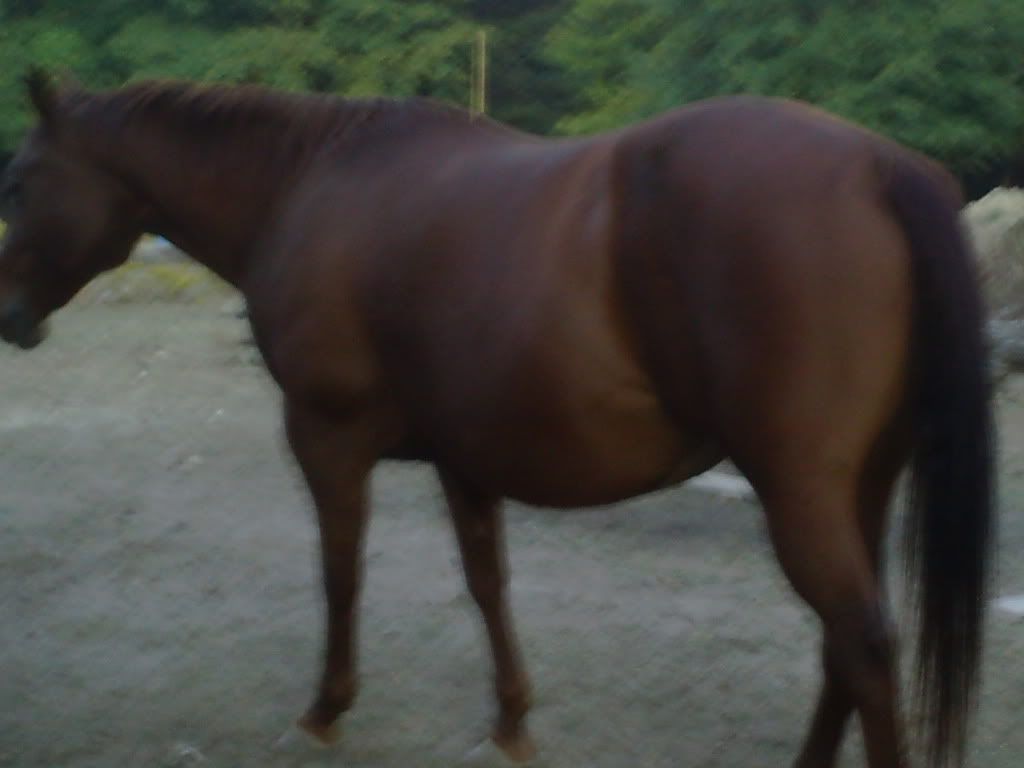 ---
Outlaw Blossom <3 a true gift from God
Green Broke
Join Date: Jun 2009
Location: Was in Ocala, Fl Now In West Union SC!
Posts: 3,175
• Horses:
1
HOLLY FATT MOMMA! I say yes but only a vet can say for sure.
hahaha, I know, I did know how truly fat she was until my mom was a few feet behind her and said holy cow! She is fatt!
---
Outlaw Blossom <3 a true gift from God
Wow, that is quite a change
. I would also guess that she is but you might want to get the vet out to preg check her. That way, you know for sure and can start preparing.
Have you looked under her to see if her udder is starting to swell, or any other changes there?
My vote: Preggo!
Posted via Mobile Device
Definitely get the vet to be sure lol but she looks preggers!
---
"If a horse fails to do something that is because he was not trained to do it. If a horse fails to do something properly that is because he was not trained properly."
www.wildestheartart.com
Yes, here is a picture of her teats from 1 week ago. I am going to price the vets and maybe we can get her/him to come out!
---
Outlaw Blossom <3 a true gift from God
Banned
Join Date: Jul 2009
Location: In a land far far away, or so I wish.
Posts: 12,825
• Horses: 0
Silly question because I really do not understand - when someone buys a mare and they are told it might be pregnant, why do they not immediately have a vet check it to determine if it is?

I honestly do not get this. The OP is not the only one. We get these posts all the time.

Note to everyone (OP included) if you have a mare that might have been exposed to a stallion have a vet look at them to determine if they are pregnant.


OP, your mare does look pregnant. Please call the vet and have the vet check her.
AB, I agree with you, although I am guilty of not doing it myself. When I got Freyja, I knew she had been pastured with the stallion since Finn's birth (2 months time). The owner was getting rid of Freyja because she had not bred, and they figured she was in too poor of shape to breed back. The owner never saw heat or "saw the stallion breed her", or show any real interest in Freyja. I also, was inclined to think there was no way poor Freyja could have taken in the condition she was in, so I never had her checked - my bad. I didn't find out she WAS in fact bred until many months later - too late, at that point, to flush. Had I known earlier, I would have had it done, because Freyja was in such poor shape she should not have carried another foal. Live and learn.

To the OP - get the vet out to check the mare out. Not only to confirm pregnancy, if she is, but you also want a vet to be seeing her through her pregnancy, so when time comes to deliver you have a vet already familiar with your horse and her health, in case there are problems with the delivery.
---
Last edited by Indyhorse; 11-17-2010 at

10:12 AM

.