My mares leaking
---
Ok so my TB mares teets are leaking but I don't know why. I havent seen her go into heat since I've had her and I'm wondering if shes in foal. Can anybody help?
---
Bailey's Mountain
6 year old tb
Banned
Join Date: Jul 2009
Location: In a land far far away, or so I wish.
Posts: 12,825
• Horses: 0
Quote:
Originally Posted by
english_rider144
View Post
Can anybody help?
Yes, your vet can help!
Some mares never show signs of heat. Does she show any other obvious signs of being pregnant? If she is pregnant to the point of dripping milk she would look pregnant.
well her bellys big, we thought it was a hay belly or a wormy belly and that was ruled out. i'm going to call my vet today
---
Bailey's Mountain
6 year old tb
How big is her belly? Is it this big?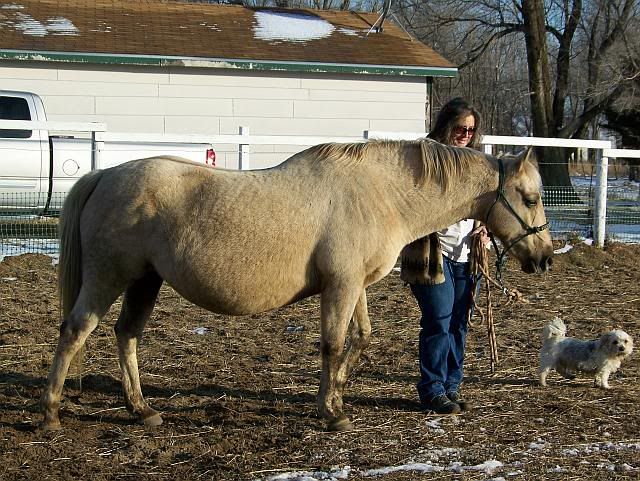 ---
Some horses just drip from time to time - we used to have a member here who's horse was pretty much lactating at all times. Is her udder big and full, or just normal and dripping? How long have you had the mare? I agree with Alwaysbehind - get her checked out by your vet asap. If she's pregnant, and to the point she's dripping milk, she's likely due to foal very soon.
no her belly isnt that big but still I'll have her checked. there a bit full.
---
Bailey's Mountain
6 year old tb
Depending on how long backed your mare is, she might not look as big as the horse in the picture - the mare's body shape plays a big part in how she carries and I've seen some mares ready to foal that hardly looked pregnant, other who looked like their belly was practically dragging the ground.

Good for you getting the vet out to check. Let us know what they say!
oh i kno i have a 16 hand mare in which i traded for, she has now all of a sudden showing all the signs and waxing, all mares are diffrent. best thing to do is keep an eye on them
---
Strength lies within the heart
but the strengh to trust lies between the horse and his rider!!!
Just a little update from me(english_rider144 is my cousin), the mare is fine, not pregnant.
Similar Threads
Thread
Thread Starter
Forum
Replies
Last Post
Mares only?

Seahorseys

Barn Maintenance

27

04-08-2010

08:00 PM

Mares

ChingazMyBoy

Horse Training

61

11-15-2009

03:31 PM

Two mares for $100 in TN

AussieDaisyGirl

Horses for Sale

1

05-27-2009

09:23 AM

She's leaking

farmpony84

Horse Breeding

23

04-14-2009

02:34 PM

Mares Mounting Mares?

whitetrashwarmblood

Horse Health

10

08-25-2008

10:52 PM