My Mini Mare
---
This is my daughter's little mini. We got her in the fall and was told not too long ago that she was exposed to a mini stallion prior to us bringing her home. She has been on limited turnout and a diet for the last few months to keep her from being overweight and having issues with the green grass, but nonetheless has a big ol' belly. I have been checking her bag nightly in case anything changed, and have repeatedly tried to feel any foal movement, but nothing.
Last night, got to the barn and turned her out for her grazing time. She went out, stopped, and acted like she was about to pee but didn't pee - this mucousy (almost white-ish, maybe cloudy? couldn't get close enough to see) stuff dribbled out. She did this every couple of minutes for a bit last night, stopped to roll but didn't the first couple of times (not like a colic, she rolls every time I turn her out), usually throws herself down like a wildwoman, but last night when she finally did roll, she verrrry carefully laid down and did it. Graze a little bit, then would do the "pee thing" again, winking a bit, and I ended up just putting her back up so I could keep an eye on her. She would stand with her tail held out and her ears back, would occasionally look back at her flanks, do the pee thing, and I could see her sides tense up.
I stuck around for a while, finishing barn chores, and ended up going home. Now worrying & anxious because my "possibly" pregnant mare looks more like a "probably". No idea of a due date, only a 2-3 month range of when she could have been bred. No bag filling. No wax. I thought her vulva looked very relaxed last night, but she did not have jello butt or anything.
So what could this be? She was so calm this morning, I was thinking maybe she isn't pregnant after all and I am just losing my mind! LOL! I wouldn't think it is first stage labor since it didn't progress, but they can stop that, can't they, if I am around and bugging her? Or do they have like false labor, repositioning the foal?
I couldn't sleep last night, so I drove out to the barn at 2am and put up woven wire on the dividing panels between her run and her neighbors, so if a foal came, it couldn't roll into the other run. And then I felt like such a fool for doing it, as she munched on her hay, completely nonchalant, mocking me for being worried! LOL!
This is her a couple of weeks ago, what do you think?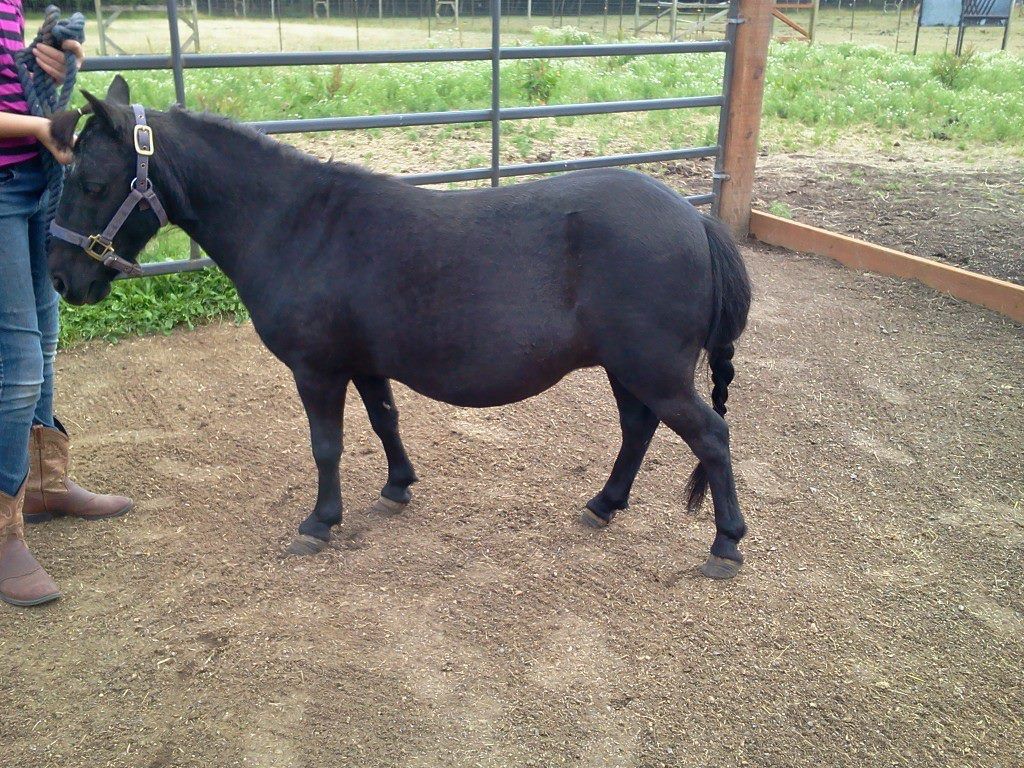 Welcome to the waiting game, lol. I was told my mare was origionally due at the end of May, and here we are at the end of June and still no baby. I finally got a hold of the previous owner and after refiguring, I now have roughly 3 more weeks of waiting (oh, joy)! My mare has experienced bag filling, but never full, able to get colostrum out, sometimes leaking clear fluid from vulva (lubrication I figure), sometimes extended vulva, then shrinks back up. I think these are mostly signs that she is approaching the last trimester, and this is just her body getting itself ready. I keep an eye on her and am trying the pool test strips to see if they do indeed work, since there are mixed reviews. Best advice, keep an eye on her, but don't overdue it, as they can put labor off, but only for a certain amount of time. You just don't want her stressed out.
---
"To see the wind's power, the rain's cleansing and the sun's radiant life, one need only to look at the horse."