My plans
---
What do you think of his foals? I'm planning to either breed my Haflinger mare to him, buy a foal or (if I can) buy a mare in foal to him. I've been planning this for two years now.
His foals:
Clydesdale Cross
Haflinger Cross
Haflinger Cross
Haflinger Cross
Pinto Cross
---
100% Anti-Slaughter and PROUD of it!

Hmm. I think SUJ, from reading your previous posts, you are a fan of Haflingers. Why are you considering breeding to this paricular stallion? I have never yet seen a good conformation shot of him or his pedigree and he's (unfortunately) well known in the breed for pretty much only producing crossbred foals.

If you are definitely wanting to cross breed, then there are plenty of really good quality Gypsies who have proven their worth, in your area. Whether or not they'd cross breed of course, is another story.

What do you hope to gain with this breeding? Why this particular stallion?

Lizzie
Because I know the temperament of his foals and have seen what he produces. I have also considered a few others but I am drawn back to Leo. I have considered the other stallion they have on their property, Bold Breck, and think that the match wouldn't compliment my mare as well as Lively Leo. His neck isn't put together as well and he does not throw color. Which isn't a MAIN concern of mine but it would be nice to have something that has color in case I have to ever sell. (Which I do not plan to do). I see the foal as being a key of sorts into registrable showing of the Vanner horse, as although I do love Haflingers I do like Vanners as well. Their gentle personality and flashy looks are hard to ignore. I also have been keeping an eye on Latcho Zor but haven't seen what he can produce and I'm not sure if they would cross to a Haflinger. BUT his owners do live closer to me and I have been tempted to e-mail them asking for an onsite visit of their facilities and if they would.
I want to maintain the temperament of the Haflinger and/or Vanner while having more feather, mane and tail than a Haflinger but stick with a drafty build. I'd like to use the foal for showing and cart.
This is still pretty much on the I'm not 100% sure side but I have been dreaming of it and planning it all for two years. I've done my homework, read the books, seen live births, know the costs and have the space (including a larger foaling stall). So actually buying a foal or breeding for one would be a dream come true to me.
The only reasons I have not scheduled my mare for breeding is because breeding right now is kind of taboo and I want the financial back bone in case anything happens.
Lively Leo is out of Vine's Head and Ears and Lake Ridge Gypsy Love. He is a grandson of The Buck Horse and The Lottery Horse.
Bold Breck
His first foal
Latcho Zor
---
100% Anti-Slaughter and PROUD of it!

---
Last edited by ShutUpJoe; 11-28-2010 at

04:29 PM

.
Is there a good conformation shot of your mare available to us?

Honestly, while a stallion might produce nice offspring, the end result with your mare will certainly be, at least partly, effected by her.

My next question is what do you want to do with the foal? That would be a major factor in whether this stallion is going to produce what you'd like.

If you're in communication with the owners, could you get your hands on conformation shot (or 4) of him? You can't just look at the offspring he produces, because, as I just mentioned, the mare has something to do with that as well. To have an "idea" of what is coming from him and what comes from the mare, a shot of each of the mares he's been bred to would really help, along with good photos of the foals.
I have been to see one of his foals and his owners have offered for me to come to their farm to see Lively Leo in person. Unfortunately I got lost trying to find their place when I tried to go there. I am planning to try again in February next year. Not just for seeing Lively Leo but also viewing the mares and foals that she has for sale at that time and talking over a few issues that I have.
This is when I first bought her (not my place)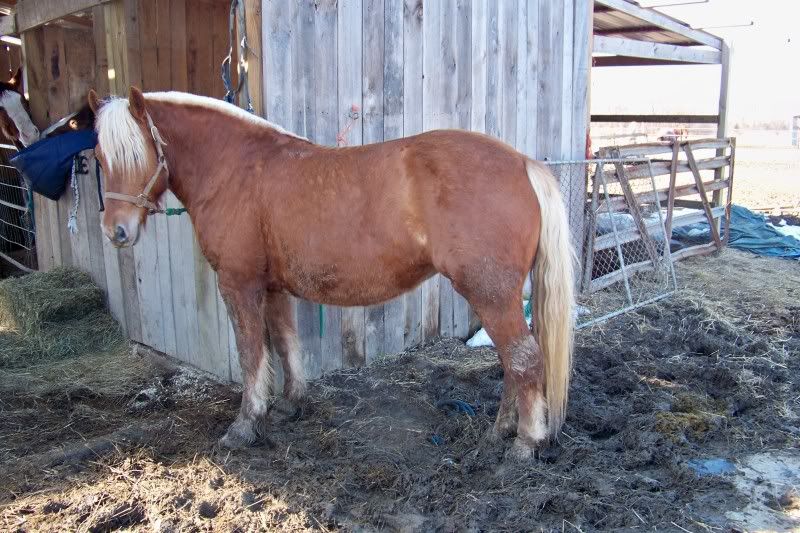 Again not my place
Just to show her build and feathering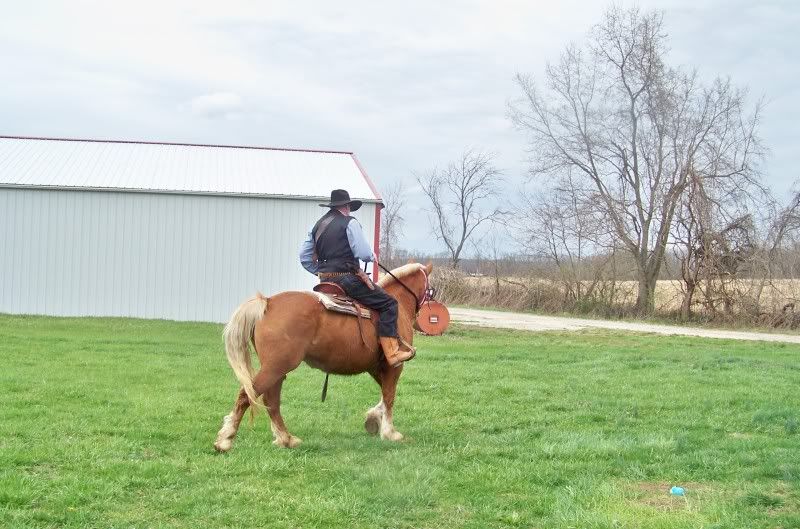 ---
100% Anti-Slaughter and PROUD of it!

Just a point to note SUJ, the second stallion can throw colour. Even a stallion who is HZ for a white pattern might not throw colour, there is lots going on that we still don't know about. There are plenty of 'solid' horses that are actually carrying a supposed dominant pattern. I have even seen horses that are completely solid, with no white markings at all, that are HZ for white patterns.

In terms of temperament, I don't think that bloodlines have nearly as much to do with it as people think. If you set out right, and work consistently with a horse from birth, you are going to have the best chance of having a horse with a good temperament. The mare's temperament will have some play in it, since this is what the foal sees modelled for the first part in it's life, but I don't think the stallion's matters much at all.
---
Mods, grant me the serenity to see the opinions I cannot change, courage to change the ones that should change, and the wisdom to spot the trolls.
Chiilaa- I am going to disagree a bit. There have been cases of stallions passing on things to their foals. I am drawing a blank on the name at the moment, but there was a TB stud that was known for kicking the snot out of his stall. You could always tell which foals were his. They did the same thing. There are other stallions that have passed on other traits. I think that temperament does have a base in genetics and we can only influence what we would like it to be like.
ND - without thread hijacking - I agree that we see patterns in bloodlines of 'good' horses and less than 'good' horses in terms of vices and temperament. I just think there is a lot more play in the environment than most people give credit for.
Now for the thread hijack - did you know they have just developed a test for LP??? It's not for the direct mutation, but for a couple of strands that are found with it.
http://onlinelibrary.wiley.com/doi/10.1111/j.1365-2052.2010.02119.x/full
---
Mods, grant me the serenity to see the opinions I cannot change, courage to change the ones that should change, and the wisdom to spot the trolls.
Lol Totally thread hijack.

I knew they were developing a test, but I do not think it is available to the public at this point in time. But I could very well be wrong on that score. :)
I worded that wrong, I should have put he hasn't thrown color. I know he can. I don't know why I wrote that that way.
---
100% Anti-Slaughter and PROUD of it!