I brought Bigs into the barn last night for a brushing & photos....
let's be honest.... my real agenda was to poke, prod and generally look at embarrassing parts. I did take the obligatory "teat-shot", but it is very unexciting as of now.
I'm at work, but I did bring my camera and transfer cord. I will be uploading photos late in the lunch hour
Bigs had been sleeping before I brought her inside. I noticed it while I was dumping wheel barrows & starting to bring the show ponies in.
This is not very normal for her. I very rarely catch her lying down, and she certainly doesn't stay there as soon as she notices people. This time, she was actually kind of snoring - in the sternal position with her nose all smooshed. I did take a 90 second video, but it was quite dark and the fluorescent dry-lot light really doesn't reach quite that far into the mares' pen. After some of the boys were in, I haltered her and brought her in.
Of course she promptly started pooping everywhere
on my freshly swept floor. I understand being inside makes her nervous because prior owners didn't really have a "barn" in the same way I do, but come on... how much poop can one horse produce in a 20 minute time frame?!
Anyhow, here of some of the photos taken 3-9-12 (and I mean some. These are just the ones that don't make her look like an absolute trainwreck. Turns out taking pictures is HARD
- I imagine it is:
50% I'm bad at it
25% she's an uncooperative subject
10% cheap camera
10% bad lighting, room, area etc
5% lack of good "help"
Notes for foal watchers:
1. Her udder is not bagging, but it is getting droopy & floppy
2. She's packed full, no flank room, sides are firm, belly is LARGE
3. She's getting very soft in the hindquarters.
4. Tailhead and nearby structures are like Jell-O that wasn't boiled long enough.
5. Hooha is losing tone (this observation is made under *MUCH* protest, and there will not be any hooha photos taken unless there is a foal coming out)
6. Blood vessels all along her abdomen are "popping" out. They can be seen and felt very easily.
She is right around 315 days today. Prior owner said she foaled in the "normal amount of time" whatever that means?? The weather is supposed to get really nice over the next 10 days, so I'm hoping that gives her some incentive to foal a little early (because I'm sick of waiting)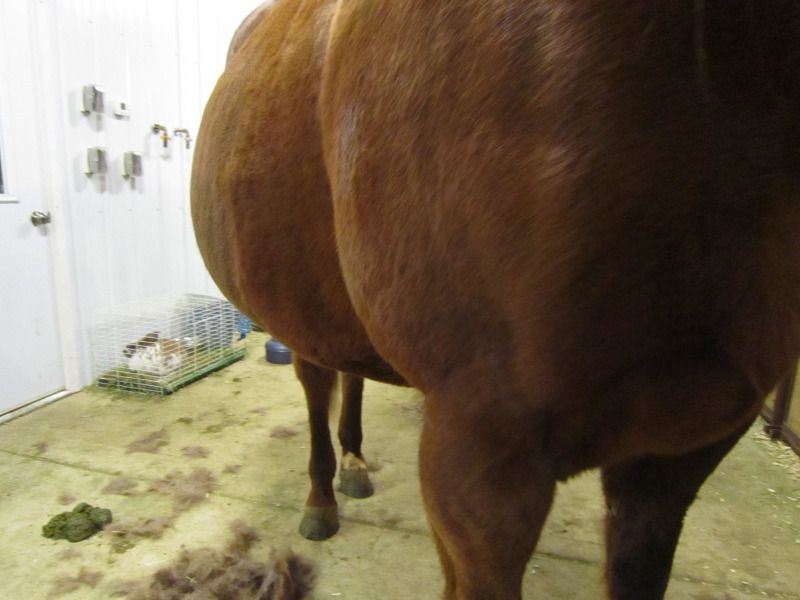 and even though this photo shows nothing, here is the photo everyone will probably be wanting to see more & more of. Sorry it's blurry and not very good. I wasn't about to crawl under Bigs to get a better angle.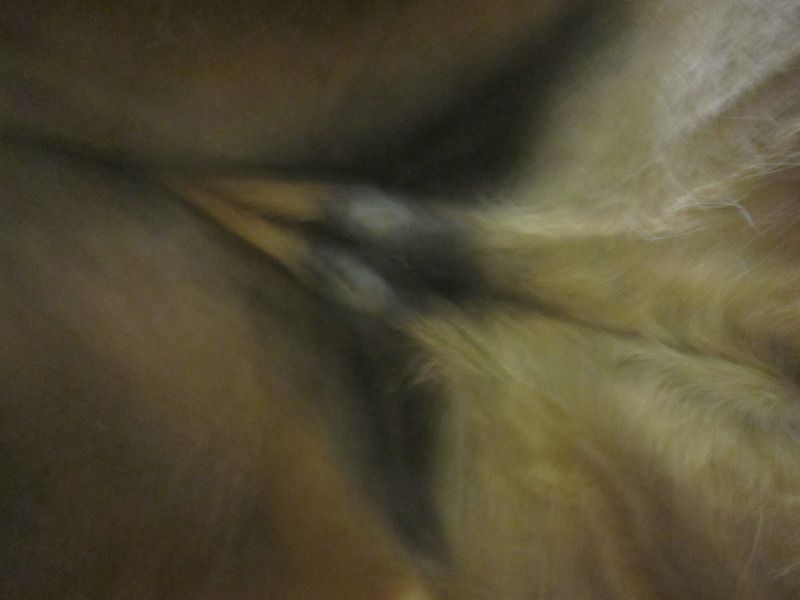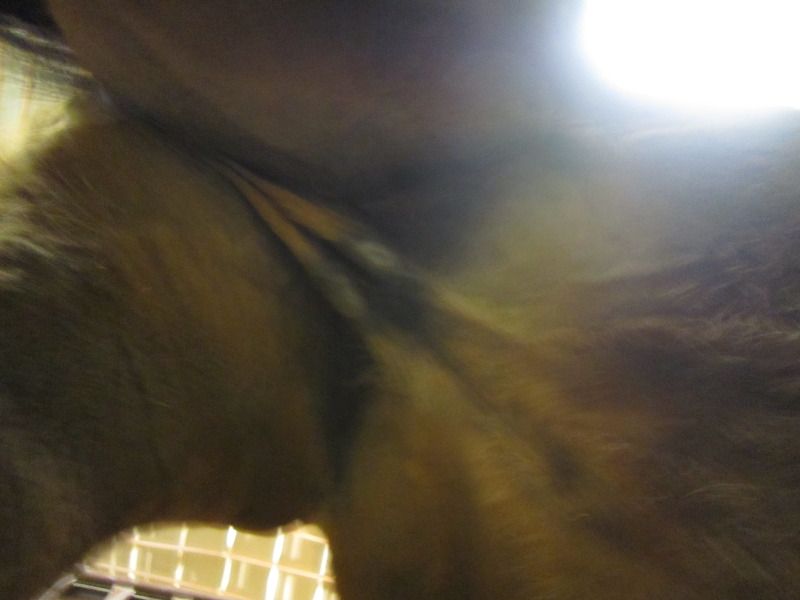 *dies of shock* No helper noses in the back ground?! What is this nonsense?
She looks like she is progressing well. Sure wish I knew what they meant by "normal."
Harley, Sonny, Stan & Travis were in, although they had their heads buried in the hay feeders, so you can only see Harley's butt in one photo. Pay no attention to the little dog either, she randomly appears in 90% of my photos.
Lol I saw her! It's not a picture of yours without her in there. lol She was making sure that giant hair pile wouldn't grow legs and run away
Actually, you don't really want to know what Max was up to.