awwwww.... Tassas Texolena Cash
---
"To see the wind's power, the rain's cleansing and the sun's radiant life, one need only to look at the horse."
thanks everyone for the suggestions keep them coming as still undecided lol for anyone who doesn't know
Dam is : Ev Red Rose Of Texas (aka rosie)
Sire is : Tassa Lena
some more pics of his first day out in the paddock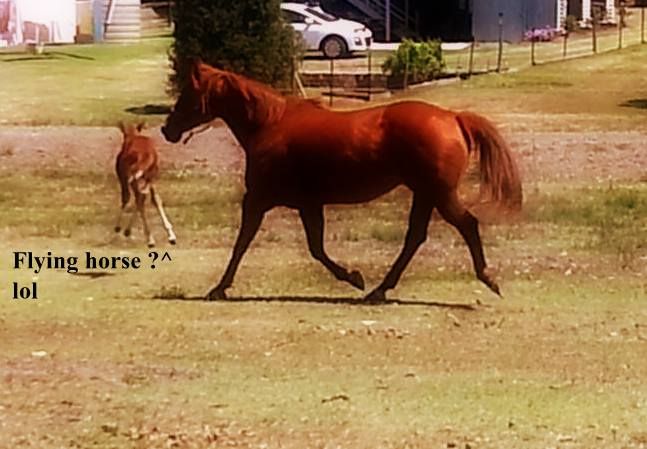 sorry don't have great camera so not good quality lol only have my mobile phone to take pics with
Nice looking boy!
---
People with true credibility and integrity don't need to tell other people how great they are.
He's adorable! How about Tassas Texolena Red.
Tassas Texolena In the Red.
Thanks guys i think he is super cute thanks for the names keep them comming
Posted via Mobile Device
Awwww he's precious!! I love the first pic especially.
---
Being horseless is the pits!!
Well got a big fright today I decided to go sit out in the paddock with foal and mum try and get some love from foal. anyway I was sitting there under the shade of a tree when I seen a cat in the paddock feral one by the looks of it anyway rosie started snorting at it well I thought it was the cat she was snorting at so I thought id be her hero and shoo the cat out of the paddock after shooing it she was still snorting and this cat was looking over in my direction to so I look down and here is this huge I reckon 5ft BROWN SNAKE ! (in the top 10 list of snakes lol) . So almost messed me pants haha shoed the rosie and foal away and then quickly called them over to there night yard and locked them up. Went back but couldn't find the snake again so scary though as about 5 mins before that foal was wondering off on his own but it was in the other direction glad it wasn't in the direction the snake was in or who knows what could of happened with him being young and not knowing any better. Now im worried about letting them out in the paddock anyone have any snake repellent ideas ?
Quote:
Now im worried about letting them out in the paddock anyone have any snake repellent ideas ?
The most effective way to get rid of snakes is to get rid of their food source, e.g. mice/rodents. Keep the grass/weeds cut, make sure any feed/grain is in metal containers, get rid of any standing water, and remove any clutter that rodents like to live under....and keep that feral cat around.
Around here, animal control will only remove a snake from inside your house, but here is some info from them:
Here is a list of useful ways to keep snakes away:
Eliminate debris such as wood or rock piles on the property.
Cut down heavy brush or trim back hedges.
Seal small gaps under doors or decks, etc.
Use funnel type traps or glue board type traps along edges.
An extreme remedy would be a perimeter wide fence sloping outward at a 30 degree angle.
The following remedies really won't work:
Use of sisal rope around the property - the theory is that the course rope is tough on a snake's belly, but it's not true.
Use of snake repellants such as sulphur, moth balls, or Snake-A-Way, a combination of the two.
Use of predator scents such as mongoose urine.
Use of ultrasonic sound emitters (snakes can't hear, at least in high frequencies).
Use of fake owls or hawk decoys.
---
On the sixth day, God created the Quarter Horse.
On the seventh day, he Painted the good ones.
---
Last edited by PaintHorseMares; 10-06-2013 at

05:24 AM

.
thanks for that :) . there isn't any clutter or anything in the paddock and we keep all our horse feed in bins rodent free and not anywhere near that paddock no water except the horses water tubs which are old bath tubs sitting off the ground. Im expecting the thing come from surrounding yards as there is an old truck depo behind the paddock and a few peoples back yards back onto there paddock and some of them have a bit of junk in the yards we don't even have long grass as its all still dry around here lol. I will defiantly not be chasing the feral cat away if I see it again defiantly not now after I found out what it was chasing lol. just so nervous now with foal couldn't handle if something happened to him
sorry but more pics haha heres a few from this afternoon he is 8 days old today already thinks he is a big horse trys eating the hay and the mixed food today he thought he would chew the feed bucket instead haha
here he is with a mouth full of hay the silly bugger
with the kids (kids trying to sneak a pat lol)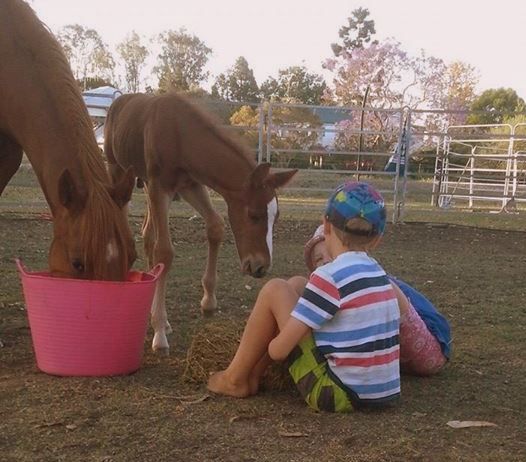 pooring at the hay maybe he is waiting for milk to come out of it lol
gumming the feed bucket to death lol
my daughter taliah sneaking a little pat