haha well like I said this is my father in laws mare we keep our horses at his place he has this girl and a tb mare in foal as well the tb is huge but shes not meant to be due until late nov/dec I think
well talk about unlucky vet rang today rosie looks like she will be ready to be ai tomorrow however now the stallion owner is away competing so we cant get semen until next week so then we would have to wait an extra cycle which mean $500 in agistment alone :( nothing ever seems to run smoothly for us. we assumed being a big stud they would have someone there to do the semen when he is away but turns out not the case hubby ringing him in about an hour to see if theres anyway we can get it even if we pay for the vet to come collect will still probably work out cheaper then waiting and paying extra agistment wish we had of known semen wasn't available when he is away. wish me luck !
Oh my goodness, are you kidding? I know fresh is better but have you considered frozen? Do they even offer it?
Posted via Mobile Device
prefer fresh but probably wouldn't even be able to send the frozen anyway since it seems no ones there to collect semen anyway im feeling so grrrrrrr frustrated paying big money for this semen and don't even have it available when we need it. Hubby decided not to ring doesn't want to get in the bad books with the stallion owner as he wants to keep using the stallion latter down the track so doesn't know what to say without seeming like an arse lol. Vet just scanned rosie again said she would probably be ready tomorrow or next day but not quiet in season yet so said he is going to try and stop her with drugs and hold her off until next week if he can fingers crossed for us :(
You know I hope it all works out 😊!
Posted via Mobile Device
Thanks me to hopefully this time next week we should no if she held off and if they ai will be done. well shads diet has been going for about 2 days now feel bad for her haha when shes finished eating her little bit of feed she picks the bucket up and throws it like thanks for nothing !!! lol heres a couple pics I took of her today and her belly so I can see if shes lost much weight by the time shes ready to get her ai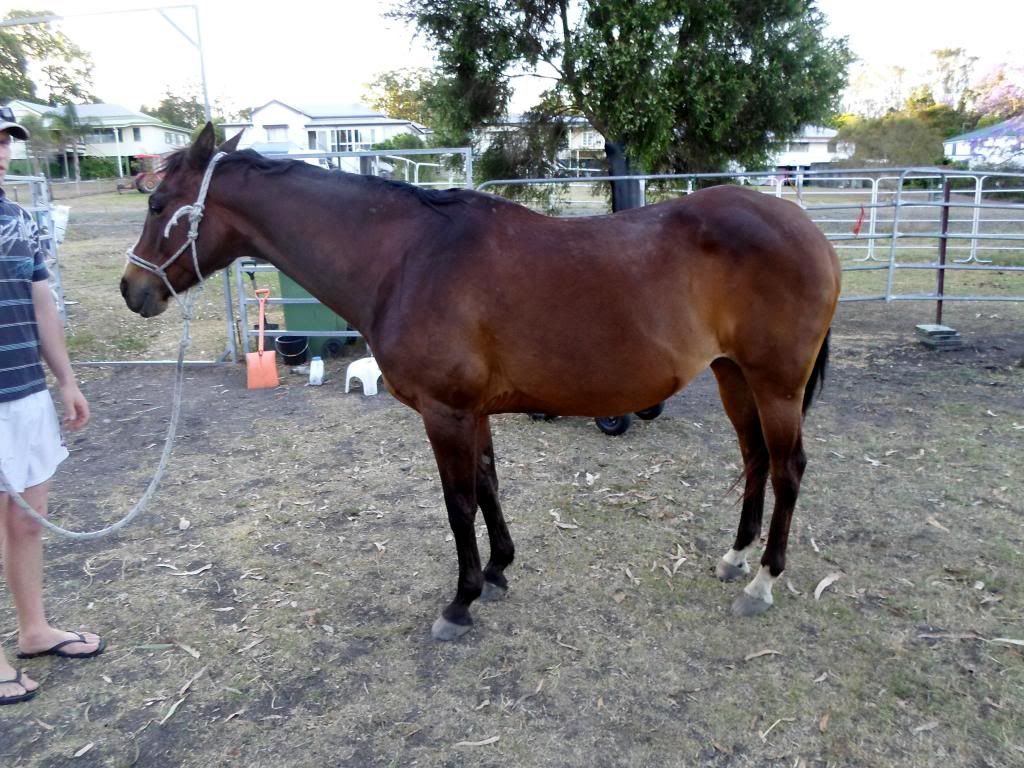 mind u shes looking a little rough since she come back from the other stud her itch had come back with a vengeance I had it all looking good before she left but she's almost rubbed her tail out again the naughty girl. so im now working on that again.
Poor Shads, she's just so hungry....hehe.
Posted via Mobile Device
lol yeah I said to hubby I felt bad for her and he just looked at me and then her belly and said I think she will survive haha
What a beautiful baby boy you have :) just thought I'd throw palomino filly vibes your way! Good luck with the AI as well, it can be really hard sometimes syncing up cycles to when the stallion can be collected from, especially when he is in work and showing :) hopefully she'll take first time for you.
Posted via Mobile Device
Thanks heaps Jacqua stud need all the vibes I can get lol. yeah this is our first experience with ai think its just really frustrating because they stallion we are getting the semen from isn't in work or showing he is still there at the stud its just the owners are away and being a big stud I assumed someone would be there to collect semen being it is right in the middle of breeding season and they would have to have someone there caring for the horses while they are away but I guess we cant do much about it. service fee for the stallion is $2200 so thought paying a good price we wouldn't have problems getting the semen when we need it. Here's to hoping vet has success holding rosie off cycling until next week :) then it will be shads turn hopefully things will run smoother with her ai :)