OH OH on other news lol I have already named the unborn unconceived foal hahaha. as u know sires name is Seligman spin so I have come up with an awesome name in my opinion anyway haha Seligmans Sequel.... what do you all think lol yes I think I have to much time on my hands but with cash away I have nothing to do except think of names for the new foals for next year lol
Oh, don't get me started even thinking about that, since my mare's are not even bred yet, lol. Thank name is cool, especially if it turns out looking just like dad!
---
"To see the wind's power, the rain's cleansing and the sun's radiant life, one need only to look at the horse."
Love the name 😊. Don't know about you but I can come up with registered names all day it's the "barn" name I always have trouble with. It's going to be a long pregnancy if you already named it and she's not pregnant yet...lol
Posted via Mobile Device
yep sure is going to be a long wait well there's a debate on actually about reg name as I said I want to call it Seligmans Sequel hubby wants to call it Seligmans Gift ( if its a palomino filly) His theory is it will be a gift if its a filly and a gift if its a pally lol. So there may be quiet the debate if it comes out a pally filly lol. the last few days seem to be going sooooo slowwww waiting for next week to come to find out about rosie and if vet could hold her off
Well, if AQHA allows 21 or more letters in a name, you could always name a Palomino Filly: Seligmans Golden Gift, lol, then call it Goldie!!!
---
"To see the wind's power, the rain's cleansing and the sun's radiant life, one need only to look at the horse."
lol well that's another good suggestion falcor
there was a write up on tassa lena ( cash's dad ) in a magazine the other day we had to buy it of course and scanned the pics so we could keep them forever since he is gone now. Anyway here one of the pics in the magazine of Tassa Lena the day he was brought as a 2yr old from usa which he was latter imported here to aus :) and heres a pic of cash standing just like daddy lol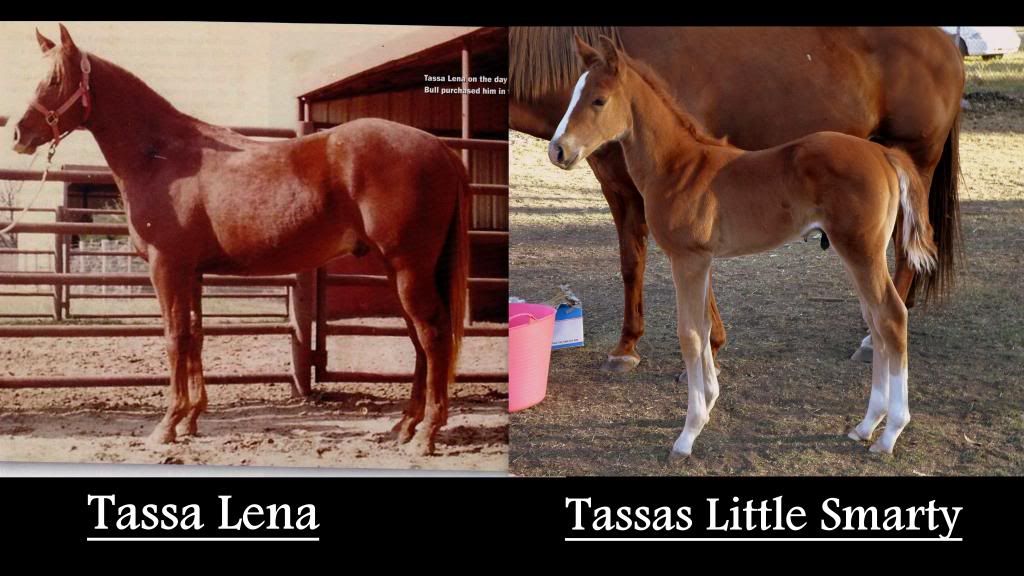 U 3 are going to start a frenzy if we're already talking next year's crop of 'babies'... I don't know if my heart can take another HF online foal watch like this year!

Donna ;-D
Sarah, Mr. Cash's back end is riding the elevator and has gone up a floor... He is a handsome boy. It is great that you were able to get that write up on his sire.
Look at the little guy, already standing like Daddy, maybe that's a sign he will grow up and be as good as his Dad 😉!
Posted via Mobile Device
Really hoping so guess we will see in a few years when hubby starts drafting him :) Thanks wdblevin ! yeah I thought it was really good to they done a write up on him in his memory glad I managed to get a copy to lol. well I received new today from the vet. He emailed me saying rosie will hold off until the semen comes thank goodness !! im so happy so hopefully in a sometime this week we will get a call saying she has been ai and all is well lol Cant wait to get our cash boy home even been putting money aside for the vet bill that way its not just a huge lump sum. vet will be doing her teeth to while she's there and giving her a Hendra shot to so everything will be all at the one time think its better to get it all done and over with. :)