I dont know.... somedays Dusty looks just like that. and then 20 minutes later she looks like a huge balloon! Maybe that little booger is just movin around in there... she is sticking out on that one side and not so much the other.... whick makes me think maybe the rascal is layin on one side. Thats why I kept questioning Dustys pregnancy. Sometimes she looked super pregnant and sometimes not so much... but the vet verified her in foal... so keep watchin her :) Maybe they will foal on the same day... the forum will be overloaded with pics :)
Day 426 or 336 and still nothing...I need a drink or several
Yikes! If she is with Alto then you might have a few weeks left. Some mares go FOREVER! A sure fire way to get a foal, don't be ready or counting down. It only makes them hold it in longer...
Well she doesn't look anywhere near ready yet........darn mare, she is turning me grey
When will she foal? Sometime between the July 12th & July 13th in the wee early hours
What color? I was going to say black, but I guess chestnut will end up being a safer bet if I don't go bay like everyone else. So chestnut.
Colt or filly? Filly
Whose the daddy? Alto
---
All I pay my psychiatrist is cost of feed and hay, and he'll listen to me any day!


Book a trip to the Bahamas. She should foal about an hour before you're set to leave for the airport.
my mare was like that too!! checked her every single night, i fell asleep early one night and popped out of bed at 5 am only to remember that i hadn't moved her around for the night....ran out side to the paddock and low and behold standing behind her was a buckskin colt....she never bagged or waxed
---
HOME IS WHERE THE HORSE IS.........
Okay, I've got to get in on this. I'm going to say colt, by Alto, and it will be a chestnut (though darker than Alto). For birthday, I will say July 28, wee morning hours
.
---
Always remember that feeling of looking at a big, open country over the ears of a good horse, seeing a new trail unwind ahead of you, and that ever-spectacular view from the top of the ridge!!! Follow my training blog:
http://robertsontraining.blogspot.com/
It's funny,while I would dearly love a filly from her, if we get a colt, that's fine as well, but I only ever think of her with a bay filly, or a chestnut colt, who has lots of chrome BTW.
If she has a chestnut filly or a bay colt I'm going to be in complete shock
Her she is today, well yesterday as it's after 12, she got chased off of her food bowl by Wombat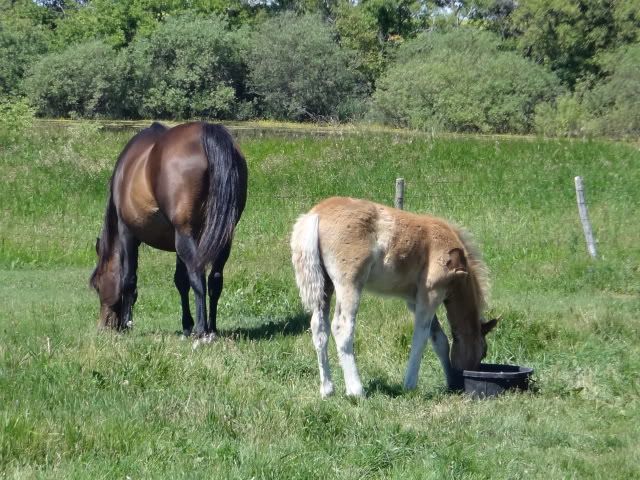 Good God, and I though Bessie had a huge belly
.
---
Always remember that feeling of looking at a big, open country over the ears of a good horse, seeing a new trail unwind ahead of you, and that ever-spectacular view from the top of the ridge!!! Follow my training blog:
http://robertsontraining.blogspot.com/