Oops, baby on the way.
---
I never thought I'd be starting a thread concerning foaling but here I am. I recently bought a nice mare for trailriding who had been a broodmare for the past few years. I did not realize she'd been pastured with a stallion, tho I was told it was possible she had been bred back. Owner had died and his heirs were selling via a broker. I took her to be checked today and wa laaa she's 5-6 months along. I am so not wanting to do this but oh well. lol She is a nice mare. I hope her baby hangs on til March tho.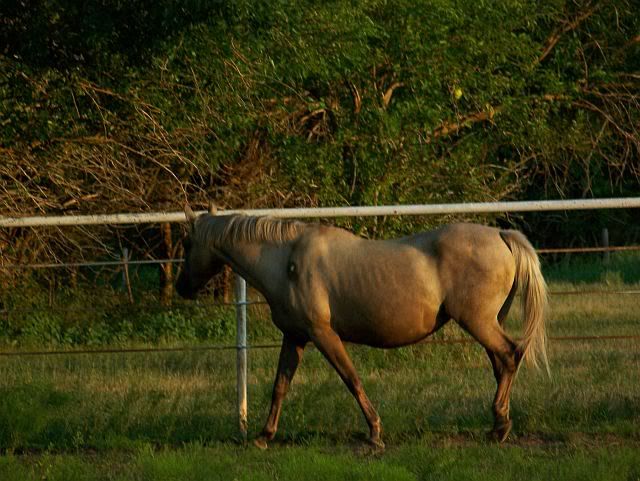 ---
Oh dear!
Do you think you'll keep the foal? What excitement next spring!
I'm not sure.. My DIL is interested. My granddaughter thinks she has squatters rights. I'm taking it one day at a time. I sure don't want to train a baby..
---
LOL! I hear ya! Those days are over for me too. I'm sticking with my 20 year old mare who does whatever I want with very little effort from me and Walka who is needing much more effort! My body just can't take it anymore, so very sore right now, but he is moving well/staying in his trot.
Don't envy you if your granddaughter has her heart set on the foal. Was easier to say no to my children then it will be with my granddaughter!
Ahhh but granddaughter #1 has a horse, his name is Lightning and he's an awesome horse. DIL has a mare that is becomming her daughters horse(granddaughter #2) so she will be needing another before too long. LOL

I has a plan..

well i do now.
---
Oooh you're gonna have a baby! :) You can always send baby out for training when the time comes :)
Hi Chey, I'm too old for young green horses. I'll leave that to the younger generation. I will be picking your brain on pregnant mares, you can be sure. ;)
---
Ooo congrats! Any idea what the studs like?
---
♞ Horse Crazy. ☀ Animal Lover. ☺Jeremy Renner Obsessed. ✇ Photo Taker. ♫ Country Music Listener.
♥ Erotic Romance Reader. ✯ Witch.
Paint is all I know. Black/White or a Red/white cuz he had both according to his son.

Thanks.
---
Congratulations - or condolences - whichever you prefer. I can sympathise. I bought a mare and brought her home. Daughter #2's paint stallion (I'm trying to convince her to have the #!!$ thing gelded!) jumped the fence and now we, too, will be having a baby come June. Daughter #1 has already said she wanted the foal for herself. Since she has the faclities, it's not that big a deal. However, I am also much too old to mess with a colt. Mama's bad enough!
---
Plain Old Dee, horses Dancer and Rain
I believe in dragons, unicorns, good men and other mythical creatures!
Similar Threads
Thread
Thread Starter
Forum
Replies
Last Post
Oops!!! and Carrots?!

ejb222

Meet the Community

7

05-21-2009

09:39 PM

I got a baby!!!!!

steph

Horse Talk

8

04-02-2009

01:34 PM

oops!

farmpony84

Horse Talk

9

08-27-2008

12:54 PM

my baby boy

librahorse94

Horse Pictures

2

05-13-2008

05:39 PM