Opinions/thoughts on my colts pedigree/bloodline..
---
Hi everybody. I'm not very good with bloodlines and such and was wondering if you guys could help me out. Here is a link to my new boys pedigree:
Gray Sky Aledo Elite Quarter Horse
...Have already had some opinions/thoughts but would love to hear more :) Also kind of going off his pedigree what do you think he might be good at? Thanks ahead of time :)
He actually has a little of everything in him, mostly Western performance. The names I recognize are Mr Joe Glo, Boston Mac, King, and Three Bars.

Here is more information on the horses I listed - You can probably google them for more info.

Mr Joe Glo -
1972 Open AQHA Champion
1972 Open Arena Rom
6x Grand & 7x Reserve Grand Champion Halter Stallion
Perf Points: 3 Reining (R), 3 Western Riding (WR), 20 Western Pleasure (WP), & 4 Hunter Under Saddle (HUS)
AQHA & World Champion Sire
Leading NRHA Sire
Mr Joe Glo is sire of 49 NRHA money earners w/ NRHA earnings of $204,580.35

Boston Mac -
Superior Halter
ROM Race, AAAT
Race money earner
Sire Of:World Champion Offspring Reserve World Champion Offspring Top Ten World Show Offspring Superior Halter Offspring AQHA High Point Halter Offspring Superior Performance Offspring AQHA High Point Performance Offspring AQHA Reserve High Point Performance Offspring AQHA Champion Offspring ROM Halter winners ROM Performance winners Race ROM winners NCHA Money-earners Race Money-earners NSBA Money-earners

King - IMO is the best horse on your horse's bloodlines. He was an amazing horse and producer. He is just way back in your horse's bloodlines.
Breeder: Burney James, Encinal, TX.
Owner: Jess Hankins, Rocksprings, TX.
100%fnd
AQHA Hall of Fame
Died 1958
A L.M. Gdsire ROM Race, A Leading sire/Maternal G.Sire AQHA CHs. & ROM Arena
Sire Of 2 AQHA HofF: Poco Bueno & Royal King
658 foals, 218 performers from 23 crops. 35 race starters, 17 winners, 44 wins, 12 ROM/183 show performers, 104 hlt.pt. (1,088 pts); 107 perf.pt.-earners (2,061 pts)
147 total pt-earners with a total of 3,149 points All Divisions combined.

Three Bars -
28-12-3-1, $20,840.
Won: Speed Handicap
The leading sire of racing Quarter Horses for many years. American Quarter Horse Hall of Fame 1989. Died April 6, 1968.
Three Bars was the sire of 29 AQHA Champions, 4 AQHA Supreme Champions, 317 Racing Register of Merit earners, and his foals earned more than $3 million.
---
I am Sparkly Meanie Doodie Head and I approve this message!
You're welcome!
---
I am Sparkly Meanie Doodie Head and I approve this message!
So what do you think he might be good at?
Do you have any pictures of him that you could post? It's really hard to tell you what he would be good at without "seeing" him and his conformation and looks first. There are a lot of different factors that go into it than just his bloodlines. Like one of my barrel horses. She is bred for reining and she does as well as an English horse at reining, not so great. When it comes to barrels though, she's an awesome running horse. Most of your horse's bloodlines are Western performance horses, there is some Halter blood in there but mostly stuff like working western horse. I could tell you a lot more by pictures or even videos of him working.
---
I am Sparkly Meanie Doodie Head and I approve this message!
He hasn't been started under saddle yet and atm I don't have any good conformation pictures :( I will try sweet talking my friend into coming out to the barn with me and taking pictures today. As soon as I get them I will post them for you to look at.
Ok,here are some pictures.Not the best I know,but I didn't have anyone with me to help :(
Front legs(please excuse his nose.lol he was being snoopy)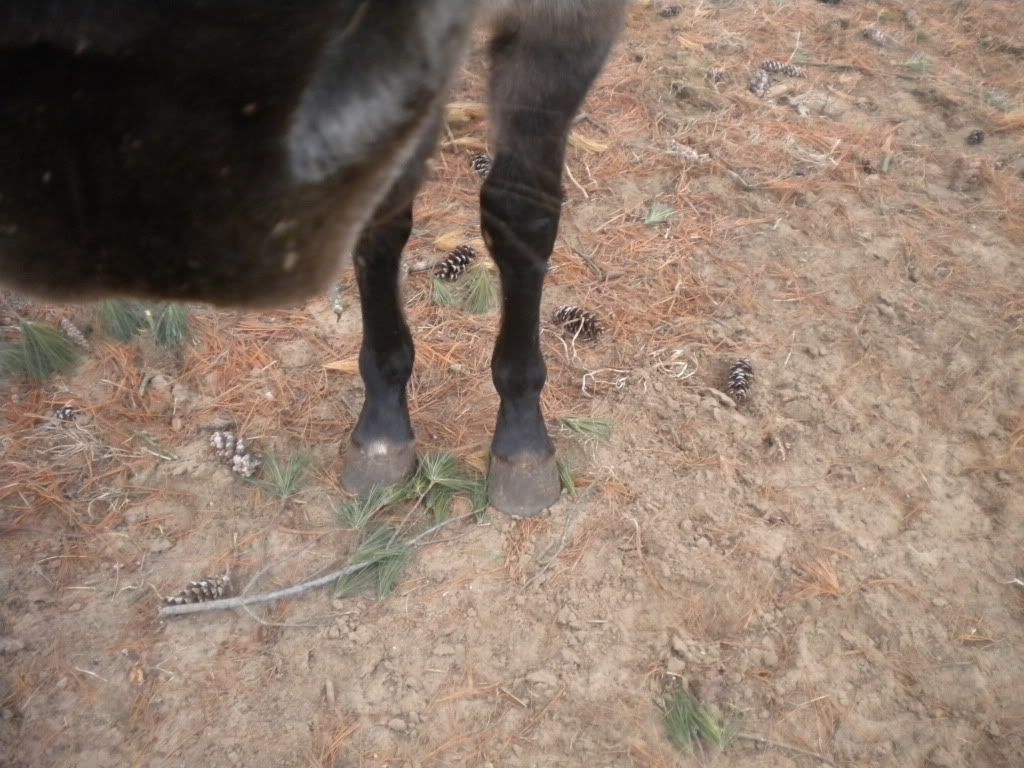 Bum shot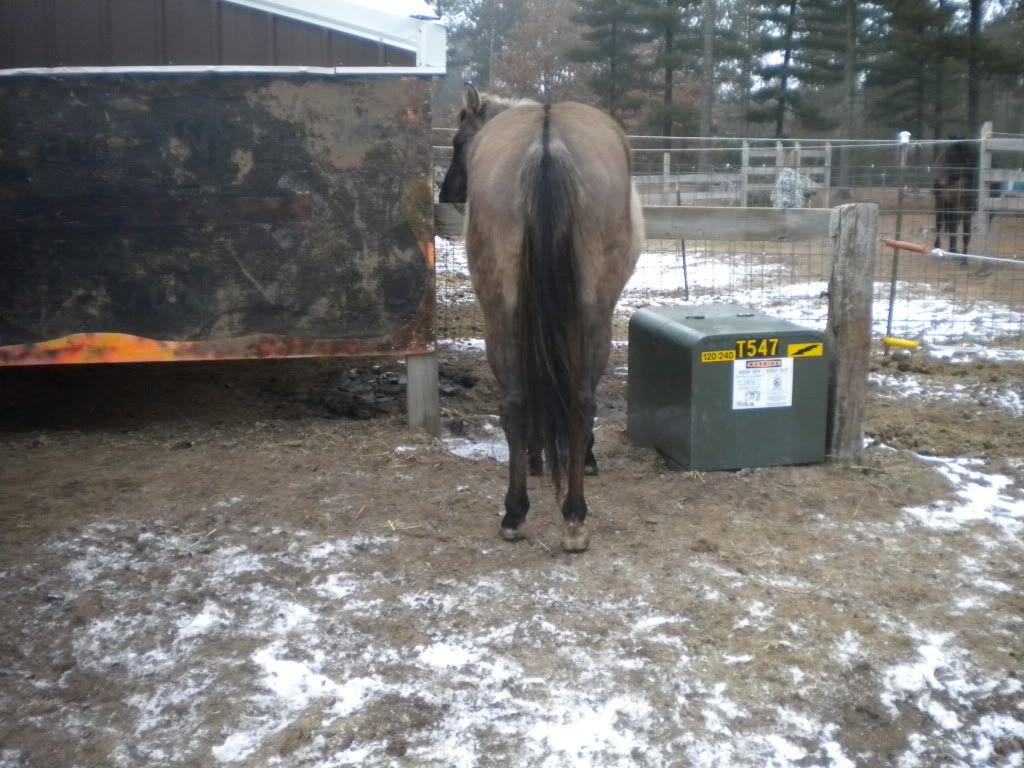 side shot(best one out of the pictures I have so far)
I will work on getting better ones..Sorry if these are huge,can't quite figure out how to re-size them properly..