This is Howard - I am hoping his registered name will be Space Cowboy - just sent in the papers to change it.

He is APHA, registered overo (face white) - and I just nominated him to the Breeders Futurity so I can show him in a few money classes this fall at World Show. I am pretty excited about getting started with him - just waiting on this terrible, cold weather to clear.

Two pics - one from a month ago, and a couple from summer, including his worried face :)
---
There is no passion to be found playing small - in settling for a life that is less than the one you are capable of living. - Nelson Mandela
Nice babies everyone! Takala turned one year old yesterday. I sang her happy birthday when I walked in the barn. Hopefully one of these days I can get some nice pictures of her.
Posted via Mobile Device
Azula will turn one May 23rd this year, finally got out to take a few more pictures today.
Here is our 2013 APHA black/white tobi colt, "Buckshot", at 9 months with his half sister "Cinnamon"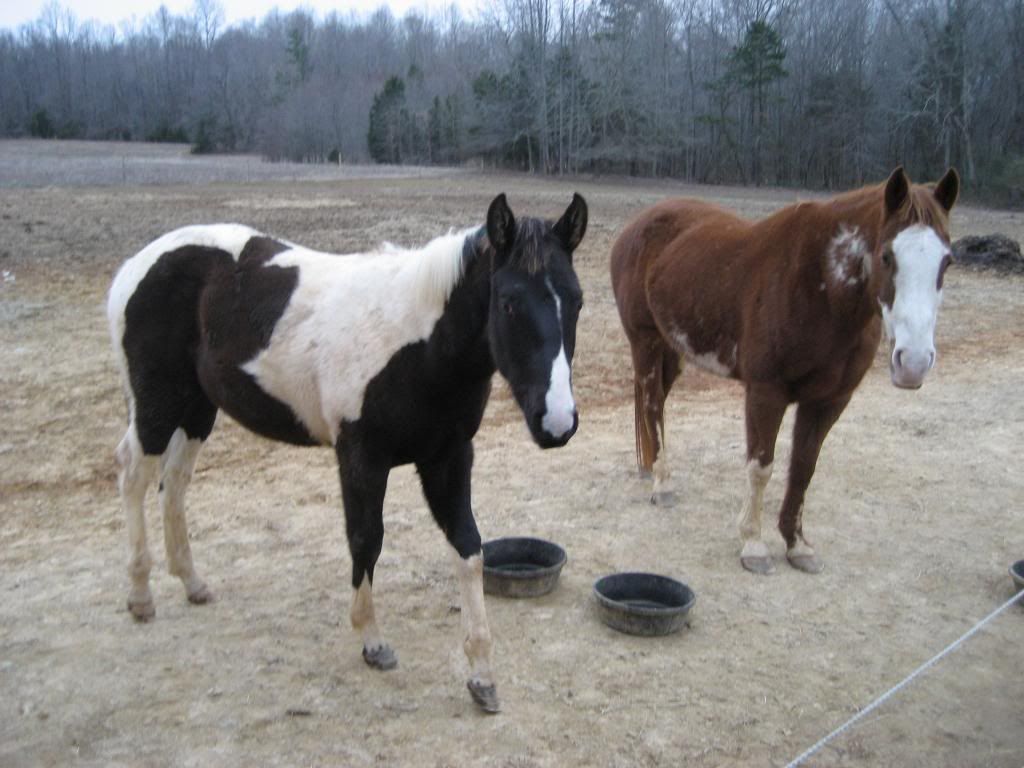 ---
On the sixth day, God created the Quarter Horse.
On the seventh day, he Painted the good ones.
Wrecker; Almost 11 Months.
---
Wrecker is about 6 weeks away from officially being a yearling. And I FINALLY have pictures of her RUNNING! Yay! At the end of the month, she will be going to my Trainer's to keep Rumor company. And since training is only $100 for part time ground work, I said heck yeah, so she'll be having a refresher on everything she already knows. And she'll learn how to lunge (lightly)

Sorry for the picture overload...I got a new camera.
---
"The greatest pleasure of a dog is that you may make a fool of yourself with
him and not only will he not scold you, but he will make a fool of himself too."
-Samuel Butler
Maverick is almost 10 months old. It's kind of a goofy looking picture, but he looks so gosh darn cute!
Here's Takala, diving into her yearling year. More so diving into her food, but in that case not much has changed.
2014-02-08 15.13.16.jpg
I haven't taken many decent pictures of her lately, hopefully that will change. From left to right is Darla, her true aunt, Franklin the donkey, Takala, and her "aunt" Gypsy. These four are quite the diverse little group.