Overo - Frame VS Splash
---
Hello everybody. A few months ago I bought an APHA stallion and I am confused as far as his color pattern. He is definitely overo but I have received conflicting feedback as to whether is a frame overo or a splash overo. Here are a couiple pics, please let me know your opinion. Thanks!!!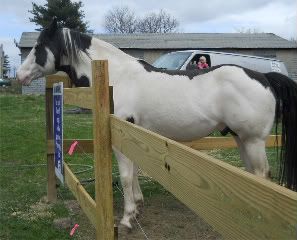 I'm no expert, but my guess would be frame+splash L:)
---
Wait! I'll fix it....
Green Broke
Join Date: May 2009
Location: Winnipeg, Manitoba, Canada
Posts: 4,510
• Horses:
2
Definitely frame, for sure, so be careful breeding him. I would bank money on also having either splash or sabino based on his white legs. Frame alone usually leaves the legs solid or partially colored.

The strip of color down his back though is a telltale sign of frame.

---
Quote:
I hope God tells her to smash her computer with a sledgehammer.
thanks! The white legs had me confused,
:) he has almost the same markings as my horse!
yes they do have almost the same markings. I haven't seen many horses with markings like that. Very pretty horse by the way!
thanks! You have a handsome horse in your hands as well :)

I find them to have unique markings.
If you want a 100% for sure answer send in to test for frame. The test isn't expensive and only takes a few days :)
Animal Genetics
---
Challenge me, Dare me, or even defy me. But do NOT underestimate me...
For on the back of my horse nothing is impossible!
Save your money, he is 100% for sure frame. Could be splash too.
yea, I wouldn't pay to be 100% sure to be honest. He looks framed.

Mine is a framed splash pie bald.