Perfection has arrived...am I ready?
---
Yep that's right, I'm posting a breeding thread! Things have changed and I'd like some honest opinions.
I've always considered breeding Zierra - I know she is not an example of perfection in her breed, but living in Manitoba we have a SERIOUS shortage of Arabians. The breed is practically endangered where I live, Arabs for sale are virtually unheard of. We do have several studs available, none of which I am interested in. I was looking at Khartoon Khlassic for awhile, but was unsure about the potential issues with distance.
I have just discovered that one of our renowned endurance competitors is bringing in possibly the greatest Arab to ever set hoof in Manitoba. I am completely blown away. He was imported from Poland to the US in 2007 and now is coming here. He was a halter champion in BOTH Europe and US (Top Five/Ten at Scottsdale). He was raced in Poland, and has sired racehorses. Most notably though, he is known for siring absolutely amazing sporthorse Arabs that look good and can do anything you ask of them.
So I have a few options at this point and would love opinions. Zierra is unregistered, so the foal would be registered Half-Arab which I don't have a problem with, but need to compete in any Arab shows or work towards legion of merit in endurance. The foal would be completely personal - and if I COULDN'T keep it, I can guarantee I would have zero problems selling it in Manitoba for a very decent price. I would be selling Jynx going into this endeavor after a breeding exam verified Zierra as being sound for breeding. She just turned 12 years old this month and is a maiden - any opinions on that? If so, what is the longest you would advise waiting before breeding pending breeding soundness approval?
A quick search of Equine Hits shows no Arabs for sale in Manitoba. There are a handful for sale in Ontario and a few more throughout Canada, mostly older or not suited for what I want. Kijiji shows a Friesian/Arab for sale (no), as well as a 15 year old mare for sale and another for lease. We DO have a farm that breeds for PMU and have several registered Arabs and Half-Arabs for sale. A link to their site:
HEDGEVILLE FARMS
I would not be opposed to potentially buying something there, but these are not quality animals. They are decent, but very much just mass produced with not much by way of notable bloodlines or accomplishments. I have heard very little about any of their horses competing around here, and the ones I HAVE heard of are not the Arabs.
So that brings me to *Empres, the glory of my eye:
*Empres PASB - Pure Polish Arabian stallion - *Empres PASB
And his soon to be owner also posted this amazing video of one of his sons in Poland, named Best Under Saddle Arabian for 2009. He's also shown on the offspring page and noted for all his success in a HUGE variety of disciplines.
And of course we get to Zierra. She was born with me, daughter of a little bay abused and neglected unregistered mare my uncle came to own. We are unsure who her sire was, but the breeding was kept very much in the family and my uncle had a falling out with the CAHA and stopped registering his horses. So we know she's the same blend of mostly Crabbet and a bit of Egyptian lines that ALL the Arabians around here are. She is a super athletic mare with a fantastic attitude. She has the greatest mind I've ever worked with, and is just a doll. I trust this horse with my life. She's done it all - distance riding, Dressage, jumping, gaming. We haven't competed much, but she won 1st and 3rd at her very first Dressage show, as well as a couple years ago took a TON of ribbons for me at a big local gymkhana (1sts for flag, egg and spoon, juice box race, 2nd for ribbon race, and 3rd for pole bending). My biggest concern has been the issues with her legs and feet, which I am quickly seeing has been the cause of bad farrier work years ago. In six months, we've brought her feet back to near perfection and her leg injuries as a result are healed. She's never actually gone lame, just suffered some damage to her tendon sheaths.
A few pics of her to judge yourself:
A few months old
3 years old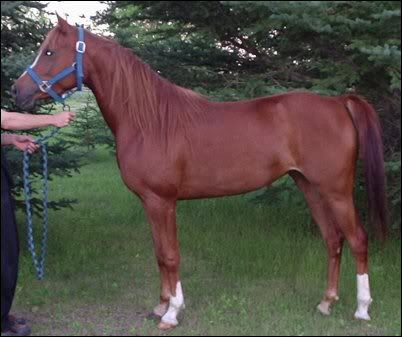 As a 4 year old
First time free jumping at 4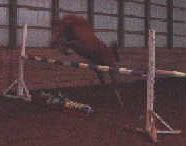 Free jumping 3'9" at 5
Riding (9 years old)
Jumping in a halter (9 years old)
Standing square (10 years old)
Movement (10 years old)
And for fun, this is the only vid I could find, I apologize for it's annoyingness skip to 3:25 to see Zierra pole bending - this is the FIRST time she EVER did pole bending. Just as an example of the fantastic mind on this mare - and she's being ridden in a french link snaffle.
ROFL, what a novel eh? So I suppose I can sum it up like this:
1. Do you think a mating between Zierra and *Empres would be a good idea? Why or why not?
2. If not, do you think I should examine purchasing a Hedgeville Farm horse?
3. If not, should I examine purchasing a horse out of province?
4. If not, should I examine potentially purchasing a mare worthy of *Empres? (again, this would require out of province and I DO have a budget here, I can handle several thousand on stud fees and vet bils, however getting past 5K is pushing it).
I am VERY partial to having a foal, having raised Zierra from birth. Training Jynx has been fun, but I much prefer getting ahold of them before anyone else does.
Thanks a TON for any input!!
---
Quote:
I hope God tells her to smash her computer with a sledgehammer.
Just a quick addition on her feet:
the second last photo I posted shows a bad angle to her front pasterns - this was pre-corrective shoeing and the result of a bad farrier trimming her long toe low heel for years (my fault entirely, I didn't know enough about feet to realize it).
These photos, excuse the dirt, are from autumn, a couple months after we started shoeing. I don't really have anything recent, but my farrier is THRILLED with her progress and my aunt can't believe the transformation (accomplished equestrian).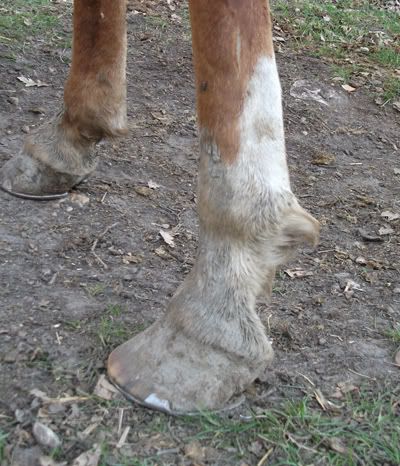 Excuse her awkward stance
And a couple movement photos from autumn: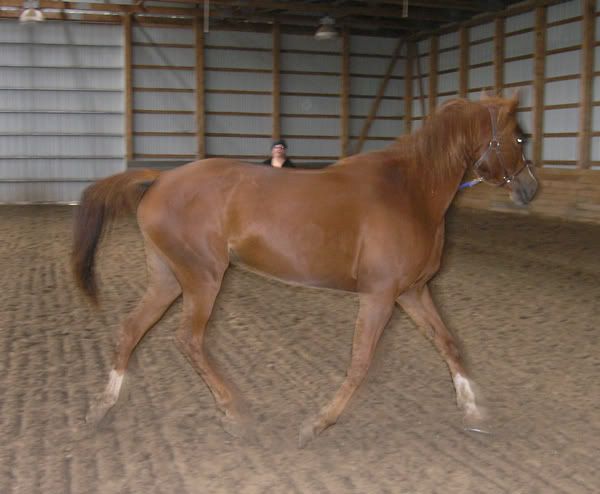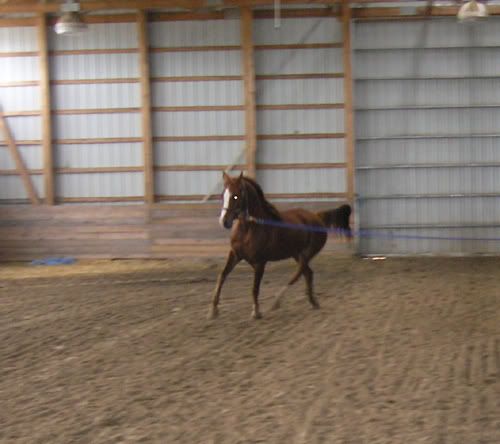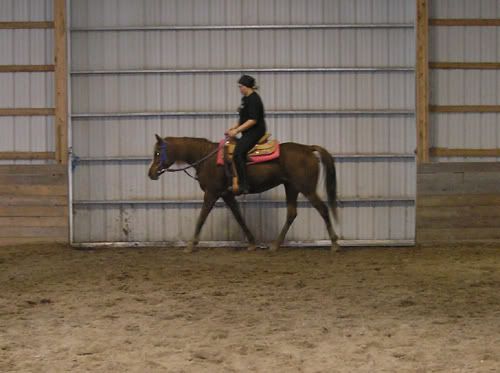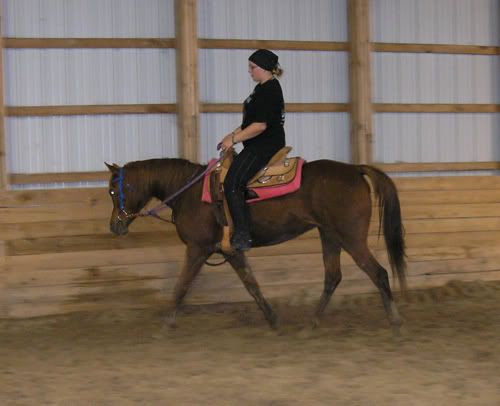 ---
Quote:
I hope God tells her to smash her computer with a sledgehammer.
I would be heartbroken if you sold Jynx. *sniffles*
---
"Great spirits have always encountered violent opposition from mediocre minds."

My biggest concern with breeding her, as is yours I imagine, is her consistent leg injuries. But since it appears you have discovered and corrected the cause of that, then that concern is moot.

The horse market up there is quite a bit better than what we have here in the US. Z has very nice, solid conformation, a good temperament, and has proven that she's versatile. You have the sense to go into this thing prepared as opposed to jumping in half-cocked like other folks do. I really see no reason not to find a nice Arab stud to breed her to. I do like the look of the one you posted, he compliments Z's confo and versatility well.
The thing i noticed right away was her feet are uneven and her toes is flared! how long has your farrier had her shoed and trying to fix the issue?
Quote:
The thing i noticed right away was her feet are uneven and her toes is flared! how long has your farrier had her shoed and trying to fix the issue?
In the shod picture, she'd only been wearing shoes for a couple of months. It's been almost 6 months now. Actually, because of the white and black horn, her feet ALWAYS look uneven. I've had several people check her feet and they cannot believe how good they look now.
smrobs - Thanks! I agree, her feet and legs were basically my "no-go" factor. However, upon further discussion with the farrier, it really does seem like ALL her problems have stemmed from a lifetime of bad farrier work. My farrier firmly believes the shoes are only necessary to speed the correction to take the stress off her legs, and that we can go back to barefoot this summer. As for her leg injuries, the vets have confirmed the tearing is essentially from running around on bad angles for so long. The injuries are about as mild as it gets, but I give her exaggerated amounts of time off because I would rather we fix it completely then continue to re-injure.
riccil0ve - I knew you'd be down my back about that one.
Jynx is a sweetheart, but the fact is she WAS purchased as a project. As time went on, I've considered keeping her, but we've never really developed that "end all" bond. I'm still an Arab devotee at heart and been on the prowl for my ultimate endurance horse for awhile now! I would ensure she goes to a good home.
EDIT - The best photo I have right now to judge her feet is the confo shot third from the top - those are her proper angles, with proper farrier work. I went through a mucky period and she went back to my grandpa's farm when she was 6 years old and basically had incorrect farrier work done until about last year. So basically 6 years of improper angles. It's amazing that's ALL she did was tendon sheath damage!
---
Quote:
I hope God tells her to smash her computer with a sledgehammer.
---
Last edited by MacabreMikolaj; 02-28-2011 at

12:11 AM

.
Just because you have no photos of her feet now can you give me an idea of how they are better and how they look?
Quote:
Just because you have no photos of her feet now can you give me an idea of how they are better and how they look?
Refer to my EDIT in the last post. Unfortunately, the ONLY recent photos I have since then are her playing in an arena and give no idea as to her feet. I could get photos on cement this week sometime (probably Wednesday), and she was just trimmed a week ago. She actually doesn't have shoes on right now, only because she's improved so drastically and we've had no ends of problems with her shoes and the snow. The farrier felt a better move would be to remove the shoes for now, track her progress and if we have to re-shoe, we'll use pads.
---
Quote:
I hope God tells her to smash her computer with a sledgehammer.
i would personally keep the shoes of her for a long time
Quote:
i would personally keep the shoes of her for a long time
OFF her? Why? We tried barefoot corrective and we just weren't seeing results in a timely fashion. The shoes have been brilliant for her, the unsightly dips and flares are gone, her heel is built up again and her toe has been pulled right back. She actually has proper feet again, the shoes were a god send. I had one of the best farriers in the county check the work being done, and he couldn't find a single complaint with it.
---
Quote:
I hope God tells her to smash her computer with a sledgehammer.