Preggers or just fat?
---
Please say just fat! I bought a QH mare on 12-24 and I think she just looks fat, but my dad thinks she looks preggers. She was in with a stud colt, but I don't think he would have gotten her (Atleast I hope not). I can't honestly tell you how old the stud colt is, but I am thinking 10+ months... (I will post a pic of him)
What do you think? Fat or preggers?
Here is Demi (Bay)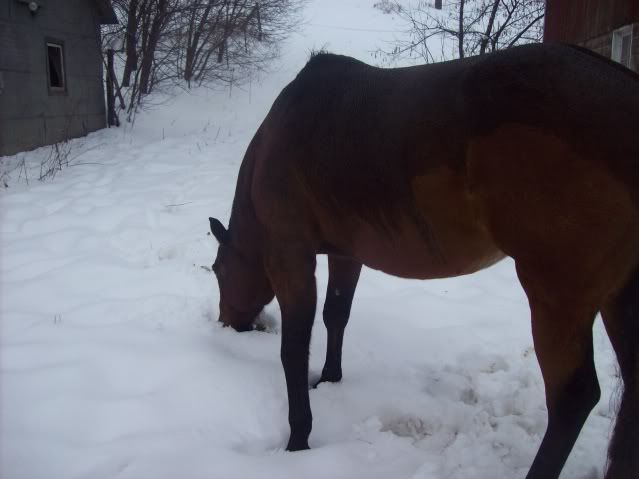 Here is that stud colt (Pally) Feel free to age him...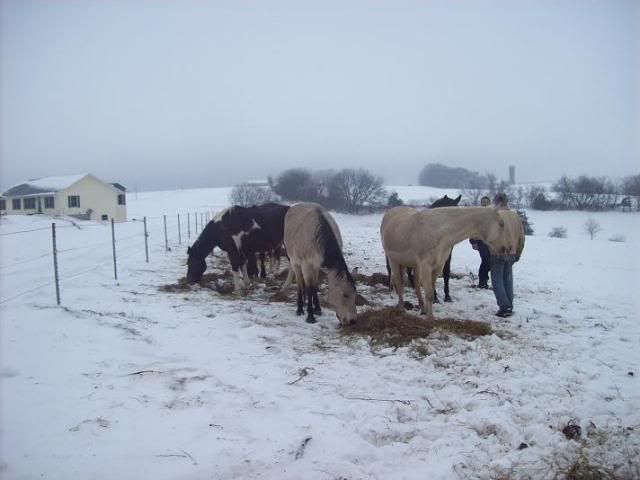 ---
RIP Minnie, 1981-January 15, 2010
RIP Maggie Mae I miss you
Anyone?
---
RIP Minnie, 1981-January 15, 2010
RIP Maggie Mae I miss you
I was just trying to see if I should even try to test her or if I am just worrying over a fat horse. I will certianly get her tested if there is enough thought of her being preg. Both my mom, brother and I think she is not preg, but I wanted more opinions.
---
RIP Minnie, 1981-January 15, 2010
RIP Maggie Mae I miss you
Some mare never show, others always look pregnant. If the horse has shown any studly behavior or is tall enough to breed with her get her tested. You might even be able to get an at home kit.
Agree that the best thing is get her vet-checked, as the colt indeed looks pretty mature (I have a 20 month old colt who has his testicles and has shown some interest in mares over the fence, and the pictured colt looks bigger and more developed than my 20 month old colt.)

And, as mentioned, you can't really tell by looking if a mare is pregnant, especially if she is only a few months along (and her belly is definitely not slender and tucked up is it....)
okay, there not very good pictures to look from but I would just say fat. But you can't be for sure by looking at a horse.
You can't really tell from looking at a horse. I had a mare who has had multiple colts, but didn't show this last time until she was 8 months. I would say the colt looks old enough to have bred her. My advice would be have her checked or do a home test on her.
I have to agree with the rest!
Don't wait for the vet check, do it !

You'd rather know in time than too late.