question about donkeys and horses
---
im wanting to breed my reg 3 yr old tn walker next year and i might breed for a mule.the question is do the foals get their color from both their parents or just from the mare?im wanting to breed her to a donkey like this
im not wanting to breed her to this donkey because he is a gelding but a donkey this color and height which is close to 13 hh.preferably a gaited jack too.and also how tall would the foal be if my tn walker is close to 17 hh?how big of a donkey should i breed her to to get the biggest possible mule?also there are no mammoth jacks around here so i cannot breed her to one of them.im going to post pics of my tn walker mare later when im on the right computer but for now just give me your opinions.
The farm that was just down the road from me back at my parents place in British Columbia, used to breed Mules. They had a Mammoth Jack named Cracker Jack - he was a typical height in Donkey's, but massive - if that makes sense. Very big head, very thick boned and powerful.
My favorite mule that I used to ride all the time was out of a TWH Mare, and was a beautiful Jenny.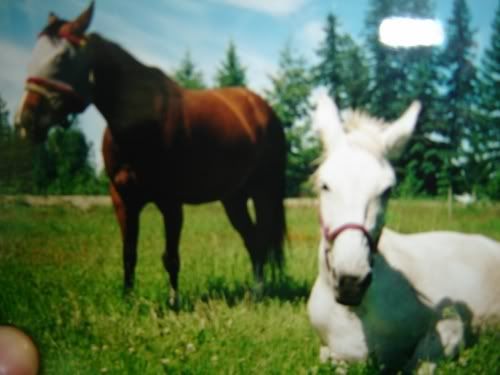 The Maority of his babies came out as white as he is. He carried a very dominant gene. And his babies usually followed their mothers height.
Daisy was 17hh, pure white mule out of a TB Mare. Arnold was 17hh and he was out of a draft mare. Molly stood 15.2hh, her mother was a TWH, Ebony and Ivory stood about 16hh and they were out of a Draft Mare
But breeding is crapshoot - you never know what you are going to get if you don't breed educatedly.
You'd probobly be better of talking to a breeder of mules.
First, it seems to me your mare is a bit too young to be bred. I've always heard it is best to wait until they are 5 or so. Why don't you wait a couple years and use that time to find a good mammoth jack if you really want to breed for a mule? I've seen some mammoths at 16 or so hands. Big beautiful animals and would probably be a better match for a 17 hand mare than a 13 hand donkey. You could also put some good training and miles on your mare before she is in foal then as well.

I bet if you search you might be surprised to find that there are several mammoth jacks in your area. Heck, some of the biggest mule & donkey shows I know of are in TN. The thing is, most of the people I know with mammoth jacks don't advertise them - they stand their jacks to people they know and have met through the shows and other mule venues.

If you waited a couple years you could also use the time to do your research and really learn about mules and their genetics. Go to one of the mule shows and talk to knowledgeable people and make connections so you can find a good quality animal.
---
All I pay my psychiatrist is cost of feed and hay, and he'll listen to me any day!


Alright, so if your mare is 17hh and the jack is about 13hh, you can get a mule anywere between 14 and 16 hh. Getting a tall mule depends on the following factors:
1.) Is it a mare mule or a jack? Jacks are always bigger by one to two hands. If you don't geld you jack, he will be smaller than he would have if you big at a younger age.
2.) Does the jack usually breed large mules? Check with the jacks owner about getting some pictures of the jacks previous foals and see what hight they were in comparison to the mare on average.
Next thing is about the color. The color inheritance of color is the same as if you were breeding your walker to a stallion.
Oh, and the jack need not be gaited. Gainted-ness is dominant in mules, so, unless I am wrong, the foal should be gaited. (I'm not sure about this, so check with some smarter people.)
Please post some pics of the foal when and if you get one! Baby mules are my weakness.
Don't tell the other members, but I think they are ten times better than horses.
thnx i havent even thought of shiped semen!the studs on those sites look awsome!the only problem is i have never used shipped semen.and i cant have anyone help me either as everyone else has a stallion so they dont know how to either!
With transported semen, find yourself a breeding tech or vet who is experienced with AI. The mare would be palpated/ultrasounded once or twice to determine where she was at in her cycle, the semen ordered and sent next day (Fed Ex or airport counter to counter depending on your area) either to you or the clinic in a container designed to keep it cool during transport and storage for a couple days, and your tech/vet then inseminates your mare once or twice, depending on how much time till she ovulates, and the condition/amount of semen.

It sounds complicated, but really is not too bad as long as you have a qualified person to work with.
thank you for all your help easttowest!
i think i might be intrested in these jacks.both for their color and their quality.
Gate Farm's Simply Irrestible aks Ewok
Lab Services
let me know what you think!i like simply irrestitable because he has the confo and the color and the show winnings to prove hes a good jack.ill be posting pics of my mare here in a little while.the only thing that i dont want her to pass onto her foals is her jug head and her stick out hip bones(she in good shape shes just got hips)but other than that she is a pretty well developed tn walker.