Questions About Breeding....
---
So, I have a couple questions for you all...
1: Some of you may have heard me talk about Emma, my palomino paint mare. She's 14 and I really really want to breed her! My first question is should I? She's 14, has never had a foal to my knowlege, and has arthritus and this really concerns me..it kinda seems like a concoction of failure to me...but her arthritus is managable with excercise, and she is very healthy and spunky for her age, I ride her AT LEAST 3 times a week, and seems to beg boys to breed her.
2: How much is there to breeding as far as vet visits and such are concerned....some people around here leave it all natural, and some people do the ultra sounds and all that stuff.
3: There is a stud I found that is fresh on the market, so his stud fee is free for this year for trial. He is beautiful and I have talked to the guy about it. It will be $175 for the AI when I get up there plus $15 a day mare care. (He doesn't offer live cover) Is this reasonable? Here are pictures:
4: Would my mare and this stud make a good baby? Here is a picture of her: (please excuse the rediculously large pics and the rider...it's not me, it's my best friend- although people say we look alike
)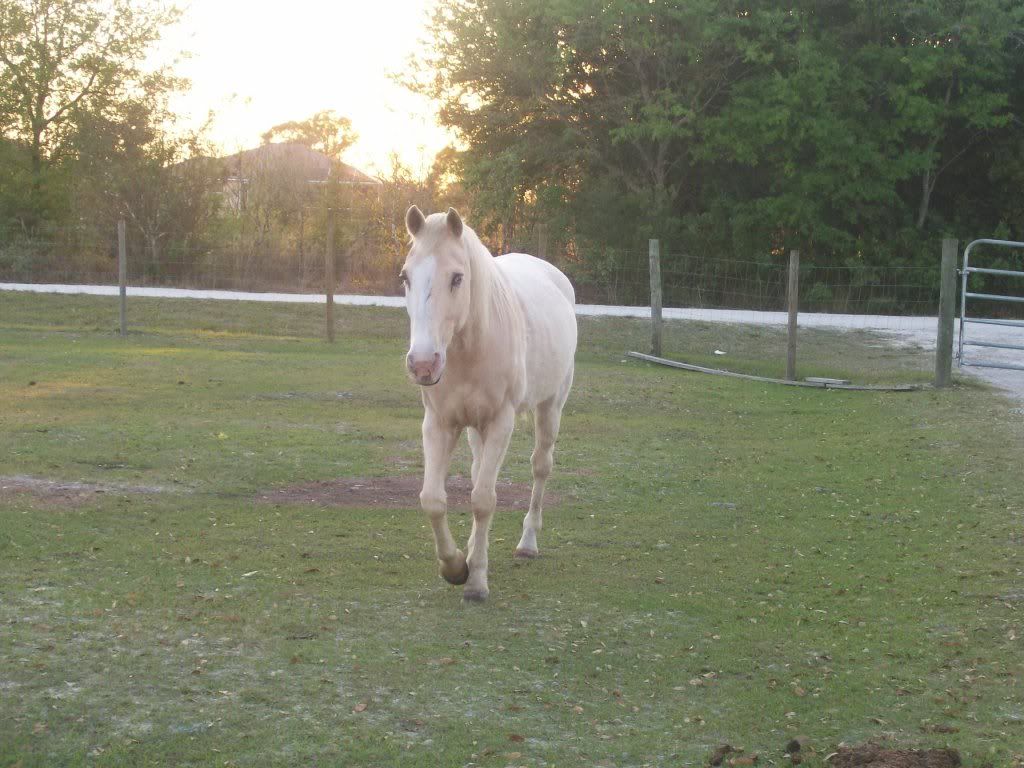 I know her conformation isn't perfect- she slopes down a little in the back, and her head is large- not babydoll or femine, but for a non-registered paint/quarter, I think she's pretty...(also, the first picture is from last year- she is much more muscled now and has a prettier more peach-colored coat coming in since I've switched foods)
I don't know...what do you all think?
I wouldn't. Neither of them really carry any traits that I would want to see passed on to a foal. The stud has typical halter horse conformation; extremely posty hocks, upright pasterns, small feet. Your mare isn't exactly a prime example of breeding material either. Extremely long backed, her head is large and coarse, and there is something extremely wonky about her front legs/feet that I can't put my finger on.

Is she registered? Has she ever shown? If so, was she competitive?

Have you considered that her arthritis at such a young age could have something to do with her conformation? Would you really want to risk passing that on to a foal?

Have you had her tested for genetic diseases like HYPP or HERDA? Do you know the stud's status on those diseases (especially HYPP because there are not many halter horses who don't have Impressive in their pedigree)?

Do you have the money to have her vet checked to make sure she is sound for breeding?

What about for the ultrasound after she takes to make sure she isn't carrying twins?

Are you prepared for the possibility that you may lose the mare, foal, or both during birth?

Do you have the knowledge necessary to give a foal the proper training? If not, do you have money for a trainer who does?

In this market, I would much rather go out to an auction or cruise Craigslist and find a good weanling/yearling. They will be cheaper than breeding, plus most of the variables are taken away. You can go into it with an idea of what you want and you can find a breed, gender, temperament, and color that suits your wants/needs without dealing in the crap shoot that is breeding. You can find well conformed, registered, beautiful foals for a pittance at almost every auction.
Emma was show jumper and was VERY competitive and won multiple championships....placed every show she went to, but she was not taken care of properly which is why she has her arthritus.

She is not registered, but the main reason I want to breed her is her competitive nature and SPEED! oh my God can that horse book it- and she's an AMAZING trail horse- the best one I have ever seen. I have ridden down highways with semi's, done farm work with her, hauled stuff- you name it, that horse has done it she is very level headed but not AT ALL a dead head- very intelligent.

The second main reason is that yes, I could go buy a foal...but I have bought too many horses already from other people...I don't want that. I want MY horse that I SAW being born, that I know ALL about and don't have to guess every fricken thing and I don't have to re-do someone else's mistakes. I've done it twice already and I sold both of them.

And Yes, I can train- I am the "crash test dummy" for everyone i know that has a horse they can't deal with and have already trained two fillys and sold them on market. I also worked at a breeding ranch and trained some of the foals there. This is also how I get my experience dealing with pregnacy, however I wanted a second opinion as to whether I should do it their way (more natural) or everyone else's way (by vet) But I will say, they NEVER lost a foal OR mare and always bred very expensive and well-bred horses.

. I also, am a big Western person, so the "halter type" is my kind of horse, however, conformation isn't everything to me. Emma is a fabulous horse dispite her conformation- the best horse I've ever ridden in my life, although she can be marish.

Also, yes, both horses have been tested for everything and are clean as whistles :) And if anything goes wrong, I have friends who are vets!! :)

Anything else? lol
---
Last edited by SAsamone; 03-23-2011 at

08:42 PM

.
If you are already dead set that you are going to breed her, why did you even ask?
Green Broke
Join Date: Jun 2009
Location: Was in Ocala, Fl Now In West Union SC!
Posts: 3,175
• Horses:
1
If you want a horse that will ever be good for any thing through that studs pictures and information in the trash.

That stud gives halter horses a bad name. If you want a "halter type" then find a good one.

I'm not even going t bothr with your mare because I can say what ever I want but I'm not going to change your mind.

IMHO I say no to breeding her. At 14 and being a maden the risks are high.
---
My name is now my horses on a dor not my horse sonador
Not dead set? I just answered your questions? I truly and 100% appreciate your reply, because it helped me double check my mental check list and make sure that I am thinking of everything I possibly can, and also, allowed me to see the otherside of the fence. :) I'm the same way you are...I'm not into the whole "back yard breeder" crap because that is how we get more horses on craigslist looking for homes. I'd rather see registered and properly cared for horses. However, I know I wouldn't sell a foal that I bred, and I want to breed for a purpose, not really just for fun. I also liked that you had an opinion on her conformation which was one of the main reasons I posted- I always thought she wasn't the best, but I wanted a second opinion aswell.
Unfortunately, breeding unregistered less than desirable mares (no matter how super great of a horse they are) to unproven stallions with with conformational defects IS "backyard breeding".
Green Broke
Join Date: Jun 2009
Location: Was in Ocala, Fl Now In West Union SC!
Posts: 3,175
• Horses:
1
Quote:
Unfortunately, breeding unregistered less than desirable mares (no matter how super great of a horse they are) to unproven stallions with with conformational defects IS "backyard breeding".
Thats what I thouhgt 2
---
My name is now my horses on a dor not my horse sonador
Since I bred my grade mare, I am not in the position to tell you no. I would start with saying, get that stud outta here! lol. IMO, he is not going to do anything for your mare.
I know a cheap stud fee and a 'pretty horse' seems temting, but if you are really wanting to breed her, I would say find a great stud that complements her as best as possible. Pick only the best and you have a better chance at producing a good, usuable horse. :)

Although, do know that there is nothing wrong with buying another horse. :) Why not buy a nice, registered weanling filly and raise/ train her, and when the time comes, if you feel she has proven herself, breed that one instead? If you did that, you would have the option of picking what color and bloodlines you wanted to start with, as well.
---
Tennessee Walking Horses
The "Glide Ride"
For about $60 you can have your mare registered with the Pinto Horse Association. When they are the only papers, they aren't the best, but having something is much better than nothing. This would at least give a potential foal the opportunity to be registered.

You may also want to rethink what would compliment your mare most & what you want from a possible foal. For example, a halter horse, does not commonly lend itself to gaming events or sadly (with what has become a popular breeding) even riding.

Be wary of stallion owners who are quick to take your money when the cross is not very complimentary.