Quinoa's First Foal!
---
So! Being a primary lurker (and occasional poster) on this board, I'm excited to finally post a thread of my own. I'm a manager at a small, private Texas warmblood breeding farm and our first foal of the year is coming soon. Hooray!
I'd like to introduce you to Quinoa! She was imported from oversees as a yearling and came to our farm soon after. Since she's the only Brandenburg I've ever met, I don't have anything to compare her personality to but she is incredibly sweet and easy going, just a really chilled out mare. She is also very tall at 17.1 hands, our tallest horse here. Her sire is Quaterback, and grand-sire is Quando-Quando who competed in the 2008 Beijing Olympics.
The baby daddy is Cunningham, one of the top US hunters out there right now. We normally breed to European stallions with frozen semen but he is our first US sire, pretty exciting!
Fetal sexing says this will be a filly, but I'm very curious as to what color she will be. I've never been one for figuring out genetics, so maybe someone can calculate that out for me. I'd love if she were a gray!
Soo yes, that's the introductions, now on to pictures. I will update as often as I can, although we have 7 mares due this spring so who knows if my zombie-self will remember anything once foal watches get going.
She already has quite the belly for being due February 12th. I think she will foal more towards the end of Jan/first week of Feb. However, maidens can be unpredictable so who knows.
Quinoa Age 5: Roughly 3 months pregnant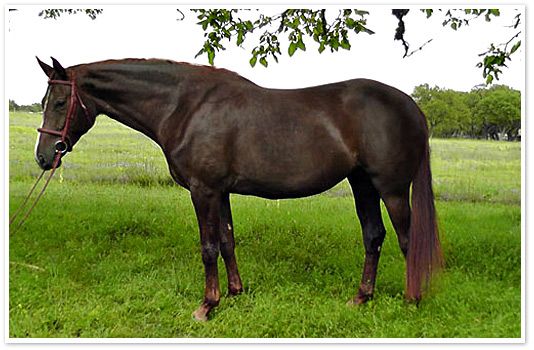 Cunningham:
Here are current belly pics as of today. Only 2.5 more months to go!
sound like that filly will have some big shoes to fill XD
I would suggest playing around with this:
Color Calculator
She looks like a liver chestnut and dad is hard to tell as far as base. so idk how you will enter the sires colors, but I find it a fun website to play with, and even better, its free!
---
"Chaos is a friend of mine"
Bob Dylan
I do know he had a bay filly, but don't know his original coat color. If he was a chestnut she has a 50/50 shot at being gray!
50% of grey, with a base coat of black, bay/brown or red. He's black under the grey and seems to be heterozygous for it looking at his foals.
Him as a foal from -
Young Cunningham - Cunningham
Aww what a cutie! So you'd say he was a bay then?
Black, bay, brown, or chestnut are the filly's options. 50-50 on gray. The filly will be born one of those colors and then has a 50% chance of staying said color and a 50% chance of graying out. Genetically, she will still be whatever color; gray just masks it.
Quote:
Aww what a cutie! So you'd say he was a bay then?
No, he's black. Agouti (bay, brown, wild bay) would all come from your mare. You don't know by looking at her if she is carrying agouti as it does not work on red based horses like your mare.
Ahh I see, so I may just get my wish!