Congrats!! They both are quite beautiful!! Cant wait to see that babe! Im on month 7 with my paint mare...its her(and ours) first foal...so pretty pumped!!!
That's so exciting! You will never forget your first one.
and even though its my job I'm still just as excited haha. Will you be doing a foaling thread too?
What a gorgeous coloured mare!
Hope all goes well
Subbing also!
Thank you! She is a very interesting color, ive never seen a horse look quite like her.

It is a little nerve wracking dealing with a maiden. She will be moving to the pen outside my house (literally ten ft from my bedroom window) so my coworker and I can keep a close eye on her on thurs.
Here we are, one more week down!
Quinoa is still looking good, no changes to report as of now. She has always been a voracious eater and is determined to maintain her reputation.
Life is pretty sweet in the back round pen; plenty of free choice hay and good friends to keep each other company. Saraya is the black mare behind her, she's due two weeks after Quinoa. Another maiden! Boy did we cut out some work for ourselves last spring lol.
Eating peacefully
Om nom nom!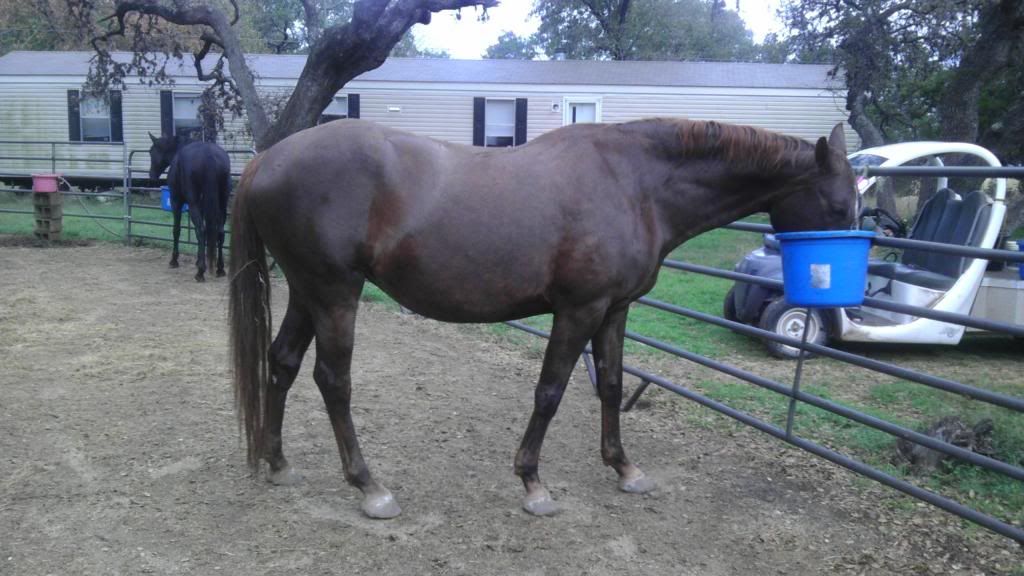 I love her colour! Best of luck to you!
Oooh yay another foal thread
Just curious though, why did you choose to breed her at 5yo? Was she always destined to be a broodmare or is there another reason behind it?
---
R.I.P ~ Bubbles - 25yo tb mare - 13.04.2011 ~ 8:30am ~ passed away naturally and peacefully in my arms
Love her color. Hopefully you get a liver chestnut like mom or the grey you are hoping for. Looks like she will be a beautiful foal no matter what. It's refreshing to see someone who is actually hoping for a grey!
Yes she was bought to be a broodmare. The owner took the time to import/buy some really really nice mares as base for her breeding operation and she felt Quinoa was special from the beginning. We did take the time to start her and she is rideable but her main purpose for us is beautiful babies.

Is it not normal to hope for a gray? I think they're so beautiful! We got our black baby last year so I want one of every color now haha
Quote:
Yes she was bought to be a broodmare. The owner took the time to import/buy some really really nice mares as base for her breeding operation and she felt Quinoa was special from the beginning. We did take the time to start her and she is rideable but her main purpose for us is beautiful babies.

Is it not normal to hope for a gray? I think they're so beautiful! We got our black baby last year so I want one of every color now haha
Oh cool
I'm looking forward to seeing the baby, my birthday is in February so I will sit and wait patiently to see how close she goes
I would be hoping for a gray too, I loooove grays, but especially steel grays
---
R.I.P ~ Bubbles - 25yo tb mare - 13.04.2011 ~ 8:30am ~ passed away naturally and peacefully in my arms