A sad ending to a foaling
---
So many people want to breed their beloved mare to get a baby. Of course we all try to say the things that can happen to the foal, mare or both. The people who want to breed always say" it won't happen to me."
Well, here is a story that shows it can happen.
We treated a two day old foal today, giving him plasma since his maternal antibodies were not stong enough in his body.. The reason? He no longer has a mother. Baby was born about a week early, they were not expecting it, and got up two days ago to a foal running around a mom standing there in the pasture. Baby running and bucking, mom standing still and hollaring at baby. The reason? Mom had broken her back leg so severely it was just "hanging" and she could not walk. She foaled the cute little guy at night and sometime after foaling and when the owners realized he was born that morning, the mare had broken her leg. She did not lay down, refused to lay down and just stood so the baby could drink. He still did not get enough colostrum, hence the plasma. so the owners lost their beloved mare and they are bottle feeding this little guy round the clock..
Hopefully he will make it. Time will tell.
These folks are experienced horse people and it happened to them. I shudder when folks talk about breeding their mare to make a cute baby to love.
Child (foal) birth is not for sissies. Never has been. That is too bad. But , could have happened to anyone, right?
It's a very grim reality that very few people accept...
I know a couple of gents who are American Saddlebred breeders, and well-known in the area for their exceptional horsemanship and breeding. I usually go there to pick their brains, take pictures of the horses, etc. I've also found a fondness in one of their stallions, who all but squishes his face against his stall so I can itch his face as I pass by.
A few months back I went over, by myself, to see the new babies I was told they had. I happened to see one with his front legs and head sticking through the gate (literally a metal gate) of the stall. Figuring he was sleeping, I snapped a few quick pictures. But something was horribly wrong; he wasn't as alert as the others and was very lethargic. I crawled on my knees to him and touched his face; he nickered but was cold to the touch, very weak.
After some abortive attempts to free the foal (I thought he had gotten himself casted and unable to nurse, grew weak) and get him to his feet, I ran next door to my boss's house. We entered the stall, shooing the mother (who all the while was grinding her teeth at us). Even the both of us were unable to get the guy up. My boss called other friends, and finally got the owners to return home... we found that the foal was only 3 days old, and at about 2 days old discontinued nursing. The boys (the owners) had no idea what was wrong with him and had no heart to put him down (they had done so once, and it hurt them deeply, I'm told).
He died that night, and the dam brokenheartedly called for her dead foal after he was removed.
Sometimes people don't think that these things just happen. Even with their years of experience, this colt took them by surprise; with the most well-planned breeding, by-the-book pregnancy, and he was still lost to them.
This was when I found the fella... you can see his dam in the background trying to encourage him to get up: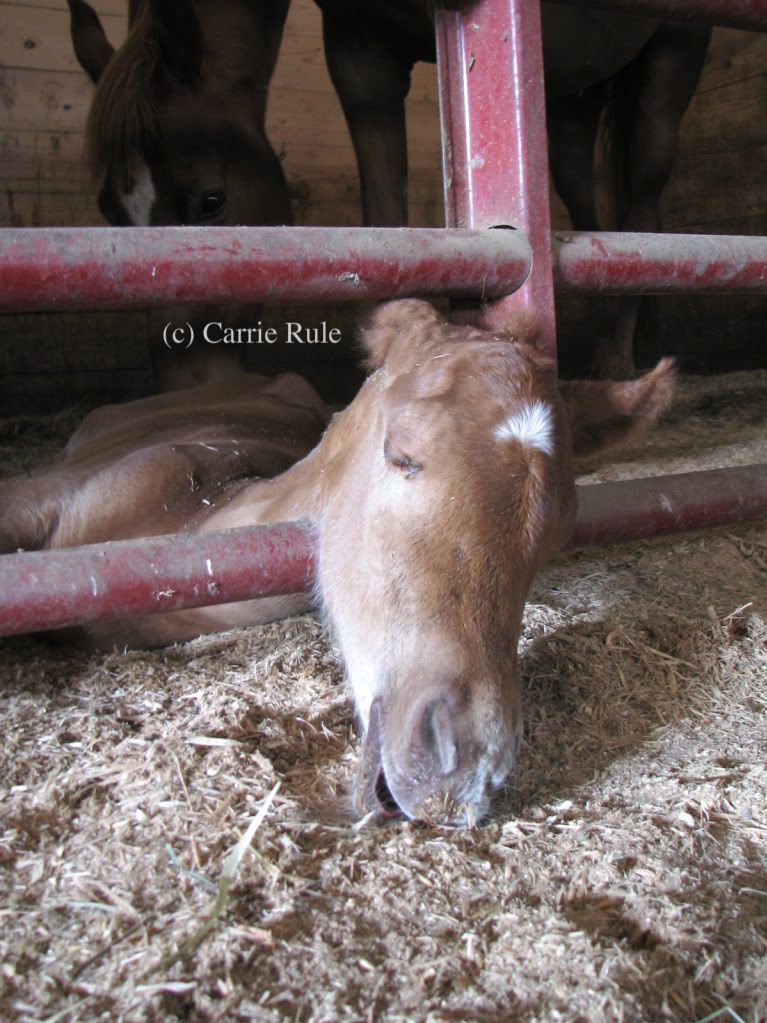 Reality hurts, that's for sure. And it needs to be accepted as a possibility.
---
"Adapt or perish, now as ever, is nature's inexorable imperative." (H.G. Wells)
| Missile Sweet Studio |
---
Last edited by Creampuff; 06-30-2011 at

10:21 PM

.
The thing is that any horse can brake a leg. It has nothing to do with the mare foaling. It could have been a gelding who broke a leg as it was this mare. As sad as it is it sounds like it had nothing to do with the mare being bred or foaling. It happens. Wish it did not but it does.
---
-I'm so busy... I don't know if I found a rope or lost my horse.
-An Armed Man is a Citizen an unarmed man is a subject.
-Where ever free speech is stifled Tyranny will reign.
Very, very sad story, Wyominggrandma. Also very sad story and picture, Creampuff.

I worked on a farm a few years ago that bred miniature horses. These were top level, nationally shown minis, and I saw more traumatic births in those two years than I have seen in a life time. And these horses had the absolute best of care, the owner had her own U/S machine and training in reading it, all the mares had regular U/S, halter alarms, cameras in the stalls, etc. And tragedy still struck with frightening frequency. I know minis are more prone to problematic births than large horses, but it certainly was an eye opening experience for me.
Thats really sad....
---
Cross Country- The act of hurling yourself and your equine partner at a stationary object with poise and grace while attempting to survive...

Poor foal. Wish it the best of luck
Quote:
The thing is that any horse can brake a leg. It has nothing to do with the mare foaling. It could have been a gelding who broke a leg as it was this mare. As sad as it is it sounds like it had nothing to do with the mare being bred or foaling. It happens. Wish it did not but it does.
I agree 100% horses I swear in a 100 acre pasture can find a half an inch wire to get cut on when we have any animal this kind of stuff can happen to anyone of us regardless of situation. God speed this special mare across the rainbow bridge and god speed her owners heart healing.
---
[SIGPIC]Mel and the AQHA gang , Dualing Lil Highbrow, Light Hershey Kiss, Sugs Sweet Playgirl, Oh Cay With Gunplay, Lena's Smart Ichi Cat, Mia Peppy Freckle
I know it can happen to any horse, my main point was the fact that now the owners will be bottle feeding a baby around the clock for weeks to come. An normal planned foaling that ended up with no mom for the baby.
I was just using it as an example of things that can happen that cause a happy foaling to turn bad and without a mare, somebody has to raise the baby.