Is she?
---
I'm kind of nervous asking this but I need more opinions. The vet is coming out in three weeks so I'll know for certain then. But curiosity is killing me. I got Annalie about seven months ago. She was out with mares and her colt at the place that had her. A couple months ago I started noticing her gaining weight in her midsection. I thought about when I last saw her in heat and realized that I had NEVER seen her in heat. Where I boarded her had geldings in and out a lot but none of them were stallions. One of them was newly gelded. He always acted like he was a stud so she kept him in a stall. He did, however, manage to get out.
Now everyone is asking me if she is pregnant, horse and non-horse people. Her old owner came out because that is who I got Arabella off of. She said she looks pregnant. She said she really thinks she is. I work this horse everyday to every other day and I only give her a handful of grain (pellets) and a flake of hay. She is on pasture 14 hours a day but our pasture is only 6-7 acres and has been mostly short all summer.
This was her when I first got her about 7 months ago.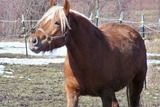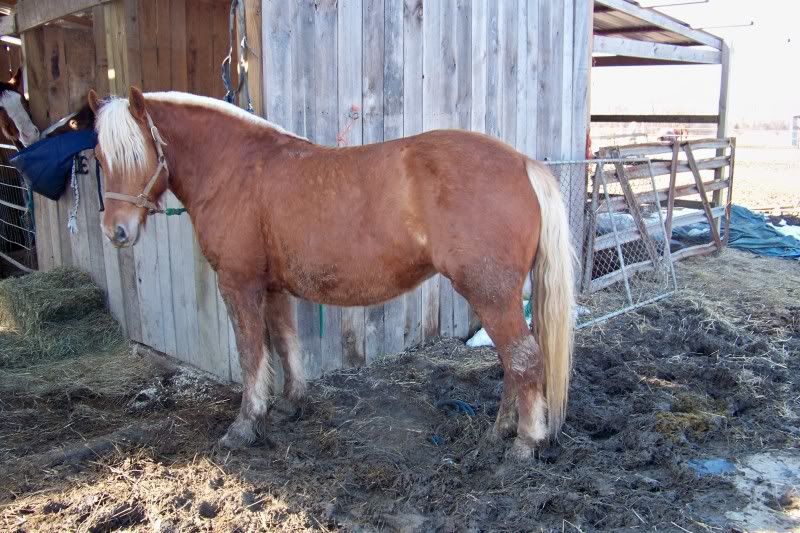 This was her 4 months ago
Two months ago
This is her now
So what do you think? Is she just fat or does she look pregnant?
I would say it looks like you got a two-fer there!

On the good side though...all the haffies I know gain weight in their midsection. Teddy gets worked daily...hard...and his belly is about as big as hers at 4 months.

Good luck! Keep us posted!
Agreed. It looks like you got a little one lol Especially from the first pic. She seems to be bulging a bit in the back part of her belly,... now this could just be weight but from the pics it doesnt look like she's got the ridge on her neck that you typically see with overweight horses... Will be interesting to find out!
Beautiful mare though ;)
---
"If a horse fails to do something that is because he was not trained to do it. If a horse fails to do something properly that is because he was not trained properly."
www.wildestheartart.com
To me, she looks heavy, but not because she's in foal. That's just my feeling though; it really is a crapshoot till you get the vet out.
Ahhh now that you say that ruffian...it looks like she may have *lost* some of that crest in the past months. Hmmm but gained a belly!
mmmm she just looks like a pudgy pony to me but there is no way to tell until the vet takes a feel. I really hope she's not, it is way late to be foaling out!!
Aww :) She looks like my Willow! We thought the same thing about her when we brought her home from the auction but alas... my girl is just FAT! LOL
---
*Dreams are within reach, you just have to go that extra mile to catch them*
Can't tell without a vet ;) I have a gelding that looks like that LOL
Not gonna guess here, but when I got my paint she was on skinny side. In 6 months she was looking like your mare - scared me to death, because she was just 2 years old AND was in field with the stud (her dad) just before I got her. I asked the vet, but he said she's not, just too much hay and being too greedy (she was somewhat starved so pretty excited about food (still after 4+ years)).
Maybe I'm just feeding her too much? I didn't think that I was....