Is she pregnant?
---
I bought a mare at the end of January. She was with a stud colt, because the guy was too lazy or cheap to get him gelded. And I could've sworn that she was in heat recently.
Well I recently had the vet out to give her shots, coggins, a fecal, and have her teeth floated. The fisrt thing Doc asked me was if she was in foal? I told him no, that I got her a few months ago and she wasn't properly taken care and it was just a belly that i'm working on. I honestly thought it was.
Well I just had my farrier back out to put a shoe back on her, and he even thinks she might be in foal. So I asked him that if she was in foal, wouldn't that mean that she couldn't have come into heat, which she did? He told that it couldv'e been a false heat.
Now I do want every one to know that I will be calling the vet in the morning to try and scheduale and get her checked.
So here are my questions. How many months would it take for Storm to get a foal belly on her? And how long before she foals will her udders start to fill out?
We are taking her Saturday to get palpated to see. But untill then I just wanted some other opinions.
Here are some pics.
For refrence, this is her first day with me,
This is her on 3-31-09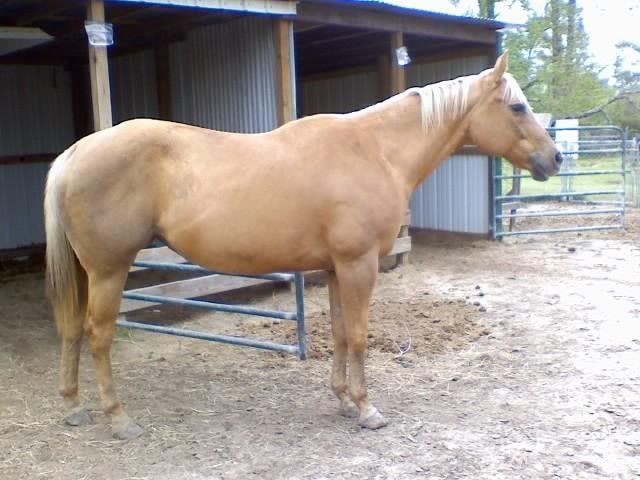 And today
\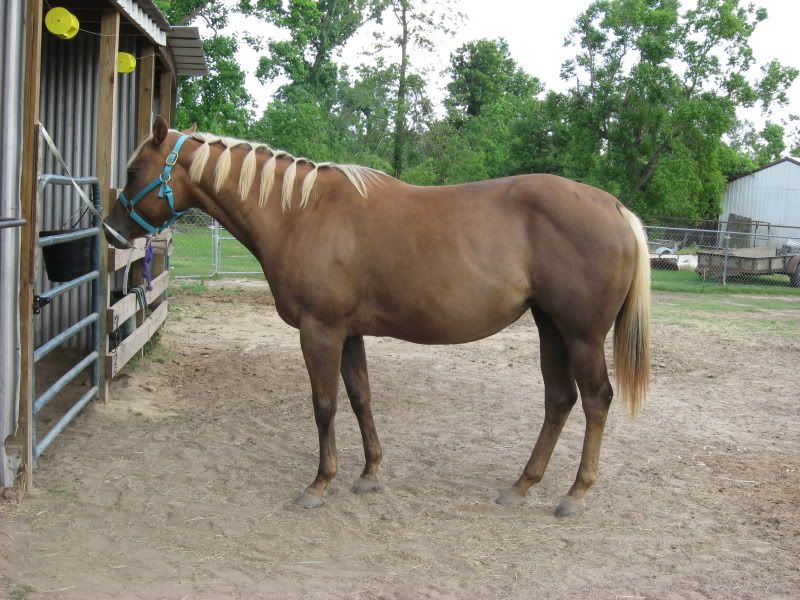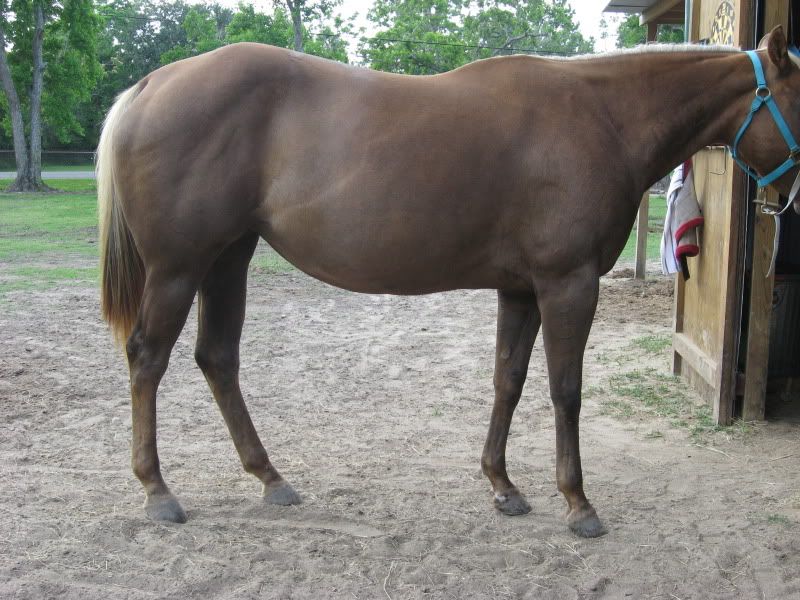 What does everyone think? And if she is going to have a foal, what questions should I ask the vet?
---
Awesome Miss Take- Storm- 15 yr APHA PHBA Mare
SS Catalena Doll- Claire- 2010 AQHA Filly
Honestly from the side pictures she doesn't look pregnant to me... If you could take some from the front or rear that would be great because some mares carry wide instead of low. Also it has to be taken into factor if she is a maiden mare or not if that is the case some of them dont show really big bellies. Pictures of her udder would be nice too.. Is it small or does it look to be like it's filling up? Mares can start to fill thier udders at about 10 months of pregnancy mine did... And some times they get it right be for delivery it just depends on the mare.. If they get it any earlier then 10 months it's impending signs of abortion... So at this point the best thing you are doing for her is getting her palpated on Saturday by the vet that really is the only way that you will know and he/she will be able to give you a ball park figure of how far along she is if infact pregnant? That would be the first question I would ask that when they palpate her and she is pregnant I would ask to see how far along the vet thinks she is? I hope this helps..... And she is a beautiful mare by the way.
This so happened to me. I bought a mare in Jan and out popped baby in March. I had people starting to ask me if she was in foal as well. it wasn't until her udder started to swell that I actually thought she was. I took her to the vet (he had to do an u/s because she was to small to palpate) and sure enough she was. Foal was born 2 days later.
Gestation, or term of pregnancy, in a mare is approximately 340 days but can be anywhere from 330 to 350 days. .
During gestation, the mare should still be ridden and kept to her usual routine so that when it is time to foal, it will be easier on her. Most do say not to trailer, jump, or go on hard rides once the mare is in her seventh month because of the pressure it would create. To predict when the mare is due to foal, simply subtract 25 days from one year from the breeding date or suspected breeding date.
There are several signs to look for when a mare is close to foaling. These are:.
2-6 weeks before foaling - The udder distends and the milk veins under her belly may also grow large and stand out.
7-10 days before foaling - The muscles in the croup area shrink due to the relaxation of the pelvic muscles and ligaments, the abdomen develops a point at the lowest portion, while the vulva enlarges and relaxes. The tail and hip muscles will drop, resulting in the tail sticking out.
4-6 days prior - The teats fill out and the nipples may become shiny and tight.
2-4 days prior - A waxy secretion builds up on the nipples.
24 hours prior - The wax will drop off the nipples and milk drips from them.
How old is the stud colt she was with?? I think you are doing the right thing getting her checked - just a shame she probably hasn't been getting everything she needs if she is preggo.
That doesnt mean the foal won't be healthy. Like I said we nor the previous owner (she only had her for 3 months) knew our mare was pregnant and the baby is perfectly healthy had a perfectly healthy birth and is now driving me nuts.
If I didn't know any better I would think that was a different horse with how dark she's gotten since you first bought her.
---
16 year old TWH Mare named Ginger
3 year old APHA Paint Gelding named Fox.
RIP Evie (Clydesdale) 7.29.09 & Magic (OTTB) 2.23.10
I don't know how old that colt the guy had was, but I do know that it old enough to have bred her. And he might have another stud out that he didn't tell me about as their was another foal there, and that stud colt, wouldn't have been old enough to have bred my mare and other for the two foals they had. I know that probably didn't make sense, sorry.
Audra, this is the same mare. She did change her color alot after she shedded out, but it was cloudy when I took those pics and just made her look darker. She mostly just darkend up on her hips and shoulders if you were to see her in person.
Here's some other pics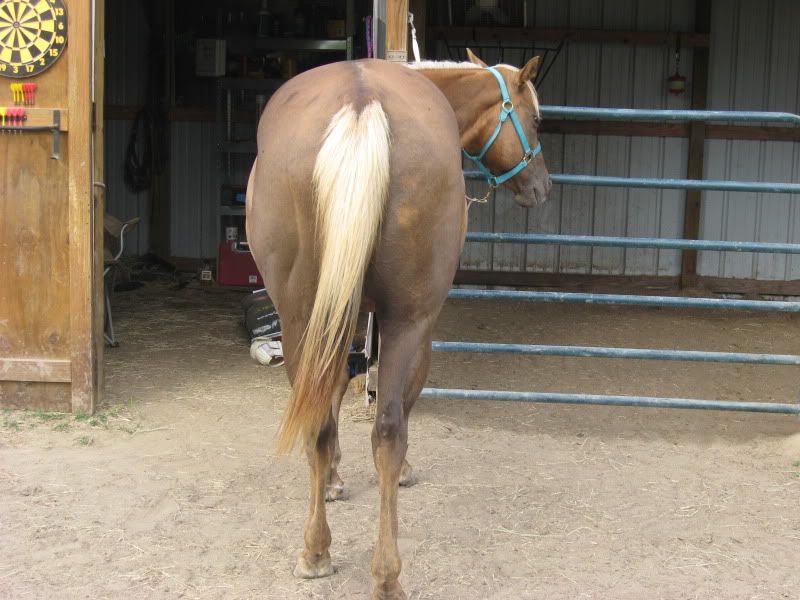 The veins under her belly going to her udders from her stomach, are pretty big. I don't remember how they looked before she got big to compare though.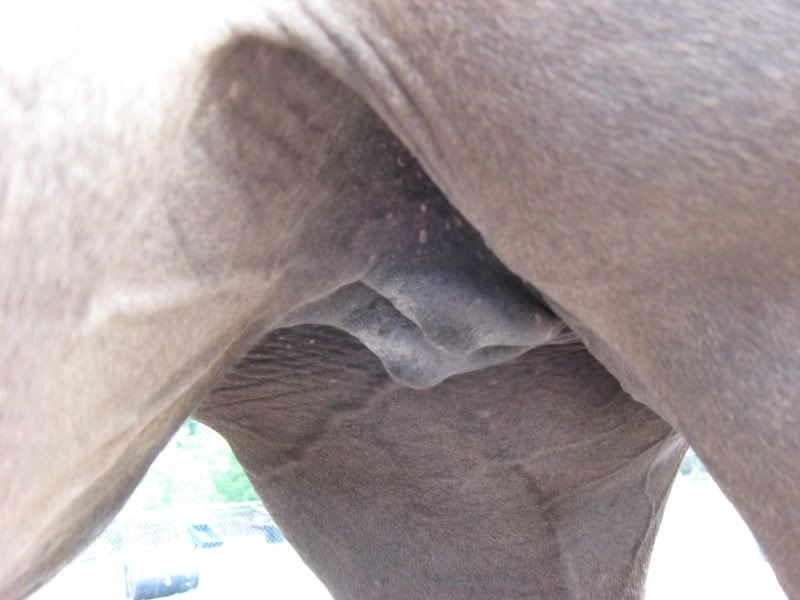 ---
Awesome Miss Take- Storm- 15 yr APHA PHBA Mare
SS Catalena Doll- Claire- 2010 AQHA Filly
I think she could possibly be pregnant, the first picture her belly aint that big and the last picture her belly has gotten bigger..i think. Let us now if she is for sure!!
---
quarter horses.....simply the best
she is a gorgeous girl, i love her dark palomino color, she is almost like a chocolate palomino.
---
quarter horses.....simply the best