Shire colt born!
---
My Shire mare has had her foal. I purchased her in late February. Ultrasound at the time was negative. Ultrasound 56 days later came back positive and the vet estimated the fetus age at 50-55 days, so we were expecting around January 27th. The first big ice storm of the year hit Dallas Thursday evening. River apparently decided this was the perfect weather for a newborn foal. 3:19 Friday afternoon (December 6) she gave birth to a big, healthy colt.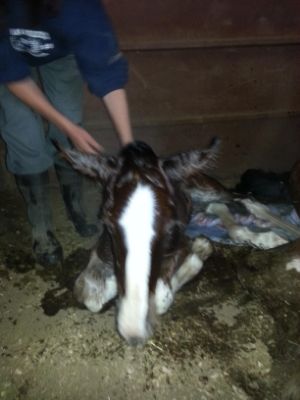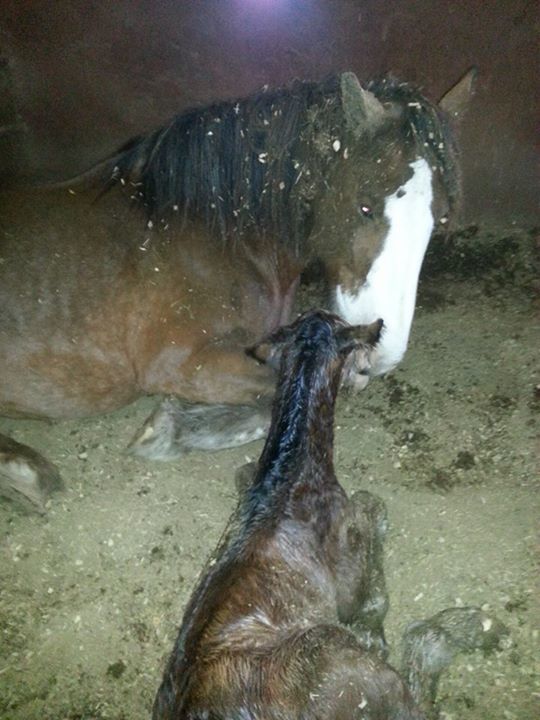 Her first foal (previous owner) was born about a month premature and passed away within 24 hours, her lungs just weren't developed. So I was in a state of shear terror that he was too early and would die. However, he looks quite well developed and chances are leaning heavily to incorrect ultrasounds. In this modern day and age, I was just leaning too heavily on medical devices. She was exposed to the stallion in January. Despite the fact that the owner at the time swore up and down that she was not in heat, Mare + stallion = prego mare.
Everything went fine and smoothly along the timelines we hope for (standing, nursing, etc) for both mare and foal. River is being a trouper about everything. She's quite attentive to him and his location, but fine with humans handling him; but other horses and chickens be warned, those are large hooves when momma is angry. We had to towel him dry shortly after birth as the poor guy was just freezing in the 28 degree weather. Another boarder at the barn lent me her foal sized winter blanket.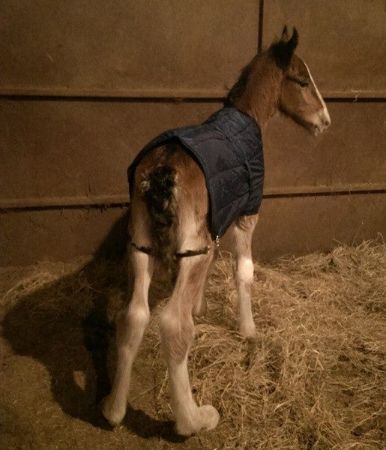 Well I'm sure this medium sized foal blanket was intended for a slightly smaller baby.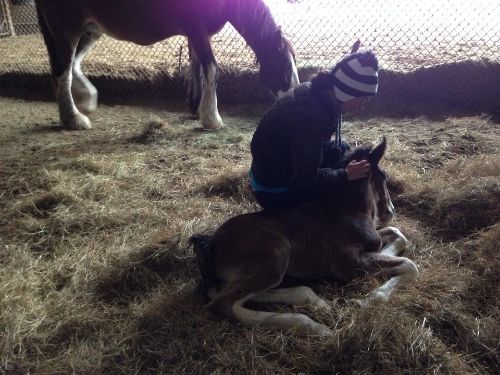 Little snuggle bug has many sweet spots.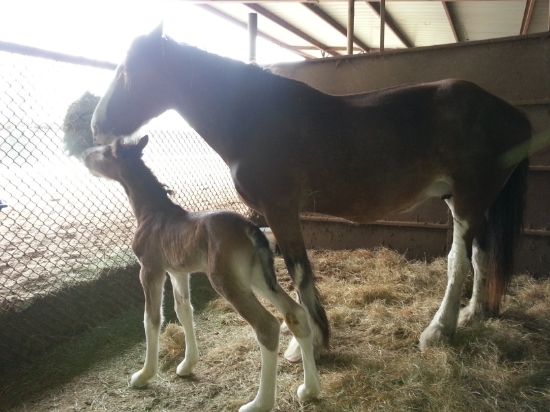 And now people are trying to convince me to keep him as a teammate for mom... in 5 years. So kiddo is still going on the sale market.
Also, Mr. Coltie is yet unnamed. Anyone have any stellar ideas? He was born during an ice storm, just before Christmas, with a full white beard, 4 white stockings, and a cowlick on each side of his forehead like he's about to sprout antlers. I feel he needs a seasonal/holiday name.
---
Last edited by Southern Grace; 12-09-2013 at

12:40 PM

. Reason: spelling error
SOOO Cute--thanks for the pictures!!
Why not name him after one of the Wise Men?
(Caspar, Melchior, and Balthasar)
is the dad a shire, too?

Kris Kringle

Kool Kat

KKKKk KOOL

Take 'em by Storm

Storm King, Storm Kat ( I know, already taken)

Eskimo Pie

B r r r idger ( Bridger, since mom is River)
Congratulations! He is adorable, I'm not good with name as it took us forever to name out last colt, but here are a few.... Storm, Blittzen (or any of the raindeer).
Posted via Mobile Device
Yes, sire is a Shire, he was in fact National Reserve Grand Champion Shire stallion in 2001 I believe. Mr. Coltie will be registered. Shires do no typically use sire and dam name or bloodline names in registration names. They usually have "Farm Name + Individual horse name".

Mare is Avalon's Limited Edition, from Avalon Shires
Sire is Tally Ho Legend, from Tally Ho Shires
Darn, I'd take him in a heartbeat if I had the money lol. He's adorable. I'm horrible at names, I always have to ask others for help. I've had my eye on Tally Ho shires for along time. I love their stock. Congrats on a big healthy baby!
I like my "Brrrridger" idea. his registered name could be "Bridge over Troubled Waters" or "Bridge Over Stormy Waters"
So the little dude has curly ears (as you can see in the picture with the blanket on), will those straighten out with age, or will he always have curly ears?
We need more pictures of sir cuteness. :)

I like the name Blitz (shortening the reindeer name Blitzen). Registered name could be Ice Blitz or Ice Blitzen
Posted via Mobile Device
I'd name him Nick -- After Saint Nicholas! I really love him... I'd love to have a large breed baby. :)