Sonya- New preggo pics!
---
OK guys, how long do you think she has left to go? Sony is due April 11th, but I, as well as my barn owner, doesn't think she will last past April. She is a maiden, so I know that these signs don't really mean anything, but it is still fun to guess!
Here is a picture of her from the front from friday(don't mind her eyes, the baby was kicking her alot so she didnt want to stand in the cross ties):
And here is a pic from a month and a half ago for a comparision: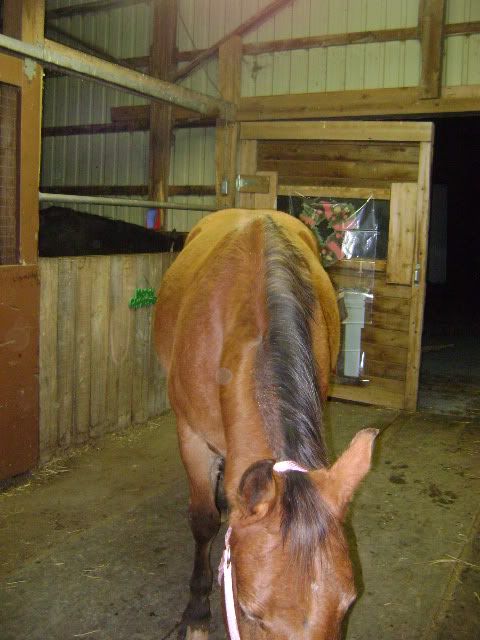 and her belly on friday: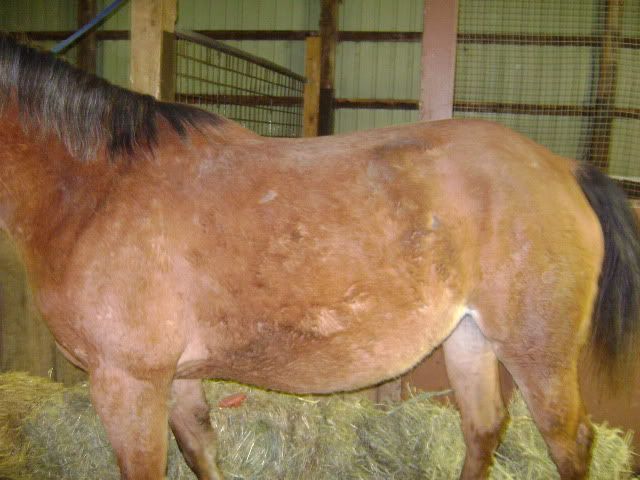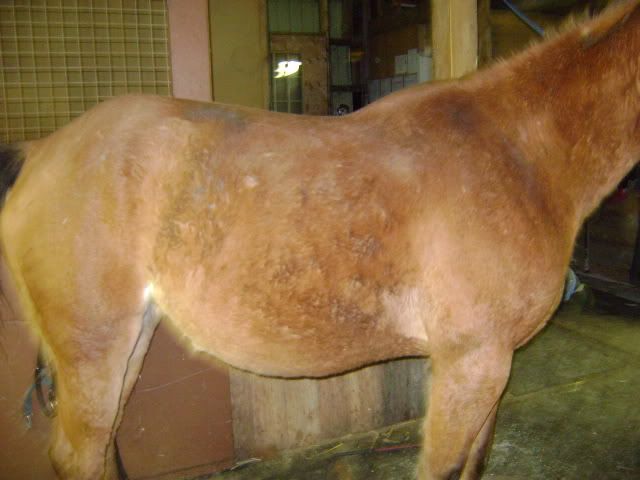 And her teats(they are making clear-with-a-yellow-tint colour milk):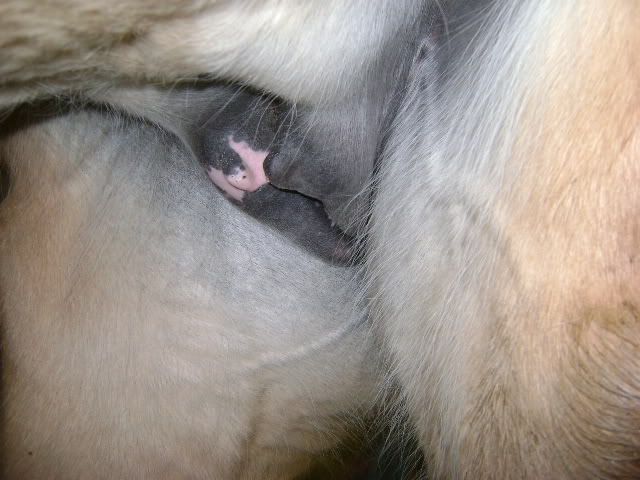 Thanks for looking and any suggestions!
---
Sonya ~ 5 yr old Appaloosa/Welsh mare
Awww, she's cute! Under normal circumstances I'd guess her to have about three weeks left, just based on my previous experience, but my own mare has had me thinking she was close for ages now so I certainly don't trust that anymore! I think your best bet is to assume she'll be close to her date, but be prepared no matter what!

Aww, it's so fun, with all these babies coming soon, I can't wait for them to start arriving and seeing the pictures of all the new lil foals!

Her belly looks like it's started to drop, but not very much yet, and overall she doesn't look very "big". It looks like her rt side teat is much, much fuller than her left? might just be the angle of the picture. (is worth keeping an eye on in case you have a problem with mastitis) But see how her teats still face each other? when that deep center crease starts filling in between her left and right half, and the teats face downward or out from each other you will know she's getting pretty close. You can always start testing her milk if she's producing enough to test. I use CheckMare tests that my vet provided, but someone (I think it was CheyAut) mentioned you can just use pool test kits from Walmart!

Good luck and keep us posted!
Thanks Indy! That is just the angle of the picture. She is pretty well proportioned lol.
I thought she looked like her belly was dropping but wasnt sure. The baby is starting to make her uncomfortable when it is awake. Lol. I feel soo sorry for her when I see her waddling around in the field..
Posted via Mobile Device
I can't wait to see everybody's new babies!!! Poor Sony, her eye looks so big in that first picture. She has to be uncomfortable.
Lol Yeah she was really uncomfortable that night. She would let me or anyone else near her sides. She wouldn't stand still, it was like she had to move or the baby would kick it's way out of her... When I was trying to get pics of her teats I had to brave getting kicked by the baby. Lol.
Posted via Mobile Device
She doesn't know what to do with herself when it starts kicking. She has never seen a foal before other than when she was a foal herself so she doesn't really have an idea of what is going on inside her.
Posted via Mobile Device
Congrats on your mare! What is she bred with? She looks to me like shes due soon here from what her teets are indicating.. My mare just had her filly last night at 4am
she bagged up a week in advance and then had the baby about 9 hours after her fist waxing.. Any questions let me know! It will be a very fun and challanging experience! Good luck!
-Britney-
This is my new filly (Kali) born March 8, 2010 at 3:58 am
Awww. Your filly is too cute! Congrats!
Sonya is bred with a warmblood( 3/4 Clyde 1/4 hackney). I will post some pics of him soon.
Saying that your mare bagged up a week in advance makes me nervous/excited since she started bagging up last week.
My barn owner is checking her every day to see if she is dilated. Once she is she is seperated from the other horses and put inside or in the corral by herself.
Posted via Mobile Device
OK, here are some new pics of her from tonight- her birthday!!
Her butt is starting to drop-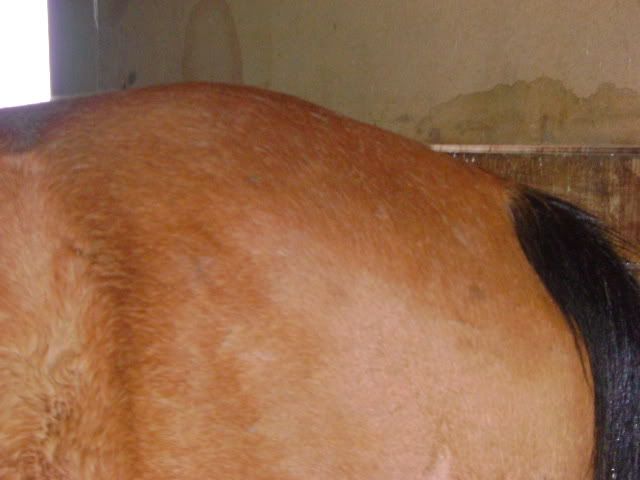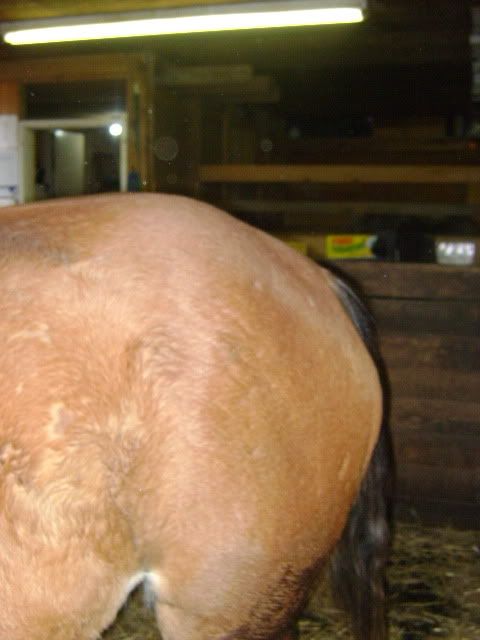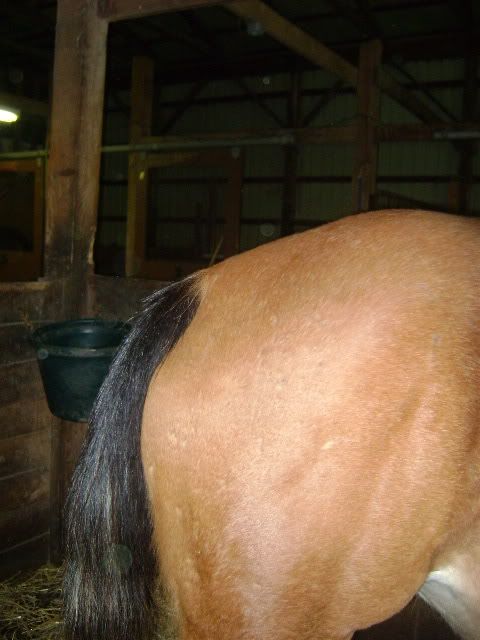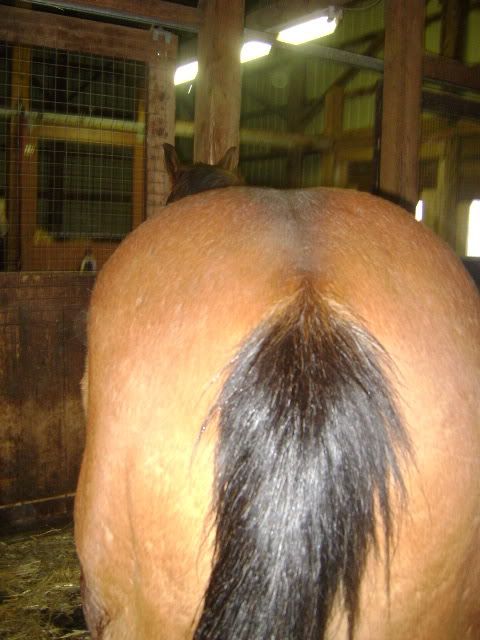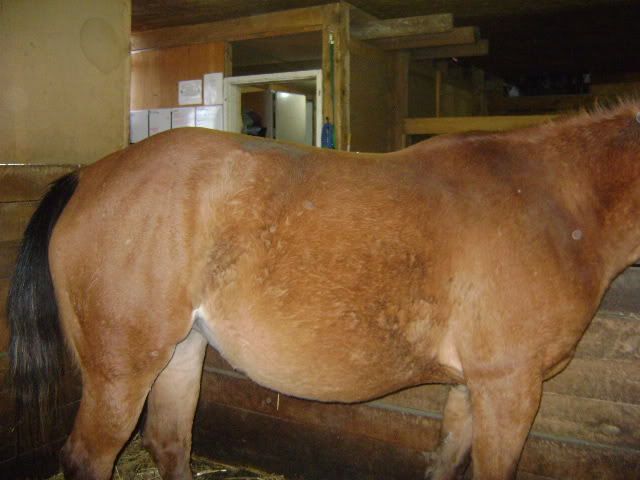 There's the update!
So what colour do yall think she is gunna have? Here is a pic of the sire>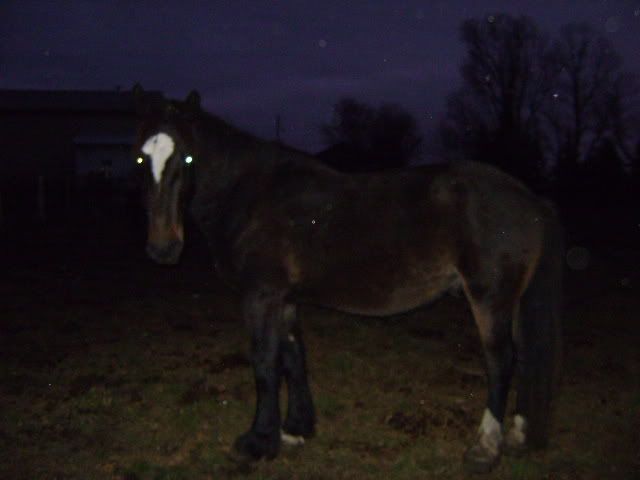 ---
Sonya ~ 5 yr old Appaloosa/Welsh mare