They all downloaded for me and she looks great!
Posted via Mobile Device
Thank you!!
Posted via Mobile Device
Just checked Buffalo Ranch's website and Hydrive Cat's produce earnings have increased a couple hundred thousand since this spring! That is exciting! He was also 2012 freshman sire of the year!

Produce Earnings$655,244

I also wanted to ask you guys a question! Hydrive is enrolled in the following registries:
Nominated to

NCHA Super Stakes, Breeders Invitational, PCCHA, Bonanza, NRCHA, & ACCHA


How do I get the foal nominated to the following events? Which are worth nominating to and which are not? I've never dealt with any of that stuff, so this is new to me!
Just got this pic of Simba at 17 months old! He is looking pretty good! Haven't seen him since the spring!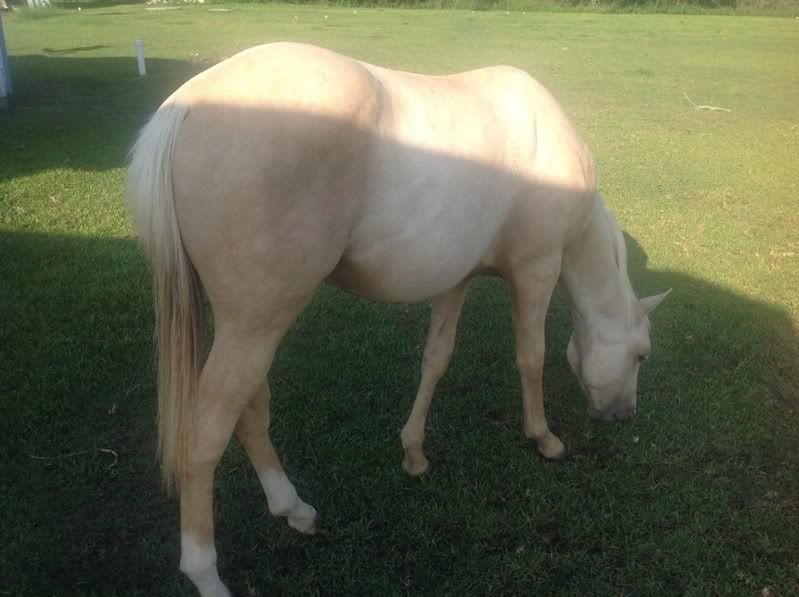 Posted via Mobile Device
Well, Josie is 162 days in foal!!! She is doing well, although has been sharing with my friend's horse and I think it's showing in her condition. She is a slow eater and the other one is a pig so I'm almost certain she isn't getting her full share , even if she is top dog. I had her front feet shod so she wouldn't continue to chip anymore and am planning on leaving them on til February. What do y'all think of her conditioning? I think she needs more weight, seems like she has lost some conditioning over her back especially :/. We did go to a playday and I turned her loose to do a couple events.
We actually got 3 1st's, which is amazing considering I don't do speed events and she definitely isn't patterned. Thank god for a smart horse who doesn't anything I ask! Going quicker than a lope got to her head a bit coming out and she didn't stop how she normally does but came right back to me when I rode her in/out of the arena when the event was over. She's been whispering in other horses' ears all about how she should be a racehorse and how she actually isn't cow bred at all :p.
She is actually extremely smart and well rounded, along with having to he most expression I've ever seen in a horse's face, I can tell exactly how she is feeling and she loved it! We might have to play more with the barrels :)
She got a 23 on the cloverleaf barrels, 8 on the straightaway barrels, 11 on the flag race, I got d/c'd on the potato race, and got a 12 on the weaving in and out of 2 barrels , whatever that one was called! We would have done so much better on the cloverleaf but I was in split leather reins right after putting some showsheen on her so the reins would run straight through my hands!
Anyways, I am extremely proud of her , it's a compliment when someone comes up and asks if I take outside horse because my horse is amazing ;)
Other than that, things have been somewhat slow for her. I'm going to take her to get checked out by my vet again in about 6 weeks just to make sure everything is golden. I am worried about her condition though, any thoughts?
Trail ride a couple weeks ago! It was one of the first cooler afternoons!
Pretty neat shell ground tie when my farrier is out :)
Shows her pretty dapples while in a stall when the sky was about to open up.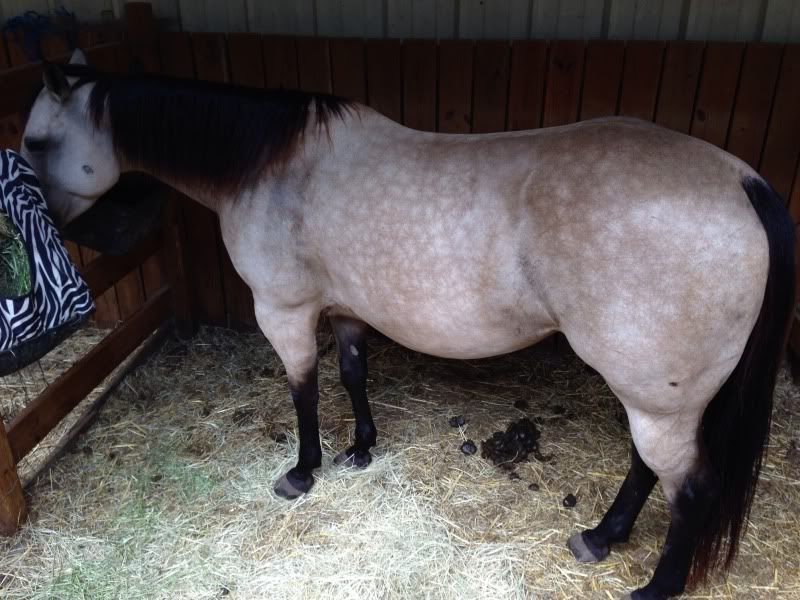 She never did show from behind but I figured I'd start taking a couple pics anyways!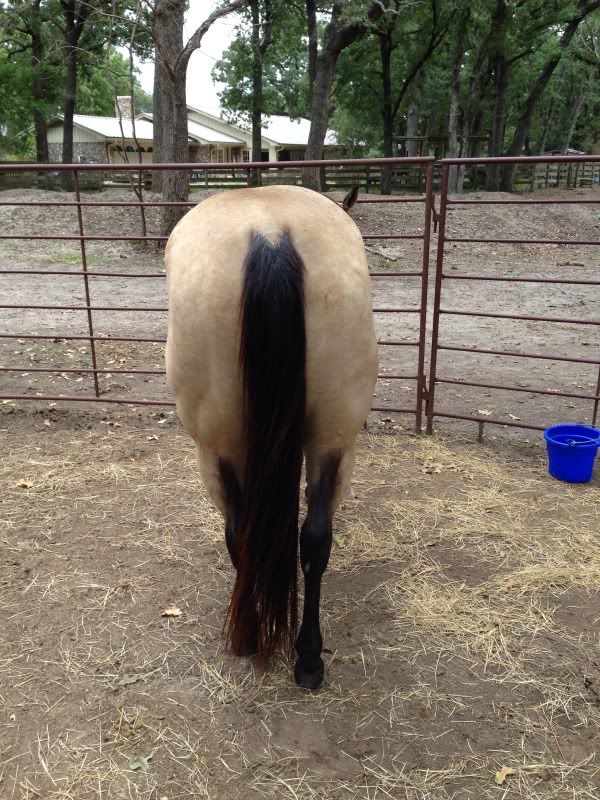 This was the pic that got me thinking she needs more weight/conditioning on her. She has a much better top line than this pic shows usually. What are your thoughts?
This pic was taken same time as the above 2.
Posted via Mobile Device