Congrats on the great news.
Posted via Mobile Device
Thank you MLP!! You gonna have any foals born in 2014? Your baby this year is gorgeous!
Posted via Mobile Device
Went on my first saddled ride on Josie in 5 months!!! She was great, although was ready to go - she walked off without me asking her about 5 times before she was seriously reprimanded and made to back rather fast a few steps. After that, she was golden. We mostly walked around and drug branches into a pile, which was rather fun. We were stepping over some and she caught her back left leg in a V of one branch. Omg, I thought there'd be a rodeo, just because she hasn't been with it for a while. She shook her leg trying to dislodge it. I told her whoa and she sat there 3 legged while I dismounted and freed her leg. I'm blessed to have a horse who will stop and think in an unpredictable situation. Anyways, I got a couple pics!!!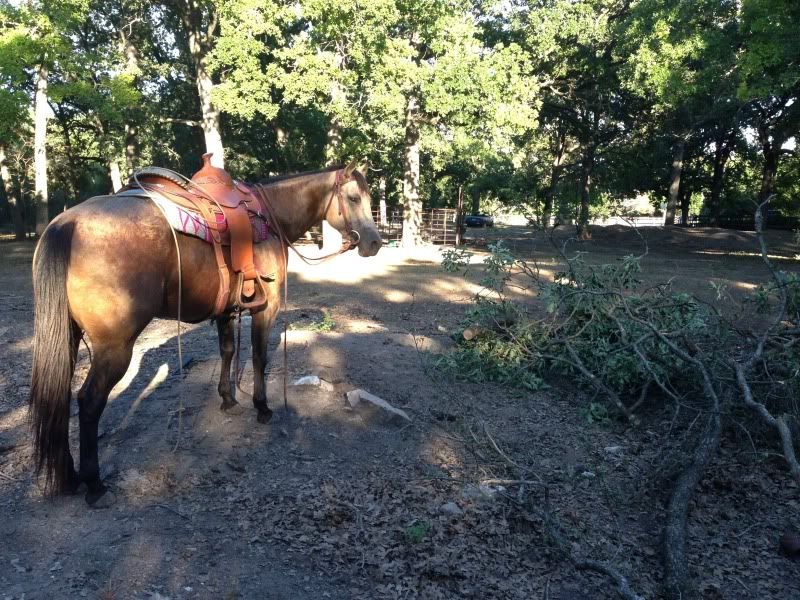 Posted via Mobile Device
She looks great and is very beautiful!! Josie sounds like "my" girls, I can do anything with them and they never panic either.
---
Being horseless is the pits!!
Great pics, your girl is beautiful!! Josie sounds like my girls, they'll let me do anything with them even when they're scared.
---
Being horseless is the pits!!
Thank you! My friend had a couple horses over at my sisters house and the goofy colt who never stays in fences jumped out yesterday, so Josie got to work on ground tieing as we fixed a flat on the trailer, then helped me catch the errant colt ( who decided he would sit back a couple times on the lead while dallied because he didn't want to leave his dam to back around to put him in the trailer), helped catch his dam, then got loped around the arena a couple circles before babysitting my mentally disabled nephew. What a day!!! It was busy, but we had so much fun out there riding!! The pics are from ground tieing, the lighting was bad to take riding pics.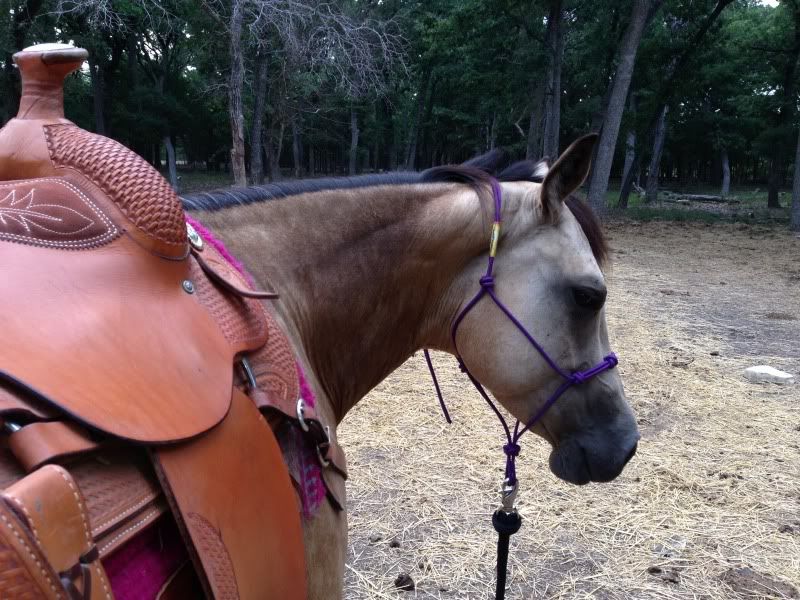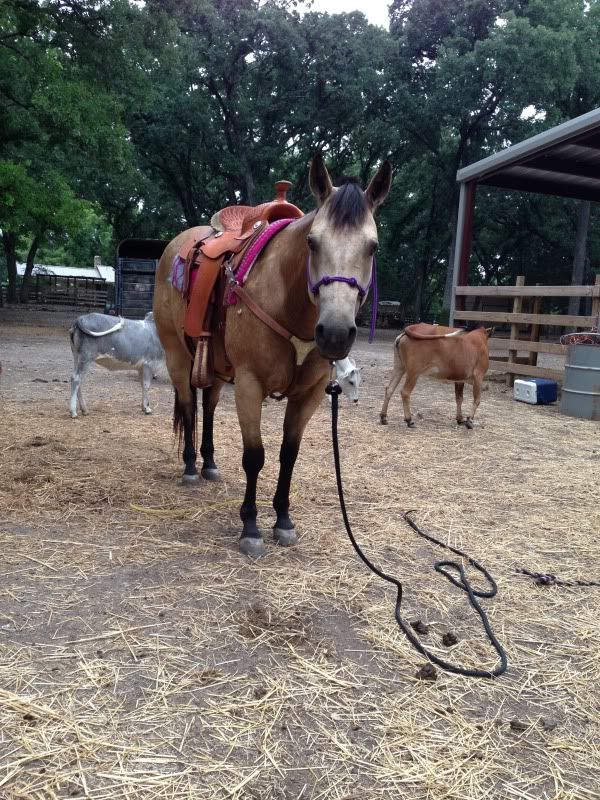 Posted via Mobile Device
---
Well, we went and got an ultrasound and a trim for Josie today! She is confirmed 75 days in foal. I was planning on getting a pic, but the foal wasn't very clear, so I didn't bother, lol.
Doc was showing me where she was and asking if I could see it. I replied no just as the foal bounced all around in there for a couple seconds. It was kind of humorous when he asked me if I could see it now.
He said she had a strong pregnancy and is doing great!
She also got a trim from someone more knowledgeable (or perhaps just cares a bit more) and is super balanced with her barefoot trim, much better than the "slap and tack" approach of my latest farrier. He definitely earned himself another customer!!!
With all that being said I didn't grab any pics from today, but thought I'd include a couple taken in the past few weeks since I posted last! Yes, Im aware that her halter doesn't fit correctly in the hat pics, my bud brought me the wrong one to grab her out of the arena, and it suited its purpose just fine for the 20 minutes we played with her.
We found a wild frog and desensitized her to that - she kept trying to shake him off when he approached her withers, lol.
She also now paws on command, getting ready for her to learn to "step up" onto a platform and stand there with first 2 feet, then 4. Im pretty excited!!!
Forgot to mention! I am looking into going ahead and breeding Josie again in the next 2 breeding seasons to a reiner, anyone have any ideas on who would suit her beautifully? Probably looking at 5k breeding fees or less. Would love any and all opinions with any pics and links! I suck at looking stallions up, lol. I'm looking for something that will be super marketable if it is a colt, I plan on retaining the fillies. Thanks!
---
Last edited by trainerunlimited; 07-13-2013 at

05:53 PM

. Reason: Adding additional information!
Hmmm, Im not sure why my pics turned sideways, sorry!
---
Dove Chocolate Discoveries Independent Chocolatier
www.mydcdsite.com/susannaashdown
For All the people who live in the USA...online ordering is now available!!!! Click above and visit my site and then click "Shop Online."
Kind of an afterthought...but I had seen some people talking about it elsewhere.

Is it possible to put in semen from two different stallions at once? I know you really wanted a RC foal but his semen was poor and you didn't want to miss out on a foal this year. So why not put in two stallions and DNA test the foal after?

Congrats on the pregnancy!