View Poll Results

: What color/gender do you think she will have? Chestnut mare x Palomino stud

Chestnut Colt
9
13.43%
Chestnut Filly
8
11.94%
Palomino Colt
18
26.87%
Palomino Filly
32
47.76%
Voters: 67. You may not vote on this poll
OMG I am so glad she is doing ok now!! She is beautiful :) Congrats on a gorgeous baby, and please forgive us for playing it up on the thread when you were stressing.
---
I miss you Rascal. Every day, all day.
Beautiful!!!!! Congrats on the baby
Posted via Mobile Device
Thanks everyone. We will keep giving her medicine for a few days after she comes home. Hopefully everything will turn out ok.
Here's another photo of her.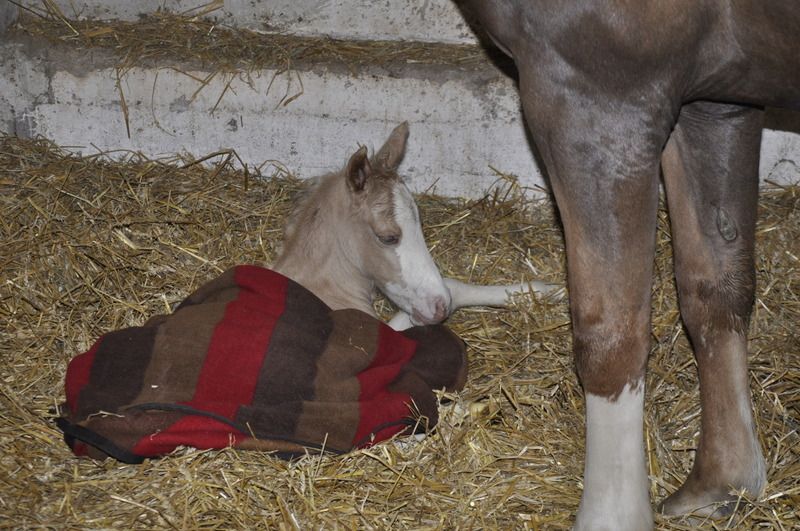 Congrats! She is so beautiful! Stella and Mr Right made a stunning filly! She looks so much like her sire too. Can't wait to see more pictures since everything is going well now
It would appear that daddy had a LOT of influence on this little girl's looks ... love the chrome!
---
Last edited by texasgal; 05-23-2012 at

09:15 AM

.
She is exquisite! Congrats on getting exactly what you ordered lol
---
Mods, grant me the serenity to see the opinions I cannot change, courage to change the ones that should change, and the wisdom to spot the trolls.
Green Broke
Join Date: Aug 2009
Location: Vancouver, British Columbia
Posts: 2,808
• Horses:
2
OMG congrats!!!! I knew it would be a pally filly. She is gorgeous, love her face. Glad she is doing better. Can't wait for more picts.
Congrats on that darling filly and I'm so glad to hear that she's feeling better.
Posted via Mobile Device
What a gorgeous foal that is!!! Congrats! :)
---
"The hand should be a filter, not a plug or an open faucet."
N.Oliveira