Thoughts if this horse is pregnant?
---
So, there's a STB mare that I am considering going out to look at. She's a rescue, been through multiple homes.
I was told that previous owners had a stallion that got loose at night and was in with the mares, while this one was in heat. No one "saw" anything happen but there's a chance. This was sometime during the summer (haven't gotten more specific information yet)
Thoughts on if she looks pregnant?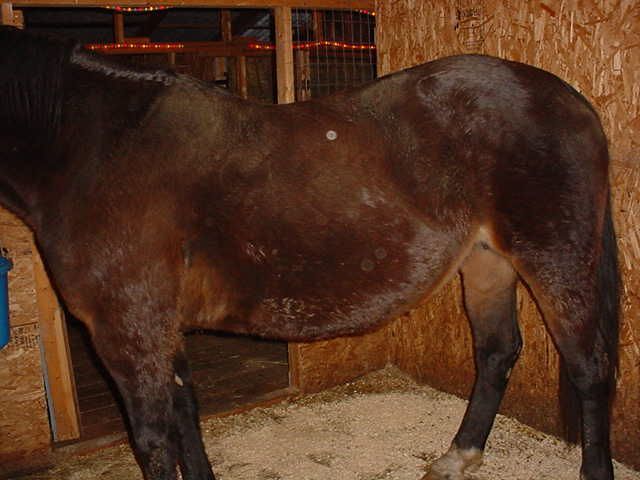 ---
She could be. She could also be wormy, or just built like that. Unfortunately, the only way to know for sure is to have a vet out to look at her.
honestly, IMO, I'd venture to say that she does look pregnant. But, again, you never know for sure.
I agree with SnowCowgirl...she looks like she could potentially be preggers, but it's really difficult to tell in just one photograph. A vet would be able to confirm one way or the other.
My gelding looks like that.
Posted via Mobile Device
The more I look at this photo, and I'm sure it's just the lighting....but does she have a large lump on her side?
---
This is what happens when you have democrats in office
A vet can include a preg check as part of any PPE you have done on her.
I agree only a vet could tell you for sure. Well unless there are two feet sticking out
Here is a pic of my mare at 6 and then 7 months, as you can see you can't always tell especially for maidens. (Nevermind the muddy pic, she likes to roll
especially when I try to keep her clean)
Hard to tell..if I had to guess I would say she looks like she is close to six months or so...but only a vet will be able to confirm that...if she isnt...she is could be wormy...all in all...prob best to have her checked over before you decide...for more then just preg chk...overall check would prob help so you know what you are getting into...