Quote:
Definitely glad she didn't have it Tuesday! But Iwould welcome a foal anytime now. She's been a doll with all the prodding and poking and pictures. She actually used to spook at the sound of a camera but now I can take pictures of lady parts and she doesn't bat an eye. I musttake too many pictures, haha.
Posted via Mobile Device
Seems you've founded a new method - "So Pregnant You Can Do Whatever You Want At This Point" desensitizing :)
Ha! That is about it. She also used to be hard to catch. Now, maybe she's just used to me, but the wider that belly gets, the less she seems to play hard to get. She barely shuffles off 6 steps before she gives up and stands to be haltered, vs a 15 minute chase when she first arrived. ;)
Posted via Mobile Device
I can finally call what she has a proper bag now! It isn't swollen and looks about to burst or anything but she has a nice pouch that you can see swinging when she walks. Got a small stream of milk and it is clear. I think there is a full moon tomorrow so maybe she is planning around that. ;)
Posted via Mobile Device
She seems to be getting more bag by the hour, and it ranges from clear to foggy white.
Posted via Mobile Device
Yearling
Join Date: Feb 2012
Location: Wide Open North Dakota, USA
Posts: 977
• Horses:
2
gettin closer! :)
---
You have to learn how to fall before you can learn how to ride~

Still the same color. It has a very slight stickiness to it, and this morning I leapt out of bed because I thought she was having it. She was walking around with her tail raised, and nipping at her stomach. When I came outside she walked to her food bucket and stood there, and she stopped whatever she was doing, haha.
Posted via Mobile Device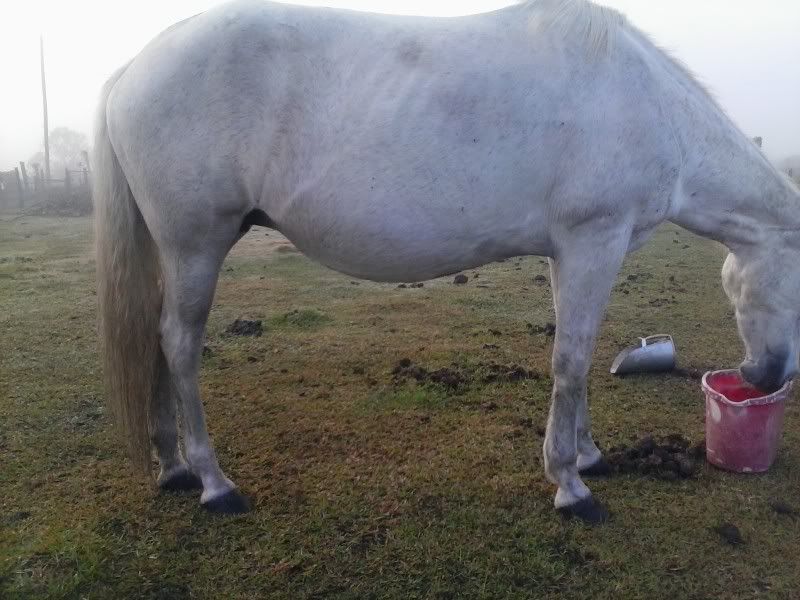 Oh my gosh!! I'll bet you're on pins and needles with excitement! Sounds like she's very close - especially nipping at her stomach.... Ooooh good luck and thankyou for keeping us informed!! :)