2 down (thankfully) 2 more to go!
---
I may seem small, but if you mess with my horse, I will break out a level of crazy that will make your nightmares seem like a happy place.
Congrats!! What a lovely boy!!
---
For those who don't like me-- it's mind over matter; I don't mind - - and you don't matter.
www.obsidianarabians.com
Thank you!
Tica and Jester are doing well! He's not as brave as he was yesterday, he's sticking right to momma. But he's pooped and peed and is just so stinking cute!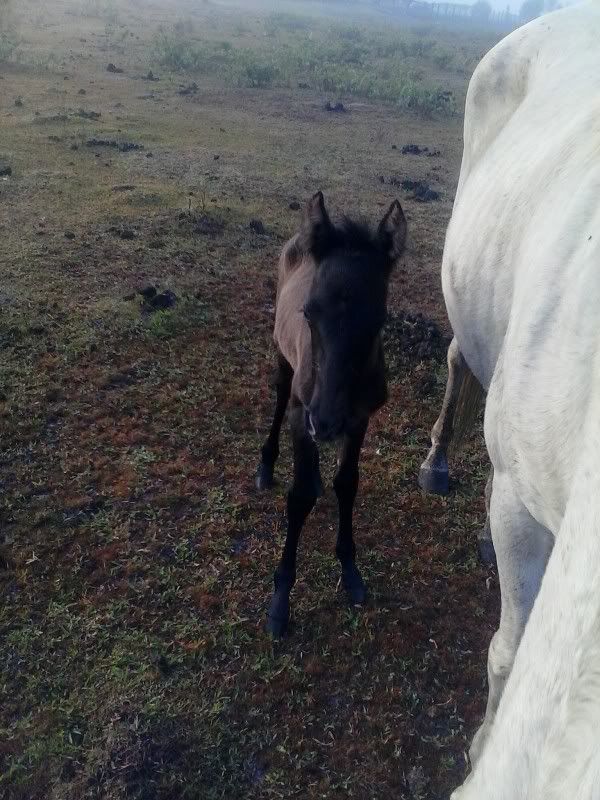 Posted via Mobile Device
About dang time! Jester is a looker, very nice colt! Congrats :)
Yearling
Join Date: Feb 2012
Location: Wide Open North Dakota, USA
Posts: 977
• Horses:
2
Oh he is to flippin cute. His legs are so long and awkward its adorable :)
---
You have to learn how to fall before you can learn how to ride~

I knew it - as soon as I go on holiday, he arrives haha

Congrats - he's gorgeous :) xx
Posted via Mobile Device
Congratulations!!!! That is one fine looking little colt there, and I love his color! I'm so glad these mares are finally starting to cooperate! LOL!
---
Meredith
Red Cedar Farm Quarter Horses
Thanks everyone! He's doing really well! Very healthy guy and he is loud! And right now he's in his first thunderstorm, poor guy. Tica just wouldn't go in the covered paddock but at least it's been warm out. :)
Posted via Mobile Device
Here is little man this morning. :)
Posted via Mobile Device