Tucker is 2yrs! Update
---
So here's a update on Tucker. It will be long.
I've been having problems with Tuck for awhile now. Truth is... I hate him. He turned to on June 23rd and is becoming dangerous to me. He has NO respect for me, I have to carry a whip with me all the time when i'm out there. I had taught him almost everything he knows. He can yield his hindquarters, lounges, ties (although he does untie himself), saddles like a pro. He's scared to death of my 2 horse straight load, he'll set back everytime and tears himself up. He's horrible to bridle, I ended up getting a small bite on the leg trying. Well in Febuary I sent him to a trainer because I hadn't done much with him over winter and needed help getting him back on track, he was gone for a month. While he was there he calmed down so much it was amazing. He was bad before he left and is much worse now. Before the biting was occasional but now it doesn't stop. Ever. She taught him to load as that's something I could never figure out, and he was starting to learn to yeild his shoulders. He was bridling great, but not now. He's just falling apart.
In my heart I know I need to sell him. I think he was great at the trainers because he was away from his mom and needed someone, anyone, to trust and protect him. Now he's been back and has his mom again for protection and he doesn't need me. I really want to see if that trainer may want to buy him becuase she saw the potiential that I know he has. He's very smart and picks up things sooo fast when he wants, but soo stubborn when he doesn't want to. He needs someone with more experiance, patience and to be away from his mom. I really wanted to try and show him in western pleasure, but I can stand the thought of keeping him anymore. And I don't want to spend more money on training him and when he comes back home, he'll be the same monster as before. But it will be a couple years before I can save enough for a show horse. I still have my mare, always will. But I really don't think she will ever be a pleasure horse. I think she was barrel raced way to much.
I just don't know what to do. I could send him to the ranch I sent Storm to when I was weaning Tuck, and let some horses kick the crap out of him. It's always been him and Storm. Or just sell him. Any opinions? Please? I can't keep spending money on something that makes me miserable. Anytime I go to do something with them, I always choose Storm.
Well i'll try and got some pics of him soon. His mane is a knotted mess. I've been very tempted to cut it like I did with Storm.
Thanks for reading all this.
Here's a pic of him at the trainer's so y'all know who i'm talking about.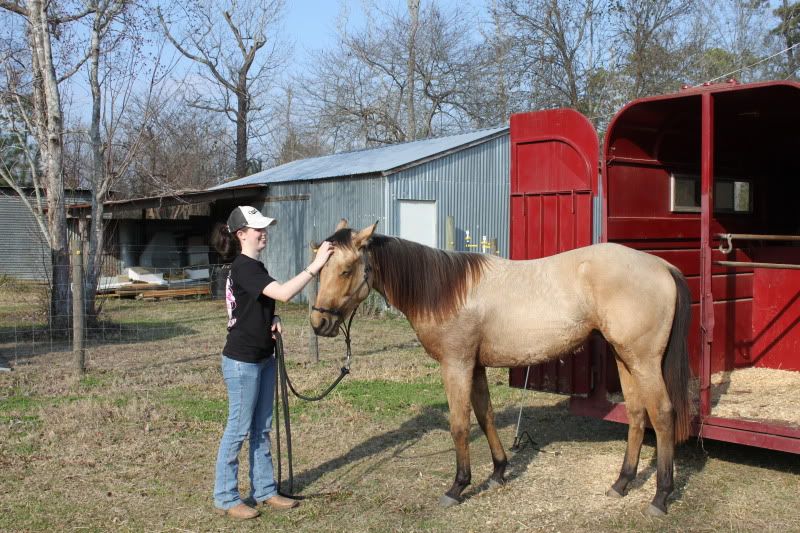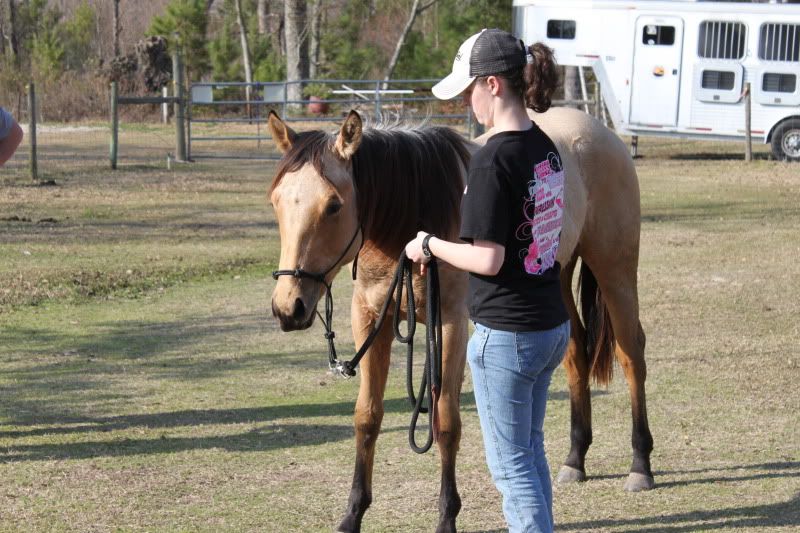 ---
Awesome Miss Take- Storm- 15 yr APHA PHBA Mare
SS Catalena Doll- Claire- 2010 AQHA Filly
There's a reason he won't do things for you that he will for the trainer. Your confidence level I believe is shot. To me, he's nothing but a bratty baby and needs a strong leader. You can't expect a miracle by sending him off to a trainer. It just doesn't work that way. You should be trained right along with him. I don't know how old you are but even so, if you feel he's too much for you then get rid of him.

In my opinion though, any horse you attempt to purchase again will have issues you need to be strong for. A question,, why do you have to carry a whip? What does he do?

Sounds like you aren't experienced enough to handle a baby. I would say before you get hurt or he gets worse, get rid of him.
Posted via Mobile Device
I think you could do it. Train him, teach him manners and all. Honestly, if you don't want hm, sell him. I'm looking for a 2yo myself, although I'd prefer a filly. Try a little bit longer, and if it's just not working, you can sell him. Some horses don't click with their people.
I remember Tucker (and the so lovely Storm!)

I'm sorry you have had such a hard time with your kiddo. Youngsters can be such a challenge.

It really sounds to me, from the point you are at mentally, it is time to let him go. If your trainer wants him and he worked well for her, that might be a good idea.

Just two last little questions though....one, is there any way on your property you could separate him entirely from his mother?

And two, I seem to remember this is the case, but he's already been gelded, right?

Good luck on whatever you decide, and thank you for the update! So wanting new pictures of Storm!
Hey guys, I didn't mean to leave the thread for this long.

I didn't send him to the trainer expecting a miracle. I needed help giving him a "tune-up" from not working with him much over the winter. But mostly help with trailer loading... which didn't last long.

I carry a whip out there with me because he's a very nosey boy and will try to bite me. He'll give me space with one but not without it.

I definately don't click with him. He's so head strong it's just unreal.

I have no idea if the trainer will want him. She has three horses now and a foal. It's just a hope, or maybe she know someone who will want him. There was a lady who had a paint there for training that mentioned she wanted him if I ever sold him, but since he's so horrible I don't know that she will now. And just so everyone knows I will be 110% honest with any buyers.

I don't have the room to seperate them. And if I did they would have to share a fence line. He was gelded at 4 or 5 months while he was being weaned.

I've been taking lessons with another trainer, so i'm going to talk to her and see if she thinks I should send him to the ranch for a month or two.

Well i've got to go see what I can do with his mane. It tangles into dreads over night and it seems as one of them got caught on something and got tore off and is just hanging by a small piece. Might be time to pull/cut it. He was so handsome with it long :(

I'll get pics this evening of him and Storm.
---
Awesome Miss Take- Storm- 15 yr APHA PHBA Mare
SS Catalena Doll- Claire- 2010 AQHA Filly
Well here's a few pictures. Tuck is VERY hard to get good pictures of. He mostley trots around behind Storm.
His new hair cut
Lope tubby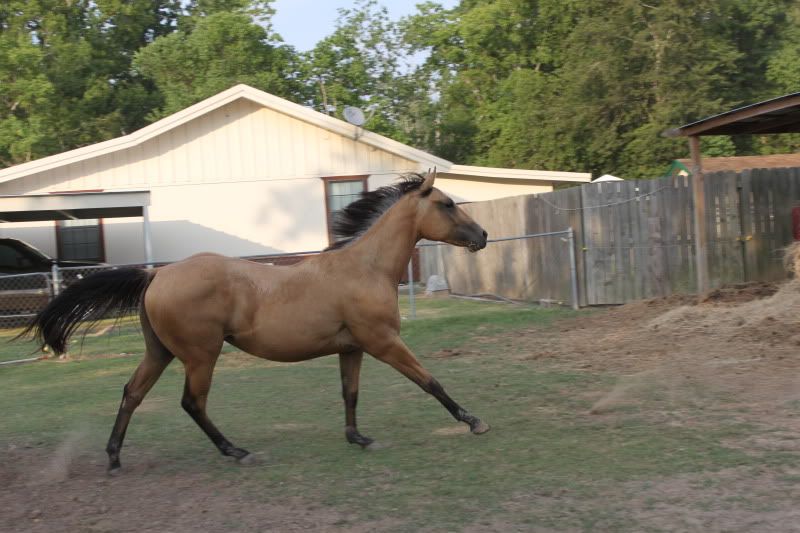 Pretty baby girl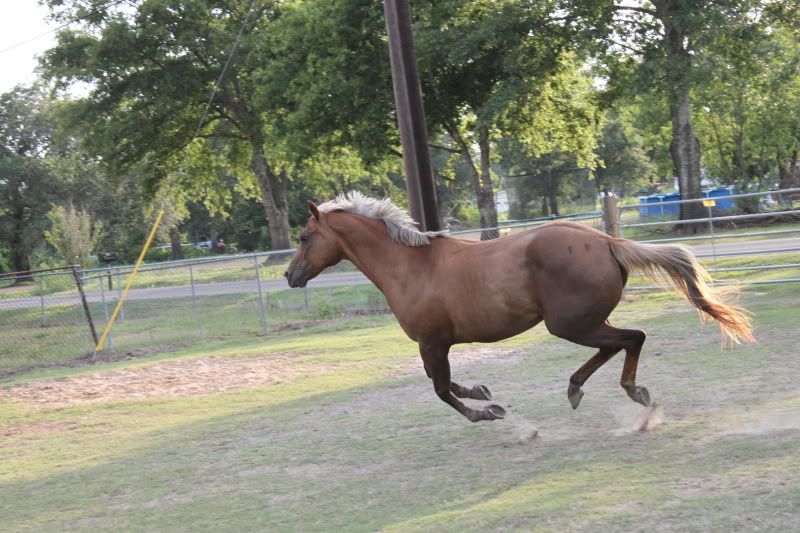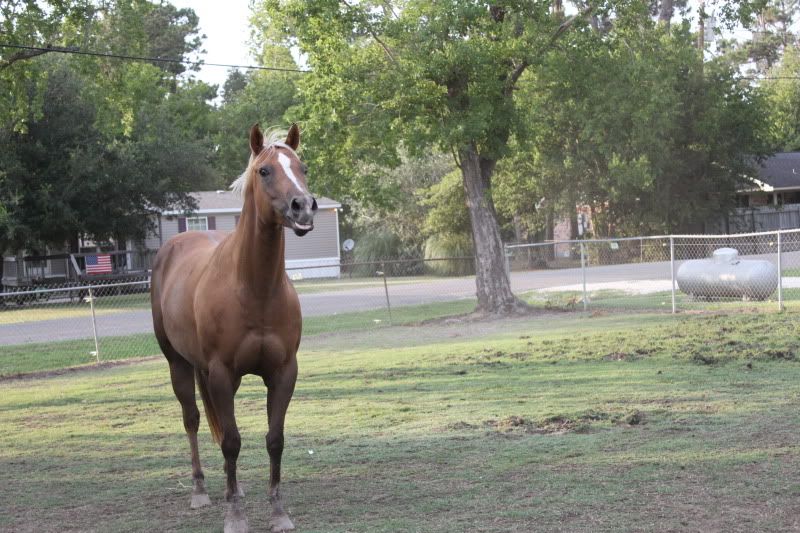 ---
Awesome Miss Take- Storm- 15 yr APHA PHBA Mare
SS Catalena Doll- Claire- 2010 AQHA Filly
I really feel for you. I am having problems with my yearling gelding similar to yours. I haven't gotten to the point that I hate him. I love him very much. But its gotten to the point that I cry nearly every time I work with him.
I had a trainer help me out with ground manners, and my baby knows what he's supposed to do, it just comes down to me being able to enforce it. And I try and try. But it seems like we always backslide. Currently I have my colt at a neighbor's pasture learning herd manners from her horses. My colt's mom and my gelding have done little to enforce discipline, which makes my life all that much harder. It's like he respects me the most out of the 3, but it's hard for me to always keep him in line, especially when the other horses let him run amuck.
So anyway, I figure he's still young and I'm not ready to part with him yet, but I am afraid there is a very good chance I will eventually if we don't get our issues worked out. My colt is very mouthy and nips/chews everything!
I would say that if you feel like you hate him and he isn't bringing you joy, then it is time to part ways. Ultimately we have horses to enjoy them, so if he brings you no joy, then there is no point in the relationship. I am still giving my colt some time, but if it becomes apparent we will not work things out, then I will do my best to find him a home where he has a good chance at a decent life.
I do think there is a point where a horse has a chance to be "fixed" and someone will give him a chance because he is young and handsome. But if you wait too long, he will just be an older horse with problems and people won't give him the same chance he had when he was a 2 yr old. So I think you are making the right choice. It's a choice I may have to make at some point in the future.
Yearling
Join Date: Jun 2010
Location: On my horse's back! Obviously!
Posts: 925
• Horses:
2
I'm sorry to hear that you're having difficulties with your gelding. He certainly is a beautiful boy! Have you tried working alongside with a trainer? I have a 2 year old Arab and I have weekly lessons with my trainer so he can show me what to do and keep us on the right track. But really it all comes down to confidence. My horse is so much more respectful of my trainer because he is more confident than I am, but I am getting there and it helps my boy understand that he needs to listen!

It's always good to work with the horses on a regular basis as well. Every time I work with my Arab, Echo, we start with the basics- walking forward, stopping and backing up. It has definitely been beneficial because he knows that "whoa" or "ho" means stop and if he doesn't stop he will get a firm tug on the leadrope. If I turn to face him he also knows that he is supposed to start backing up. Repeating the basics really helps for the horse to remember to respect you.

As far as biting goes, geldings always seem to be a bit nippier and more playful. My trainer told me that when I lead Echo and if he starts putting his face in my space that I need to give him a firm poke on the side of his mouth, like a way of pushing him away. It's just like if he does it to another horse and the horse bites his face to tell him to knock it off, just a poke or smack to tell them "no!". If Echo gets too feisty then I stop him and back him up and then continue like nothing happened.

Really I think you should work with a trainer because it has done wonders for me! I used to have issues like yours with Echo but having a trainer be able to guide me and show me what to do has be extraordinarily helpful. Sending them off to a trainer allows them to be trained, but it doesn't do much good if you aren't sure how they got from point A to point B and you only see the end result, not the process. When it comes down to it, though, if you really aren't getting along and don't want to give it a shot the best thing for both of you is to sell him and move on. It doesn't do any party any good to be fighting the whole time and it can really stress you out, which I'm sure you don't need. Best of luck!