Unexpected pregnancy! Help!
---
Hey everyone!
I have a 3 yr old mare(4 in march), that got herself pregnant without my permission...
She is due middle-end of april. This is her first foal and mine, so I need some help on what to do.
I have decided to keep the foal no matter what, so there isn't the problem of selling it.
I am getting Mare and Foal supplement tomorrow for her.
Here are some pics of her from saturday: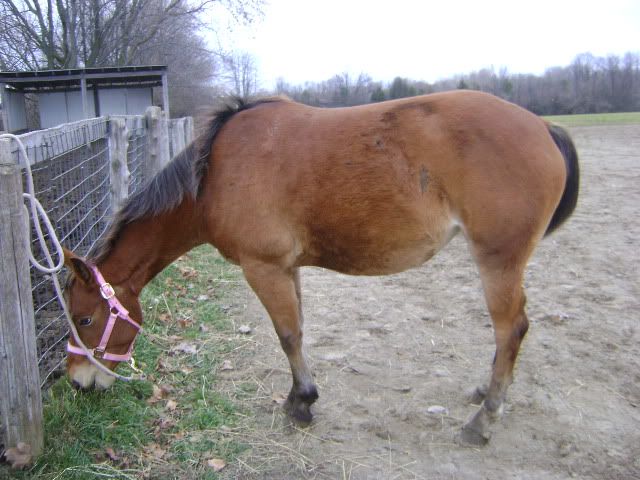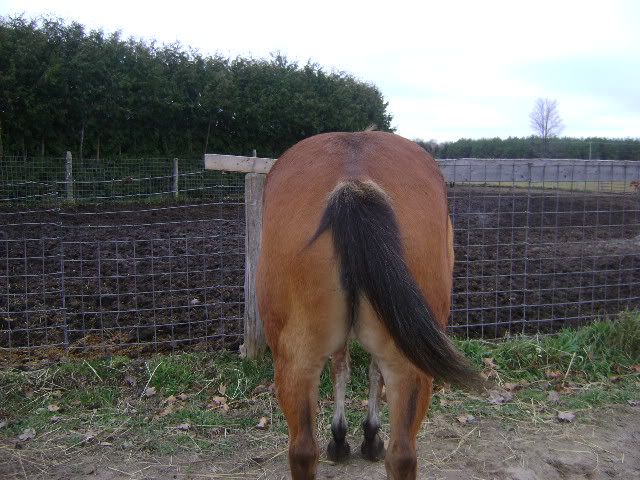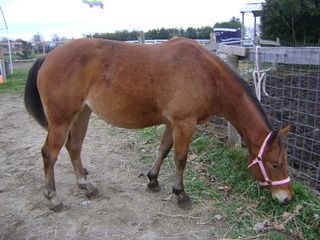 And here is the sire. Sorry for the darkness, it gets dark quick here(5:00pm). He is a 2 year old hackney clyde. amazing jumper. He can jjump out of a stall, and a pasture with a 5 foot fence, and he is only 2!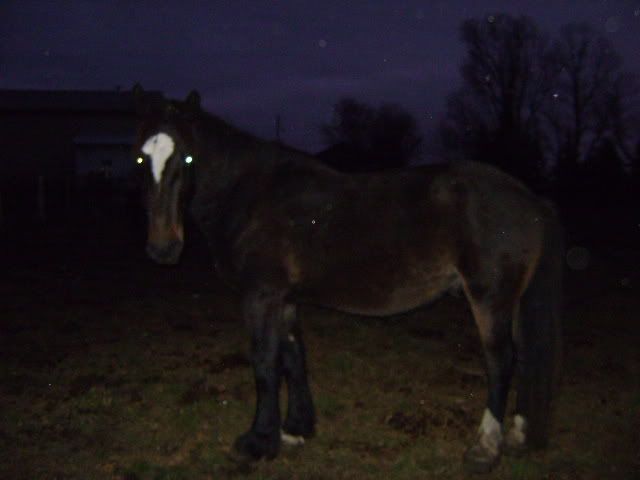 Your mare is so pretty! What breed is she? That should be one cute foal! I'm not very experienced with this kind of thing but I have been around a few mares in foal. Thats good you are getting her a Mare and Foal feed. Closer to foaling you'll want a foaling kit in case things go wrong, vets number handy. Are you planning on foaling her in pasture or a barn? Try to get the book "Blessed are the Broodmares" - it is excellent. I'm sure there are others but that is the one I know of. Do you ride her? If so you can probably ride her till about a month before her due date (at least thats when I stop riding them).

You should also be aware that since she is a first time mother she may need some help. So if possible you should try to be there for the foaling. Even if the foaling goes well there is always the chance that she may reject the foal at first (maiden mothers have been known to do this.)

I'm sure others will have lots of other advise - there are lots on here that know way more about it than me! Good luck with your mare!
Well, looks like you are off to a good start. Just keep her happy until the foal is due. Horses are alot easier than people, believe me!
When she gets closer, ask your vet for advice on foaling. Ask what the signs are, ie waxing.
Then, let nature do it's thing, there shouldn't be any complications.
Hope this helps.
99% of horsees foal without the need of help from a human. Most probably get more help than they want. I don't feed mare and foal supplement. I just keep the mares in good flesh and before foaling I make sure they have a nice dry place for me to drag the foal and mother after she has it at the wettest coldest part of the pasture. Try not to worry too much or you won't enjoy having the foal around. I'm not in favor of imprinting but to each his own and please buy the book and do it right. That foal is born already tougher than most humans so don't worry about it getting too cold or too hot. Make sure the mare cleans out and allow her to eat the afterbirth as it will help with milk let down. The foal will get up and suck when it is good and ready to so don't bother it unless it's gone 3-4 hours without sucking. Check the mares udder occaisionally to make sure it's not chapped and getting sore. Post any other questions and I'm sure the folk here will give you some good advice. I have about exhausted my limited knowledge as most of the time I don't see my foals untill they are a couple of weeks old and I don't handle them untill they are at least weanlings. One of my favorite horses was a colt that I got for $75. An appy long yearling stud jumped the fence and bred about 15 QH mares in less than 48 hours thus resulting in several cheap loudly colored foals out of really good mares.
---
There's nothing like the Rockies in the springtime... Nothing like the freedom in the air... And there ain't nothing better than draggin calves to the fire and there's nothing like the smell of burning hair. -Brenn Hill
Imprinting is really a matter of choice thats true - I've done it and had wonderful results, others say it actually does harm. I think it is the way it is done. The foal can be friendly but they must have respect for humans. If you plan to imprint your foal I can give you some good resources and personal experiences of how I've imprinted ones I've looked after.
Equus girl- she is a quarter horse appaloosa cross. i do ride her, and am hoping i can ride her through the winter if the farm i board her at gets their indoor arena in the next few weeks. She is going to be inside at night and most of the day in her last month, so she should e foaling in a barn. I wll look for that book and see if any of my friends have it.

Kevinshorses- I am not worrying too much about her, she is pretty much a "leave me alone, i can do it myself" type of horse.
I am thinking about putting the halter on at day 2. Is this ok to do, or too soon? What age is best/easiest to teach halter,leading,standing, grooming, trailer ect.?
I am thinking about putting the halter on at day 2. Is this ok to do, or too soon? What age is best/easiest to teach halter,leading,standing, grooming, trailer ect.?
sorry for the double post :(
Well, this is just the way I did it with the four foals I took care of from birth for their owners. Mom got a few hours to bond with baby (I believe imprinting can be done as late as 7-10 hours and still be very effective), then I imprinted the foals. The mom's were all great and not worried about me touching their babies at all. Some mothers are though and I think that if the mother is not comfortable with it its better to give her some space for a day or so as long as the foal is ok and nursing well.

Part of the imprinting I did was putting on a halter so I basically did it within 7 hours of birth. But it was taken off within like 4-5 minutes so it was just to get them used to the feel. I never had any problems with this - just make sure you never leave them alone with it on!!

As far as leading I actually didn't teach this till a month or so. But I did teach them from birth to give to pressure. I taught them this by putting one arm around their chest and one around their rump. When they struggled I slightly increased the pressure and didn't let them get away. The moment the stopped struggling I released the pressure and let them go. This way when I did teach them to lead they knew how to give to pressure and didn't do any flips and hurt themselves. I would say just get the feel of how your foal reacts to things and when you feel they are ready for it then slowly introduce it to them.

Just a note about tying - I didn't actually tie them up till they were four or five months. Tying just scares me a little in case they ever panicked. But I did loop a rope around a post and teach them to tie that way quite early on. They never knew the difference but it was safer that way I felt.