A friend of mine recently lost her 3 day old to colic. The filly was lactose intolerant, apparently. :/ I'm very sorry for your loss.
---
"Have fun - Stay on top."
"There's nothing like sixteen hands between your legs"
Wow. I am so sorry. your foal was very beautiful. May he rest in peace.
So sorry to hear of your loss. White and crimson clovers have very low phytoestrogen levels. Subterranean and red are the ones that cause problems. Red clover is used in some female herbal blends just for the estrogenic effect.
What a gorgeous baby. so sorry to hear this :(
Quote:
Originally Posted by
GhostwindAppaloosa
View Post
This past fall we had two mares abort foals that were 6 months along. I posted about it when it happened. Both foals went off to USDA for testing everything came back normal.. vet said i had crap luck. So we trudged on. Our foaling season was going pretty well up until this week. Healthy happy foals.. then tragedy came again!
My horses live outside with a pretty large run in.. 20x 30.. well one of the mares who slipped her foal decided the run in was all hers.. gave a pretty nasty hard kick to Belle and ran her into a wall... she aborted her foal at 290 days the very next day. *sigh* He was a beautiful black leopard colt ...
then not 3 days later.. my nicest foal this year whom i wanted to keep... went down in the am while i was putting out new hay and graining mares. rolling.. called the vet out.. he decided that he probably had telescoped his intestines (colic) and his only option was surgery but even with surgery he felt pretty confident he wouldnt make it... we humanely euthanized him there... Necropsy confirmed vets diagnosis...
*sigh* this is definitely the downside of being a breeder.. and this is the worst year I have ever had. I feel so downtrodden about it all...
RIP boys.. you are so very much missed and were loved from before your conception.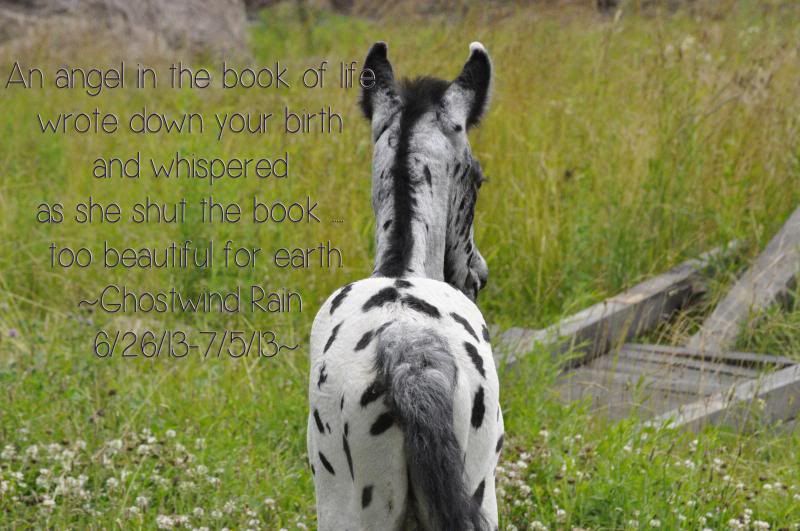 Oh my gosh that is devastating. I've seen a few foals die this year from a run of bad luck. Thats the one really hard thing when you breed a horse and I hate it. I have 2 weanlings right now and absolutely thrilled to have them but being part of the caring of a broodmare and hoping all runs well is really hard. Hoping for a better year for you.