^^ The first time they shed, they can be much darker than their true color, so I'm not so sure about dark palomino. But who knows? Horses and their colors are absolute mysteries x)
---
There is something about riding down the street on a prancing horse that makes you feel like something, even when you ain't a thing. ~ Will Rogers
what i've seen and noticed that if it was going to be a chocolate palomino he would start out looking sorrel even the mane and tail and within 2-6 months it would lighten up and look palomino. but what color is the foal's dam?
---

Baby, Sparta, Carmen, Henry, Hooch, Mercedes, Butterscotch
Chocolate palominos are actually usually a bay or black horse with the silver gene. Or they could also be a sooty palomino.
Mom is grey, I'll post a pic that shows more of her body. Shes only a coming 4 yro, so still rather dark grey. This is her first foal.
As I said the stallion was buckskin. From the foals I actually SAW of his, he had a palomino filly out of a light grey mare, another palomino filly out of a bay overo mare, a buckskin filly out of a black mare, a rather mousy/grulla/buckskin? colored filly out of a dark bay tobiano mare. And one other I didn't get a good luck at, but I think she was sorrel out of a sorrel/white mare. I *think* there was a bay tobiano what was his as well out of a bay tobiano. I also know someone here has a dark bay yearling by him, I've seen his pictures here "spud", I just can't remember which member owns him.
She's definitely a palomino.
And she is definitely a CUTIE!
---
Spent a whole hour today laying in a pasture, waiting for a sparkling vampire to show up. Alas, I woke up and looked over, only to find a mound of horse crap. Sigh.
Started
Join Date: Aug 2009
Location: In the barn whenever possible.
Posts: 1,910
• Horses:
2
I was in the same boat. I have a filly from a gray mare who was bred to a buckskin.
Here is the mother and the filly:
This is when I brought the filly home: (notice the dark chocolate color on her legs..this is what I think your colt is shedding out to now.)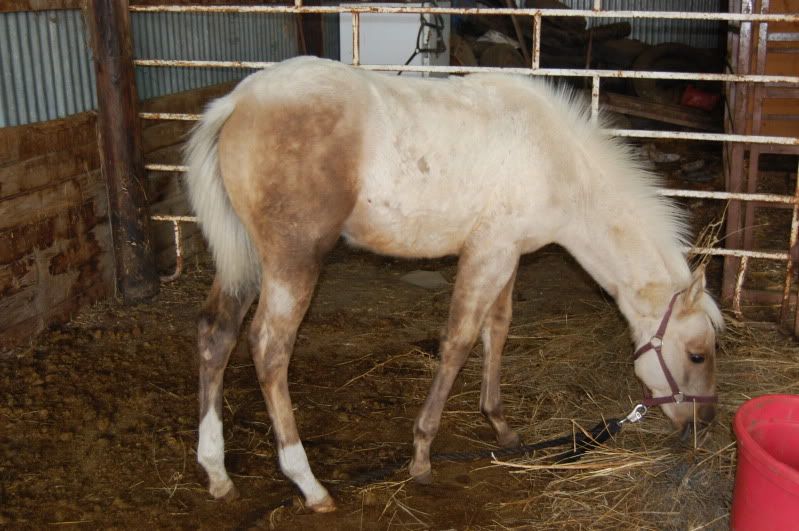 Here she is this summer: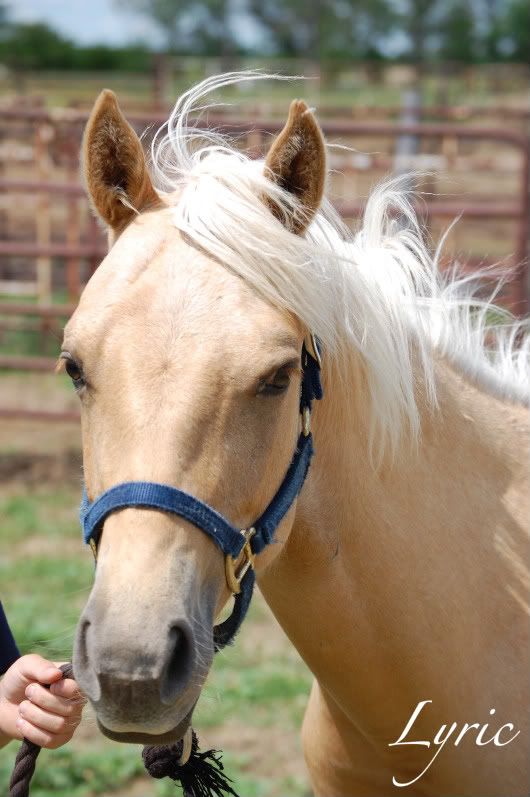 ---
"Riding a horse is not a gentle hobby, to be picked up and laid down like a game of solitaire. It is a grand passion. It seizes a person whole and, once it has done so, he will have to accept that his life will be radically changed." -Ralph Waldo Emerson
---
Last edited by Plains Drifter; 06-30-2010 at

07:14 PM

.
^^ Ahh you have me drooling over Miss Lyric again!!! Wow she really looks like she would have greyed out in the first picture :O
---
There is something about riding down the street on a prancing horse that makes you feel like something, even when you ain't a thing. ~ Will Rogers
---
There is something about riding down the street on a prancing horse that makes you feel like something, even when you ain't a thing. ~ Will Rogers
Yep, thats him. I certainly wouldn't mind if he turned out looking like Lyric. She is lovely :)