other than he's face, he's coloured bits don't get as dark but i can definately see your point, his dad is pretty much that colour but i know nothing about his mum.
I think the changing of color from year to year is a roan thing. That filly I had would be completely silver on her body one year and the next year she would be an even distribution of the bay and grey. The only think I could count on with her was that she shed out twice every year. The first time she would turn completely silver over her body, and the next time she would be whatever color she was going to be for the year. And when she put on her winter coat, she always looked like a solid bay without any roaning, except for a few silver hairs in the mane and tail.

You said that there are years that he has a dun color on his shoulder, if that is the case I would have to agree with smrobs, that he is a smoky buckskin roan.
That's cool, most of us english are very mis informed when it comes to colours, he is passported as a dun roan.
Dont know if this will help, but,
Grulla-the body hair is smokey or mouse colored (not a mixture of black and white hairs, but each hair is mouse-colored). The mane and tail are black, and there is typicaly black on the lower legs.
a mixture of white and any other color hairs.
SLATE GRULLA - a dark, very solid gray, like the stone slate.
BAY ROAN - a roan that is bay, with the white hairs mixed in, giving it a dark mane and tail, and different shades of coat, depending on the kind of bay

*BLUE ROAN - a blue roan is a uniform mixture of white with black hairs.

*RED ROAN - more or less a uniform mixture of white with red hair. The mane and tail may be red, black, or flaxen.

STRAWBERRY ROAN - see Red Roan


cool, thankyou, tomorow i shall take some good pictures of him and get some close ups of the different shades across his body
Wow, he looks just like one of my mares!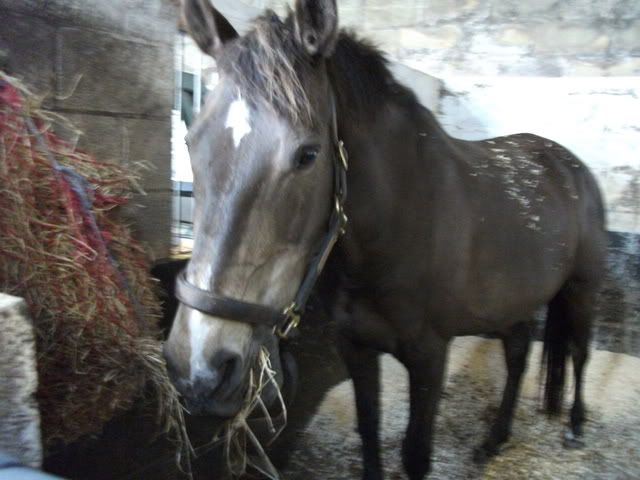 I just think she's Buckskin, Possibly Sooty Buckskin.
She's Connie x TB/Trekhener, Her Sire was bay some I'm thinking her Dam was Buckskin.
I'd really have him as a Buckskin Roan :)
P.S: I'm also in the UK, I know how frustrating it is when people get colours wrong (skewbald and whatnot) it gets very irritating lol.
Is she called Smartie by any chance??
looks true bay roan to me. maybe with dun too, does he have corn marks?
---
Keep your feet on the ground when your head's in the clouds.
Sorry thick english person, what are corn marks?