What do YOU like in stallions?
---
What do
YOU
like in stallions? (what Bloodlines, what breed, what ability, what color, what temperment...etc..)
Well, since I have a 6 month old I'm not going to cut unless he grows up to have bad conformation, no drive, a bad attitude, things like that.

Bloodlines aren't a huge deal to me, but I love paints, especially tricolor with a blue eye or two. As for bloodlines, I like to see Doc, Poni, Skippin, or Poco, but the little boy I have now has Two Eyed Jack. As for temperment, I like my stallions to act like geldings. Sensible and calm, ruled by the brain in their head and not the one between their legs. My boys sire was a sweet boy, even ridable, and paid no attention to the mares on the other side of the fence, or the other stallion they had.

When I had a ranch, I also looked for studs with good cow sense, but since I don't plan on doing any cow events and my cattle are watched by someone else and a state away, that wasn't as big of a deal this time.
Posted via Mobile Device
---
Last edited by ColtHearted; 10-24-2010 at

08:18 AM

.
I LOVE Stallions!!!
I love everything about them!! They way they posture and carry themselves, their regal movement, and the responsivness and tractability that they can bring into every ride and performance!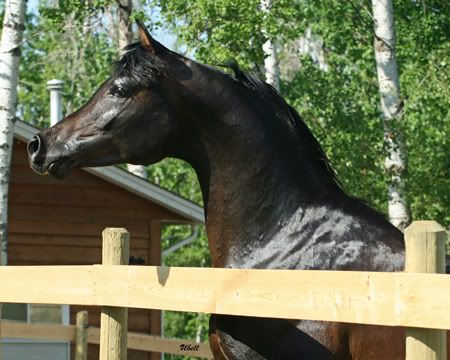 Stallions can be so predictable, and single-minded, these traits are when coupled with proper training and handling, turn into highly competive consistancy and focus.
I love stallions of any breed, though, I myself own arabians.
On bloodlines, for me a stallion has to be well bred or really he is just a gelding that has not been cut yet.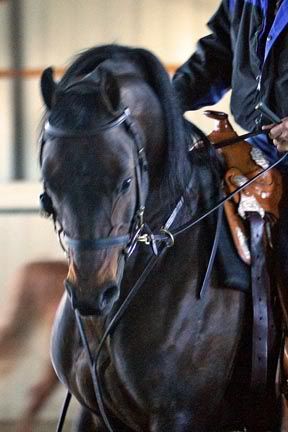 I enjoy watching superior individuals. Stallions for me have to be the whole picture. They have to have the "tude" but be respectful, they have to have a sense of humour, focus, presence, conformation, Bloodlines that are exceptional, and the ability to pass some of these traits on to their ofspring.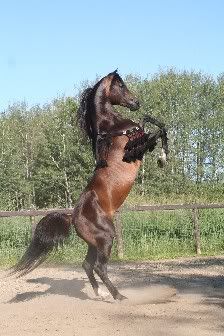 Kristine
---
Last edited by RenexArabs; 10-24-2010 at

10:45 AM

.
Conformation of course, but i could care less about the bloodlines, personally. The BIGGEST thing with me is temperment & not only the stud's temperment but the attitude & trainability of his foals as well.
---
"If a horse fails to do something that is because he was not trained to do it. If a horse fails to do something properly that is because he was not trained properly."
www.wildestheartart.com
First I look at the breeding of the stallion. Especially tail line. If the pedigree does not compliment my mare and fall into the area I breed for I will keep looking. If the stallion has the pedigree I am looking for then I look at their performance record. Not just how much they have earned but where and for how long. This will show you a lot about the horse. Then I look at the sire record if they are old enough to have one then I look at what mares he has produced the best with. I also look at show videos so I can see who he moves. Then I will look at conformation to make sure what I see in the video and is true. I also look at trainability. I find that this is just as much about breeding as anything else.

Temperament does not factor into what I look at b/c that is so much environmental in so many way. I have bred mares to some nasty stallions over the years and the foals have been angles. They have the stallions ability and trainability and everything I wanted from the stallion but never had I ended up with one with the same temperament.
---
-I'm so busy... I don't know if I found a rope or lost my horse.
-An Armed Man is a Citizen an unarmed man is a subject.
-Where ever free speech is stifled Tyranny will reign.
Thank you everyone. I love hearing your opinons :)

nrhareiner, I really enjoyed reading your post.
OMG, renex, if that stallion you're riding in the first pic disappears, I DID NOT do it, okay???!!! Hahaha...

For me personally, conformation is absolute KEY, as well as bloodline, and proven ability in the sport I would be breeding for. I want a stallion that will compliment the mare I am breeding, and hopefully improve on the foal through the breeding. That should be the main goal of any breeding, to improve, or atleast maintain the athletic, trainability, etc, on the mare and stallion, through the foal.
---
"The ideal horseman has the courage of a lion, the patience of a saint, and the hands of a woman..."
My breed is Miniatures. My preferred color is appaloosa ;) (ok, that's a pattern, not a color, but appy in any color is good to me!). Really, no good horse is a bad color, although I do stay away from grey since I do breed for appy.

I look for conformation, movement, and personality. I like a horse that moves... well, like a sport horse I guess... I drive, and do driven dressage (well I do Combined Driving but dressage is one phase of that), so I like a horse that moves well for dressage. I want strength and impulsion, with the ability to extend and collect well. I do think the fancy, high stepping single pleasure horses are awesome, I love to watch them move and would love to own one, but it's not my preferred discipline.

I am not big into bloodlines. If the horse fits what I like, I could care less who it's parents are. Sure, it's nice to have big names, and many of mine do, but I would never buy on bloodline alone. Pedigree does not equal a well conformed, great moving horse (yes, it certainly does help if the horse's bloodlines are known for that... but a well conformed, great moving horse of unknown heritage is just as good to me, as long as it's registered (if I"m going to be breeding it... my main CDE horse isnt' registered, but he's a gelding so that's ok... (although I do wish he were so I could show him at AMHR shows!)).
Green Broke
Join Date: Oct 2010
Location: Some times Llanelian - North wales, sometimes Hull in East Yorkshire (UK)
Posts: 3,679
• Horses:
5
It would entirely depend on what i wanted to breed.

Conformation is normaly key, however if I was wanting to breed a Leadrein show pony then temprement must come above all else.
---
RIDE your horse FORWARDS and keep him STRAIGHT


Conformation and WINNINGs, on a national and/or world level.
---
Whatever course you decide upon, there is always someone to tell you that you are wrong. There are always difficulties arising which tempt you to believe that your critics are right. To map out a course of action and follow it to an end requires courage.