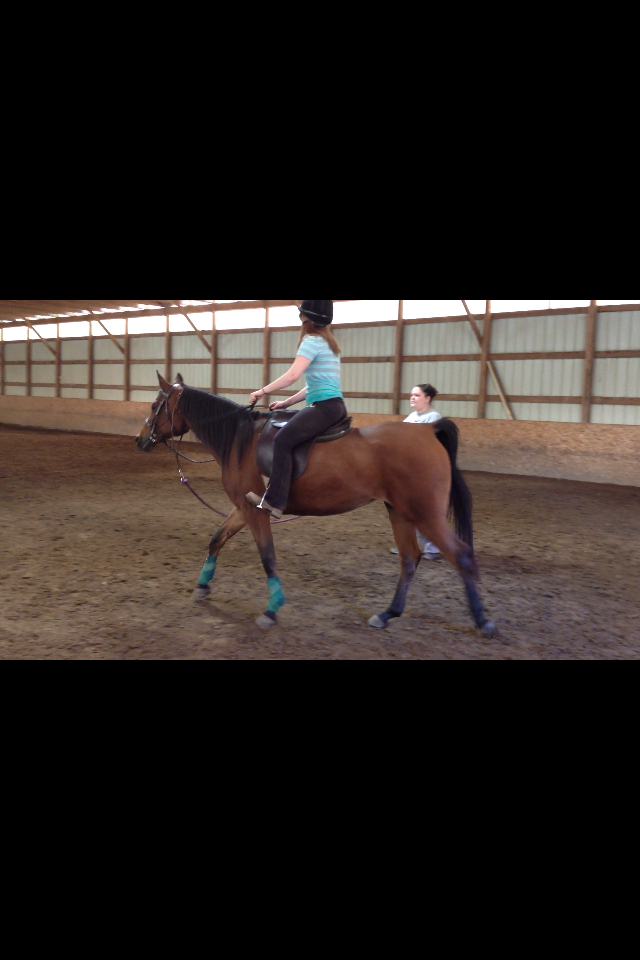 Here she is under saddle. I've got several of these but can't get them online for some reason. I'm going to start a thread over on horse training to see if I can get some advice over there. I've got several questions.
I think her neck tie in is a little funny but maybe it's an Arabian thing. She has very pretty knees for a jumper, too. We only free jumped her a few times. She's 8 yrs old now so I think that was pretty safe.
Anyway, I was just daydreaming about combining her athleticism and intelligence with a bigger, more docile hunter type horse. I'm not going to do it and super respect your all's opinions. But it's just fun to daydream when it comes to horses. Probably one of my favorite things. ;)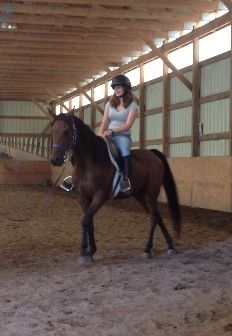 Beautiful Mare for sure! I'd love to see what she produces with a correct well bred stud that compliments her lines!
---
People with true credibility and integrity don't need to tell other people how great they are.
Deserthorsewoman, you're so sweet! Yes, she has wrapped me around her little hoof! I never really even paid any attention to Arabians before so it's kind of like discovering a new species. Very different from saddlebreds, with just this incredible endurance. I'm currently in training with my horses for an upcoming 30 miler. And the whole time we're slogging through the woods I keep smiling to myself that little Sophie could wipe the floor with us.

And yes, these horses were incredibly well bred. Amazingly well bred. International breeding level well bred.

Deserthorsewoman, you just wouldn't believe how sweet she is. Or maybe you would. The trainer has *completely* fallen in love with Sophie. Those two have a real nice bond. Well gotta get to working in the yard. I would sit here all day and talk about horses if you listened to my mother tell it. Thanks for all your kind comments and everything. I really appreciate it!
---
Last edited by Doodlesweaver; 10-01-2013 at

11:39 AM

.
And yes, these horses were incredibly well bred. Amazingly well bred. International breeding level well bred! I've seen 2 other horses from the same herd and they are gorgeous! They're the white line - ie not Kuhalian (in my simplistic mind). One of them is take your breath away gorgeous. She looks like a carousel horse. I mean it's actually very odd to see her trotting down the path with her 9 yr old boy that she's "babysitting." It's kind of surreal she's so beautiful. Those two have a bond, too. Very special horses.
Once you understand them they'll give you their all and then some.
As for jumping ability, go to my "arabians" album, there's one jumping. Can't post it for some reason...new phone. ...
Super Moderator
Join Date: May 2012
Location: CT USA an English transplant
Posts: 24,946
• Horses:
3
I'm with the others on not breeding in this current economy
I used bigger stallions on my 15.2 TB mares with no problems at all
If you do decide to breed from her in the future than you have to select a stallion based on what you intend to use the offspring for - or sell it for.
Quote:
Originally Posted by
Dreamcatcher Arabians
View Post
I, too, would stay pure. BUT....before I'd make any suggestions along those lines, I'd want to see a picture of her and her full pedigree. Since she's Kuhaylan, I picture a more muscular, masculine looking horse, typical of the older pure Polish. So, off strain alone, I'd recommend a Dahman or Saqlawi in strain stallion, but really you need to see the horse in front of you and the pedigrees of all concerned.

I liked Ganges very much when I saw him, considered breeding my pure Polish mare to him but never managed to make it happen.
I'm going to research the Dahman and Saqlawi Arabian strains. Would like to learn more about this. Thank you.
my opinion is : since you dont know a lot about breeding, You should go get a yearling or two old with the lineage you want. It is expensive to breed, its a crap shoot what you will actually end up with , there is no market, by the time you raise a foal to the age of training so many things can go wrong . The mare could die, the foal could die. sorry to be doom and gloom but there are a lot of horses out there with good bloodlines, that would excell in jumping, that will be at auctions and slaughter bound.
In all honesty, I would just send her to me.
BUT, if you are going to breed I would stay purebred. HG Esquire, Magic Aulrab, and Kalaoch (pure polish Piaff son) I think would be great crosses. Capt Hans Solo is another one.
Quote:
Capt Hans Solo is another one.
I had to google him. What a hunk of horse!
But I really like Kalaoch!
---
People with true credibility and integrity don't need to tell other people how great they are.