Who is breeding in 2012?
---
Just curious what everyone is breeding for 2012?
I am breeding my 8 year old Spanish Mustang/Colonial Spanish mare MP Gypsy Queen to Dan de Lion another Spanish Mustang that I won a breeding to as the result of the Season of Excellence contest on Facebook. My essay got 3rd, but the owner of Danny was kind enough to grant me the breeding :)
Danny has just started his training and his owner hopes to show him in reining and possible buckskin shows - he has been to midwest horsefair I think twice also. His sire was a several time national halter and performance champion in the Indian Horse Registry and also had won several NATRC sweepstakes. My mare was the 2008 Show horse of the year, and the 2011 working ranch horse in competition horse of the year for the Horse of the Americas Registry. My daughter also earned her "Buckaroo" award with her. Gypsy also earned her 300 point "Sundance" award in the HOA registry this year also.
I am very excited for this cross ! This will be Gypsy's first purebred foal.
This is Gypsy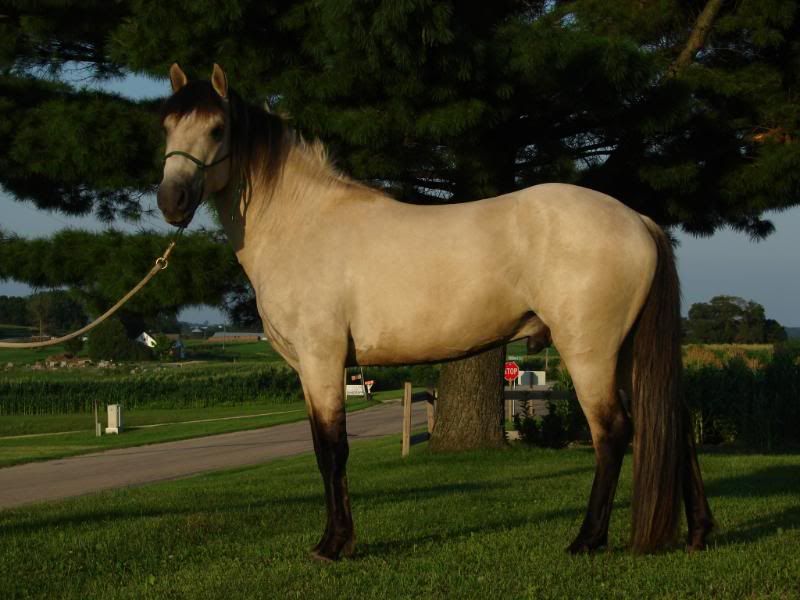 This is Danny
Not breeding. That's why I kept geldings
so I wouldn't be tempted.
---
Sometimes I wrestle with my demons.
Sometimes we just snuggle.
Not breeding this year but will next.
I am in 2012 running my new stallion with Pund gayle and muness mara both of which can be seen on my barn
I'm not, but my BO is breeding her region high point champion NATRC horse. Great horse... Champagne TWH with Sun D Delight bloodlines. One of the best trail horses I've ever ridden. I'm super excited for the baby. She still hasn't choosen a stud, but has narrowed it down. I want to breed my own mare eventually and am delighted with the first hand look at everything involved I'm going to get.
Not me, my stud is for sale, I have bred the few foals that I wanted, I have 2 foals from this year who I want to keep.

I have two mares in foal for 2012, but they are currently offered for sale, so not sure if we will have any foals on the ground here next year.
I bred my SE Arabian mare with a Polish Arabian stallion. Too bad there isn't a window and light like in a real oven to check the progess! The wait is killing me!!!!!
---
Quote:
Not breeding. That's why I kept geldings
so I wouldn't be tempted.
Hmmm... not a bad plan at all LOL!
Not me! I'd need a horse first :,)
But good luck to whomever is!!
The farm I work at will be breeding. We had a horrible year last year with some uterine infections so we're hoping to get more babies this time around. We've got warmbloods (dutch, brandenburg, oldenburg) They're amazing!