Who to pair together?
---
Hey everyone, so, I'm looking to get a foal. I'm looking to get one from Birdtail Ranch in montanna. This foal will be staying with me until the day it dies, even if it ends up lame or has a serious defect. I'm looking to produce a nice cow horse, able to try anything. I like to mess around and compete in all the competitions, at low levels. I've yet to find anything I absolutely love, but I do enjoy dabbling. So, I need an all around horse who can attempt any western sport. Doesn't have to win anything, just be able to give it a go. I'm looking for a ranch companion and trail horse. So, at Birdtail ranch, you pick the dam and you pick the sire of your foal. I've decided to go with their stallion, Bon Jour Investor as the sire. I need help deciding which mare I should pick. I'm torn between two of them. Their names are: Invite Di, and Sissy San Fox. I'm looking for more of a stocky horse as well. I've attached their pedigrees and pictures of them can be found on their site
here.
Sissy San Fox and Bon Jour Investor are both grays, while Invite Di is a sorrel.
Bon Jour Investor's Pedigree
Invite Di's Pedigree
Sissy San Fox's Pedigree
I recognize that many people will not approve of my choosing to do it this way, however, I ask that you keep your opinion of this to a minimum. In other words, feel free to say what you want, but don't constantly post it here so I can't get any help/advice. Thanks!
You can't judge by pedigree alone - many horses are not true to their breeding. The pictures on their website are too small for me to tell which, if any, of the mares might compliment the stallion...
Same, ask for better ones
Lizamarie why don't you get an opinion from the breeders.
I cannot tell from the pictures which would be best for what you want.
I would ask to see any foals the mares have produced and see if any are by the stallion. Go from there.
Who cares what other people think about your decision to breed for a foal?
It is your money . Your decision does not affect them at all. Shalom
Both pedigrees aren't too bad
. The stallion you picked has pleasure horse breeding as does mare Invited Di
. Sissy San Fox is strictly more cow/ranch horse breeding. I would want to see pics of any previous offspring from the cross or any info breeder may have that could help your decision.
Since there is no over welming reason to use these horses or these particular crosses. Why not just pick one already on the ground at this breeders. If not that then look around now for one already on the ground. That way you can know what you are getting. With out seeing pictures it is really hard to know. If you are looking for a cow horse type prospects I would not use that stallion. If you are looking for just a all around horse then at the very least keep the breeding consistend and the match that works.
---
-I'm so busy... I don't know if I found a rope or lost my horse.
-An Armed Man is a Citizen an unarmed man is a subject.
-Where ever free speech is stifled Tyranny will reign.
Personally, I like Invite Di from what I've seen. However, I'm just going off pedigree and her stance, which by no means, means a thing. Just my opinion
Posted via Mobile Device
Are you not wanting to ride until 2016? I think you are looking at a 2013 breeding season for a 2014 foal. (Almost no one books after June.) If so, then you are looking at a foal dropping in 2014, not riding/saddle broke for another 2 years (2016).
LizaMarie - First, welcome to the forum.

That's kind of a neat way to purchase a foal. Intriguing.

I would ask for better pics of the couple mare's you are interested in. Surely a reputable breeder would provide you that.

Let us know what you decide!
Yep, I'm well aware I won't even see the foal until 2014. That'll work best for me because I'll be graduating from college (community) by then, and it gives me time to start saving up (in case I don't have a job when the foal is ready to come home, I'll be prepared). I figured I won't even be able to ride the horse until 2017, when he/she is 3. I'm big boned, and no, not code for overweight (not that there's anything wrong with that). I mean, my wrist bone is the size of my 7 year old brothers 4 fingers laid flat. So, I'm a bit heavier and I'd prefer him/her to be more grown before I do that. I'm thinking I'll start training him/her lightly at 3, and slowly progress. Unlike my neighbors here who start heavy training at 2. My aunt is lending me her horse for a while, as thats the horse I learned to ride on. My aunt can't ride her, and I know the horse so she's temporarily mine. I'm going to ask for conformation shots of Bon Jour Investor, Invite Di, as well as Sissy San Fox for sure!
I like how you get to pick the sire and dam, but it's also a lot of work haha. I've been comparing bloodlines, records, and all that since April! Been a long decision and I'm glad I've narrowed it down more. I had 5 choicees but had to knock two out because they look like they'll throw less stocky foals, and I believe I'll need a more stocky one. I wish they were a bit taller as 15.2-16 is my comfort range (I'm 6'1") however, most horses I ride are as tall as these horses.
Based on bloodlines alone, which pairing do you think would throw a foal who could be used for anything and everything? Ranch work, trail, and a bit of showing.
I'll post the pictures as soon as I get them.
I have a list of all the foals the mares have had with the stallion I chose. Here's the lists of the foals names
Sissy San Fox x Bon Jour Investor:
Bonvestor Dove - 2005, gray, mare
Bonvestor Tanisha - 2006, gray, mare
Bonvestor Mazie - 2007, gray, mare
Bonvestor Capri - 2009, gray, stallion
Bonvestor Marlena - 2011, gray, mare
Dear Foxy Investor - 2001, sorrel, mare
Invite Di x Bon Jour Investor
Classic Bonvestor - 2008, gray, mare
Sorcerer Bonvestor - 2004, gray, stallion
Valentino Bonvestor - 2003, gray, stallion
Bailey Bonvestor - 2002, sorrel, stallion
Bonvestor Madison - 2001, gray, mare
Bonvestor Mosel - 2000, sorrel, mare
So, if that helps give an idea of previous foals? I have no idea how to find out about them, most of my internet skills do not involve that sort of research...
Thanks!
Oh, and another pic of the stallion: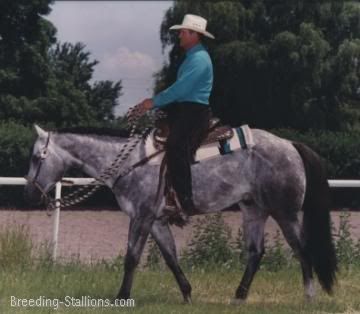 Kind of blurry, sorry
---
Last edited by LizaMarie; 08-10-2012 at

01:23 PM

. Reason: adding photo