My boy's sire is Personal Power, a 1994 Standardbred stallion. I'm not very good with bloodlines, but I think he might have a good one.. can anyone tell me anything?
Personal Power Standardbred
Quote:
Jester -- Jester Smoke, who is by Mr Gun Smoke
Annie -- Mr. Three Devils
Barbie Doll -- Whos Whizzen
Rebel - What A Cajun
Gringo - A Paint Cadillac
The others I either don't remember or aren't registered. Lol I fail at remembering bloodlines
Posted via Mobile Device
My new broodmare's great grandsire on her dams side is Mr Gun Smoke. Haha. We're related.
---
When In Doubt Let Your Horse Do The Thinkin
Quote:
Originally Posted by spookychick13
What Lone said.
This is Riley's sire:
Welcome To Bellamy Stud
I don't know why they're still advertising him for stud, I saw him for sale as a gelding about six months ago in Horse Deals
---
Thinks her father has realised she will never outgrow horses for boys
My girl's sire is The Exceptionist (Imp U.S.A)
Gorgeous guy, although he died shortly after returning to the states. He's produced National Champions and has done very well for himself - he'd want to though, with a $2500 stud fee!
Cope's not registered and I don't know anything about his sire or dam.

Jazzy (registered as Strawberry's & Jazz with the Appy Horse Club...the first photo.) is by Burt Blueberry (AQHA...second photo). She looks like her dam though... Portrait of Alady (ApHC). Both were shown in halter, and I believe Burt was shown in WP as well. What I get a kick out of is the last picture which is of Jazzy as a yearling. She looks more like her sire there, but now she looks so much like her dam.
---
Buzz is by Templebredy Fear-Bui
This is Buzz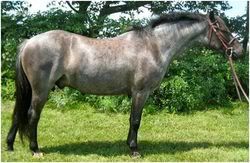 And this is he's Daddy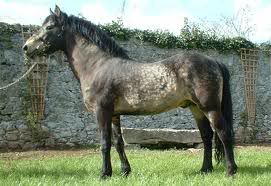 Hey CheyAut thankyou, He is a Connemara x Tb