Deja's sire is JLP Captain Cook, a straight Davenport Blue List Al-Khamsa stallion who was also sabino. I would love to find out if he is still alive or where he was sold to from Deja's breeder. Unfortunately, her breeder hasn't emailed me in awhile, so I don't think she's interested in talking to me anymore.
Mana's sire is Phazon Fireblaze. I have no info on him at all. I want to find out who his breeders were and maybe get a picture of him when he was younger. All I have is a couple of bad pics of him at age 28.
And my new mare that I am picking up within the next month is Raffles/Ferzon bred by Gainey Arabians. Her name is GM Theme Song. Her sire is Gai Pissarro.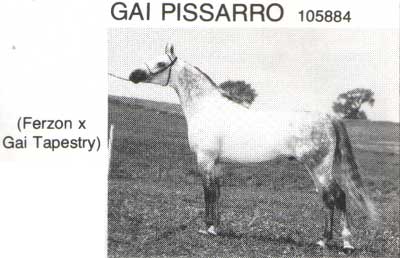 ---
Proud owner of ~Mana: 6yo Arabian gelding~Pearl 13yo Arabian~Danzer 14yo Arabian mare~ Tiny mini filly
Spring's dad is Aces and Sevens, A stunning boy indeed!
Aces N' Sevens
---
Kaity *
Skutter - BelgianX born: May 28 2009
Spring - Standardbred born: May 2005
Way Buenos Sire is No Other Than "Master Jay" himself :]
The most I know about Razz's sire is that he is a black Friesian named Raven. Which could be anyone of these studs (since I can't find their ages).
FREISIAN
Raven
Horsemeister INC.
Guess I'll have to do some more digging.
---
"And somewhere in the northwoods darkness a creature walks upright. And the best advice you may ever get is: Don't go out at night..."
Docs Golden Edition
---
This handsome fella is my 09 filly's sire. He's a registered APHA by the name of Docs Golden Edition.
---
"If a horse fails to do something that is because he was not trained to do it. If a horse fails to do something properly that is because he was not trained properly."
www.wildestheartart.com
Jester -- Jester Smoke, who is by Mr Gun Smoke
Annie -- Mr. Three Devils
Barbie Doll -- Whos Whizzen
Rebel - What A Cajun
Gringo - A Paint Cadillac
The others I either don't remember or aren't registered. Lol I fail at remembering bloodlines
Posted via Mobile Device
oops sorry for the multiple posts.....
Posted via Mobile Device
My avatar Mac's daddy is Ventures Black Fury
My QH mare Gwenna is out of Epitome (no photo) a stallion that stood at BMQ Quarter Horses in MN.
My newest guy Trigger (:roll:) is out of Docs Prescription with Doc Bar as his grandsire.
---
A woman can NEVER have too many horses.....
Vinty's sire is Matchlite. I can't find pics of him any where. If anyone has one let me know.
---
You are a great champion. When you ran, the ground shook, the sky opened and mere mortals parted.
I love you Vinty, you'll always be my champion.
Thought i'd add some info. His name is "Iga Ninja" and raced, and afterwards was used as a riding horse and competed successfully to nation level (sydney royal etc)
The photo i have is the only one i can find. I tried to dig up some more pics a while ago but all i could find was this:

"I remember Iga Ninja fairly well.

He was a neat black horse which was out early as a two year old winning the Canonbury Stakes-Listed at his second start just a week after running fourth in the Breeders Plate. He won again at Randwick 2 weeks later & in the Autumn finished a creditable 7th in the Golden Slipper Stakes -Gr 1 behind Star Watch & with that season's champion colt Zeditave 6th I think.

He was by a low budget Biscay horse named Sylvester which Stanley Wootton had bred & which stood up in the Hunter Valley & got a few handy bush horses.

Iga Ninja himself went to stud but from abt 50 live foals over 10 or 12 years only sired a handful of winners. "

ETA: sorry cant change the colour for some reason...