My buckskin studs sire is Dash for Cash and my only barrel mare was sired by Firewater Flit
Posted via Mobile Device
My Horse: ONLY LUCKY WILL DO
Sire: ONLY IN DREAMS
Grandson of World Champion Dreamfinder and World Champion Broodmare TT's Extravagance
---
He knows when you're happy
And he
always
knows when you have carrots.
Coco's sire (or grandsire I don't remember) is Voltaire
---
Be a first rate version of yourself,
not a second rate version of someone else.
Madam King (Angel)- By Desert King from Unica
Memzair (Grey Boy) - by Dash For Cash from Linney Head
Rogue Scholar (Rogue) - By Clang from Thirst For Knowledge
Beach Kid (Banjo) - by Don't Say Halo from Heart Rain
---
Quote:
The half-halt is also used as a "hey poneh, I am gonna ask you to do something in a second, is yew awake?".
My reining prospect colt's sire is Ris Key Business- APHA 1984 black tobiano stallion.
APHA brags:
6 Time World & National Champion,
3 Time Honor Roll Champion,
No. 4 Lifetime Leading Reining Stallion, ROMs in Open Reining, Western Riding, Working Cow Horse and Amateur Reining, Cutting Points
PtHA brags:
6 Time National Champion, ROMs in Open Reining, Open Working Cow Horse, and Amateur Reining
OPEN brags:
NRHA and TRHA Champion
AHSA brags:
Stock Seat National Champion
My mare's sire is Docs Major Risk (who is a grandson of Ris Key Business). He's a 2001 dun tobiano stallion.
---
~And on the 6th day God created the Quarter Horse. On the 8th day, he painted the good ones.~
My horse is by Don Juan De La Bouverie...
---
"Did I not just use the word 'puzzling'?"

Green Broke
Join Date: Oct 2009
Location: Witbank, South Africa
Posts: 2,681
• Horses:
2
Love Story's - Sharp Romance
Traces' - Al Mufti
Silver's - Exclusive Patriot
Irish's - Divine King
Night Heat's - Best by Test
Sargeant Pepper's - Crystal de Roche
Arrow Star's - Northern Guest
---
Every girl wants their own LOVE STORY, I found mine... :)
Jack's sire is Legend's Storm Traveler by VBF Storm Warning, registered Rocky Mountain Stud. Gorgeous boy and supremely well behaved!
The horse that I'm hopefully buying -crosses fingers- is by State of the Art, her grandsire is Art Deco.
State of the Art (who she looks exactly like)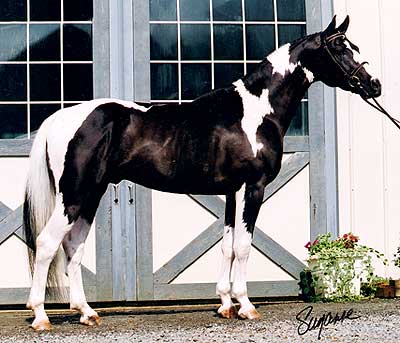 And Art Deco:
ive owned three registered horses so if you can find any pictures of these horses I would love to see them. Poco Bob 2, bentlee, and caller i.d