Would you breed to this stud??
---
Okay....
So this might be sort of controversial, but I wanted to see what ya'lls opinion was:
I have a colt that I purchased that I am 100% IN LOVE with. He has the best personality in the world and has been so easy to handle and train- I feel very, very blessed. I've been considering keeping him a stud, but didn't know if there would be a market for a horse like him, since he is...well, "grade" (as you will see if you continue to read)
I just got his paperwork to be sent in to the PtHA, but he will also be registered ICSHA.
His mother is a registered paint with APHA and has Impressive, Easy Jet and Sonny Dee Bar in her pedigree: which I thought was rather impressive to have all three.
Tazzy Loot Paint
His father is a nominated National Show Horse stallion- double registered NSH and PtHA.
Calicos Prince National Show
The father being a National Show Horse wouldn't be an issue to me breeding wise, if he was pure arab, but unfortunately, he's only 3/4. If I got my colt DNA tested, and he came out half arab, I wouldn't think twice: I could register him NSH and Half-Arab, giving him a breed title, and not just a color.
He will be shown this year in halter and in-hand trail until I feel he has grown enough to be backed. However, I don't feel that a show record alone, even if it is a good one, is enough to leave him a stud- even though I live in the Horse Capital of the US, and selling foals and breedings and whatnot would be easy.
Idk....what should I do??? I know you can't do much with out pictures, so I will try to get pictures up soon...but with the information you have, what would you do?
If it was your mare, would you want a foal by him?
---
Last edited by SAsamone; 06-21-2012 at

03:20 PM

.
Was the mare tested for HYPP? What is her status?
I would geld him.i feel that yes there are some amazing grade horses but if you know you will have difficulty selling breedings and foals then there is your answer. Geld him so he has a wider buyer option if you ever have to sell him.
Posted via Mobile Device
You can't register him Half Arabian. In order for a horse to be registerable as Half Arab, one parent has to be a registered, DNA typed purebred Arabian. Since his sire is a NSH and his mother is a paint, he can't be registered with the AHA.

I'd be worried about breeding him on with Impressive in his bloodlines. Besides, he really IS a grade. What is the purpose of keeping him a stallion? He's a mishmash of 3 different breeds, and there are plenty of those already.
---
You want the truth? You can't HANDLE the truth!
Nothing. An NSH/APHA cross should never have been done in the first place, but since it has, he sounds like the perfect candidate for castration.

Color should always be the LAST reason to breed. Conformation, movement, athletic ability, pedigree, should always come first. Having a "good personality" is never a good reason to keep a colt intact either.

Geld your colt and have fun riding & showing him, but there are zero reasons to keep a grade colt a stallion.
That's pretty much what I was thinking ya'll. :/ And he is mother was HYPP neg. for those who asked. And BarrelRacer, I wouldn't have issues selling the babies- alot of the grade horses around here go for alot of money depending on how they are trained and there is a huge market for horses in my area since that is how most people make their living around here. But, again, I don't know if I want a grade stallion. he has AMAZING conformation, personality, gait and color- which is the whole package for me- but...idk... I was just curious what ya'll thought, and you pretty much confirmed my thoughts. Thanks :)
Geld him.
Not being snotty but I have had similar choices to make and gelding ended up being the only good solution. Mom has Impressive, do you know her HYPP status? If she's not N/N then he could be a carrier and needs to be tested. Also, I see overos in her pedigree, so has she been tested for OLWS and thus if she's a carrier, is the colt also? Dad is 3/4 Arabian NSH, in today's market that doesn't mean much. Is Dad registered 1/2 Arab? What are Dad and Mom's show creds if any? Is the colt Homozygous for spots? Homozygous for a particular color? What's he bred to DO? What has he done? These are all the questions I'd want answers to before I'd even consider breeding him to one of my mares.
Here's what you're going to run into with breeders. QH and Paint or Pinto breeders won't like his mish mash pedigree, the Arab/Saddlebred/APHA is just too many breeds. Arab/QH or APHA is one type of horse, Arab/Saddlebred is another and putting the NSH X APHA is not something most would have done. As a breeder, I would not put him to one of my pure bred Arabian mares, I would look either for a really awesome NSH stallion or preferrably a homozygous, pure Saddlebred with a stellar show record. If he's not stellar at chasing cows or something, he's not going to attract anyone except the indiscriminate breeder because of a cheap stud fee and handling a stallion for that little return is not worth the time and effort. Even the BEST and EASIEST stallion is a lot more work than mares or geldings.
Temperament is very important as is trainability, but conformation trumps all and in my head I'm not seeing a great pic of a halter horse with that breeding. Color is the icing on the cake but it should be the bonus in a breeding, not the primary consideration. (I'm going under the assumption that he's got spots, though with his pedigree he could just as easily be solid.)
I gelded and sold a lovely 7/8 Saddlebred colt who was homozygous for his spots and black, out of champion parents and was a total love bug to handle and over 16 hh as a 2 year old. Why? Because he became a liability when my husband would not treat him as a stallion. I had people who were waiting for him to become old enough to breed so they could breed to him and he was slated to go to Pinto World Champs this year but when it became obvious my husband was going to let a 17 hh stallion rule the roost, thus putting ME the primary handler in jeopardy, I gelded him and sold him. The 3 or 4 breedings I'd have sold were not worth the risk of having a horse get that big and then decide to test me.
Here's what I cut: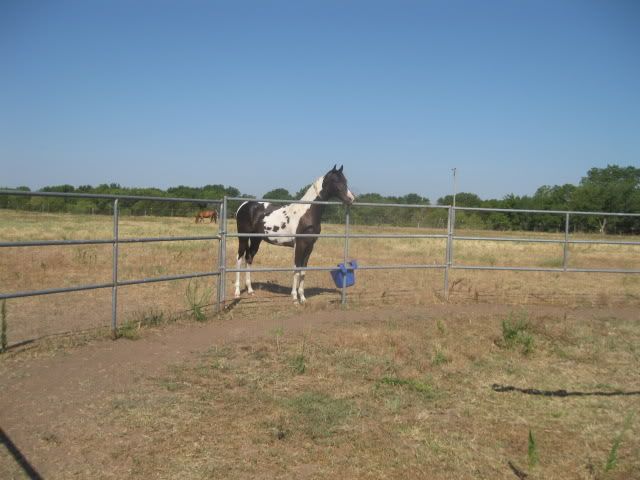 This is Harley as a yearling, he was a LOT bigger when I gelded him and sold him. Here's his pedigree.
Hillbilly Harley Dca Saddlebred-cross
I bred him, was hoping for a filly but when he was so easy going and homozygous for his color & spots, I thought I'd try it out. He was everything I wanted except for his sex. Unfortunately, that ended up being more liability than I cared to deal with. I have 2 other stallions but my husband doesn't handle them much, they are not the 'in your pocket' horse that Harley is and he's a little intimidated by them, which is a good thing! or I'd be moving them on too.
---
---
Last edited by Dreamcatcher Arabians; 06-21-2012 at

03:47 PM

. Reason: spelling
I'd geld him and just enjoy him.

The world has too many grade horses with mixed up bloodlines. I'm glad he turned out to be a nicer one though!
Posted via Mobile Device
Just because he's nice now doesn't mean that when he gets older and the hormones kick in.
I've seen a couple of these comments, and I just wanted to be clear. I didn't want to keep him a stud because he was "sweet" or "nice."

The horse has shown, and continually shown, ability to learn and retain what he has learned, along with his conformation, beautiful 50/50 coloration, and personality. Anything I have asked of him, he has excelled at, and I was hoping that this, along with his build and color would be passed on to offspring. I, personally, also like his pedigree, and know his father to be an exceptional halter stallion with points, as well as his mother. The breed cross would appeal to multiple types of buyers out here, as national show horses are in extreme demand here for the english buyers who want tall, easy jumpers, and also to western buyers who are looking for color, conformation and temperment. It wasn't just something I randomly decided. I've had this colt for 8 months now, and I have been toying with the decision since then. I wasn't in a rush to say "oh I just think he's pretty and I'm going to make him a stud." I, at least, have aknowleged the fact that he is, ultimately, a grade, and will probably end up gelding him because of it.

(Not trying to be nasty, just wanted to make it clear)
And, also, thank you all for being diplomatic :) I appreciate it. I've been on this thread, I know how it gets, lol ;)
---
Last edited by SAsamone; 06-21-2012 at

05:49 PM

.