Jasper is a great guy, wonderful movement, but pretty hot :P Which is fine for some, but I like my horses a little more level-headed.
Unfortunately, his semen doesn't freeze well, so the only sons and daughters of his that we see on this continent are imported.
Color Me Smart
A Tru Rolex
Shining Spark
Smart Little Lena
My favor. stallion is Luke the Duke
I've got to say, besides the Andalusian stallion PK Regalo (whom can be seen at Bello Ecasso Farms), my favourite stallion would have to be-
Guaranteed Gold-
www.angelfire.com/TrueColoursFarm-
he is possibly one of the most stunning, charasmatic and charming (not to mention his extraordinary athletic ability and near perfect conformation
) looking stud that I have ever came across, and that's coming from a person who has never been into TB's.
Hopefully I will be able to breed my mare to him in 2010.
Best Stallion EVER!
---
My favorite stallion would have to be The Yellow Hornet, ABC gelding. Beautiful horse, one of the greatest stallions of the Bashkir Curly breed. Pocessed the "curly" shuffle that was passed to him from the Appaloosa ancestors in his bloodline.
http://www.curlyhorses.info/DisplayA...rse.asp?ID=172
---
Shaneequah, 1998 gaited Bashkir CurlyxArab mare
Treyue, 1999 3-gaited Icelandic gelding
Loki, 2001-2015 Icelandic gelding
Curlies are great!! We had a gelding for my daughter who was very allergic to horses and he was a great horse, such a personality. His sire is "Warrior's Big Sioux", another gorgeous ABC in the registry.
---
Dana
Riverside, CA
I like this guy.... I just wish they didnt have those stupid friggin' shoes on him like that.
Kodachrome - TWH
"One of the popular spotted sires of today - Kodachrome has won recognition in virtually every major show ring, with a World Championship Reserve and numerous North American Championship titles highlighting his career."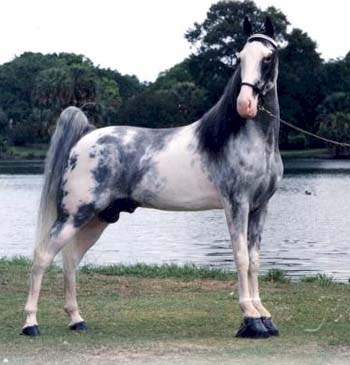 ---
Cocoa - 32 yr old QH, Cherokee - 8 yr old TWH & Toby - 16 yr old QH
R.I.P. Cocoa 4/13/78 - 2/9/11
Those shoes are terrifying!
But other than that, he sure is gorgeous!! What type of coloring is that? Splash?
---
..xx.. S.C. Ginga boy ..xx..
"" dont fight with you horse, hes stronger than you , don't try and outsmart him , hes always one step ahead, instead bribery and corruption :P""
Started
Join Date: Apr 2007
Location: Australia-The best Country!
Posts: 2,192
• Horses: 0
How do you guys know the names of all these stallions?
---
Rach
WE ARE GEELONG! THE GREATEST TEAM OF ALL.....