Thanks guys! I'm getting excited now that we're over the hump! Here is Josie a couple days ago, the pics are slightly disproportionate, but whatevs
She is being a good girl, although I haven't been able to ride her much with all this wet weather. I was feeding alfalfa, but it is sooooo hard to feed the large bales where she is at, so Im going back to a round bale of coastal when my hay guy bales tomorrow! She is being super sweet to me and super bratty to the other horses, lol. I can't WAIT to have a sweet foal nose to kiss! And NorthernHorse, ANYTHING but a chesty, lol. They are my least favorite colored horse, although Im sure ill love it regardless! I would love, love, LOVE a buckskin, so y'all send bucky vibes my way when you have a chance! <3
LOL.... well I have bad luck, and I never guess anything right.... but I stand by my guess, of course im a bit biased I love me some chestnuts...
Beautiful mare and stud. She's "due" one day after my mare, so we'll have to have a race
. Do you know if she is typically overdue or early?
She has only had one other pregnancy, which went all the way to either 353 or 355 days I believe. It drove me crazy!!! Really hoping since she is no longer a maiden that she doesn't keep us waiting that long this time, lol.
Posted via Mobile Device
Went out to the place today and got to see Josie! I let her out of the round pen so she could enjoy some time out and she immediately rocketed all over with the owner's two paint horses, lol. I went about and watered, etc, then came back out and made up her feed in my car. She was on the other side of the house in that pasture with the two horses. I whistled and called her to come and she hauled BUTT to the barn, then turned around, saw me, and hauled butt to where I was standing! It was sooooo cute, mainly because she didn't know I had any feed until she turned and saw me, lol. I only got to take a couple pics before my phone up and decides to die on me in my time of need! (I love taking pics of my horse!) Josie ballooned out a bit having her belly constantly full on the coastal that was just baled the other day. She is IN LOVE :)
URL=http://s93.photobucket.com/user/valleychick2121/media/Josie%20from%20colt%20to%20current/850BE140-466B-4A07-8977-CC59F6B90275_zpsbrkxlpav.jpg.html]
[/URL]
Josie is 220 days in foal today! She got her shoes reset Monday and was just excellent! It's sooooo awesome to be able to just drop the lead and have her stay there and get worked on amidst the chaos that was going down while the farrier was there. We had 4 other horses galloping around acting like fools and she just stood there, as patient as can be, while the horses literally raced around the truck and the guy's setup . :/ they finally calmed down, lol. She has been such a good girl lately and very into her feed :)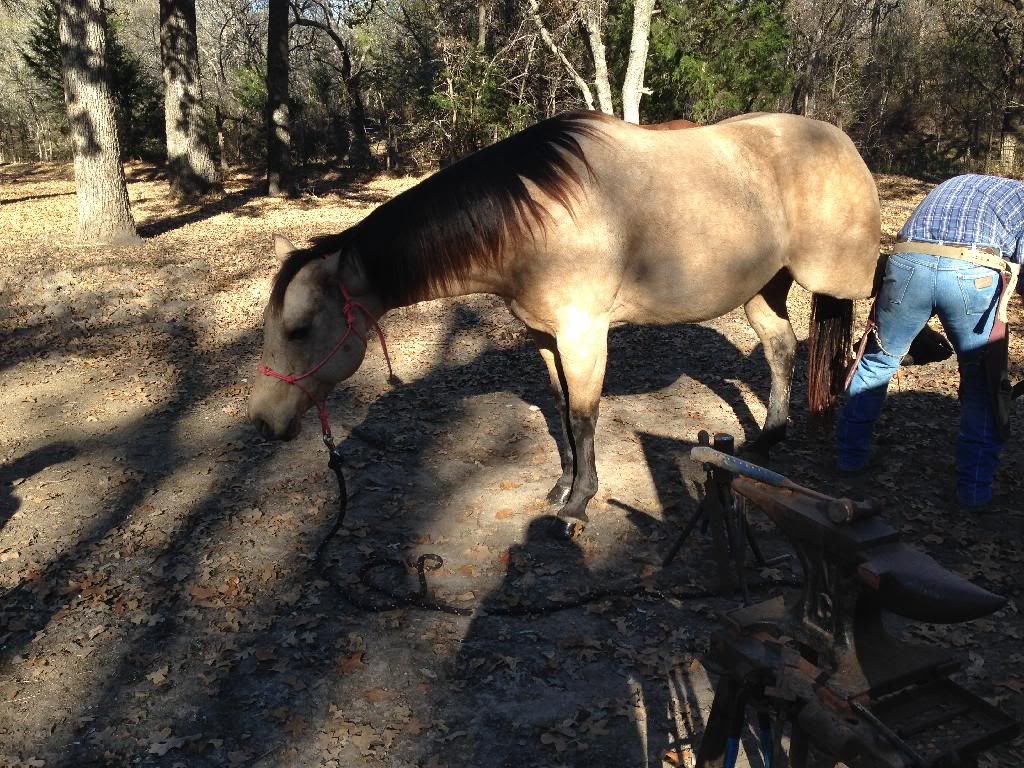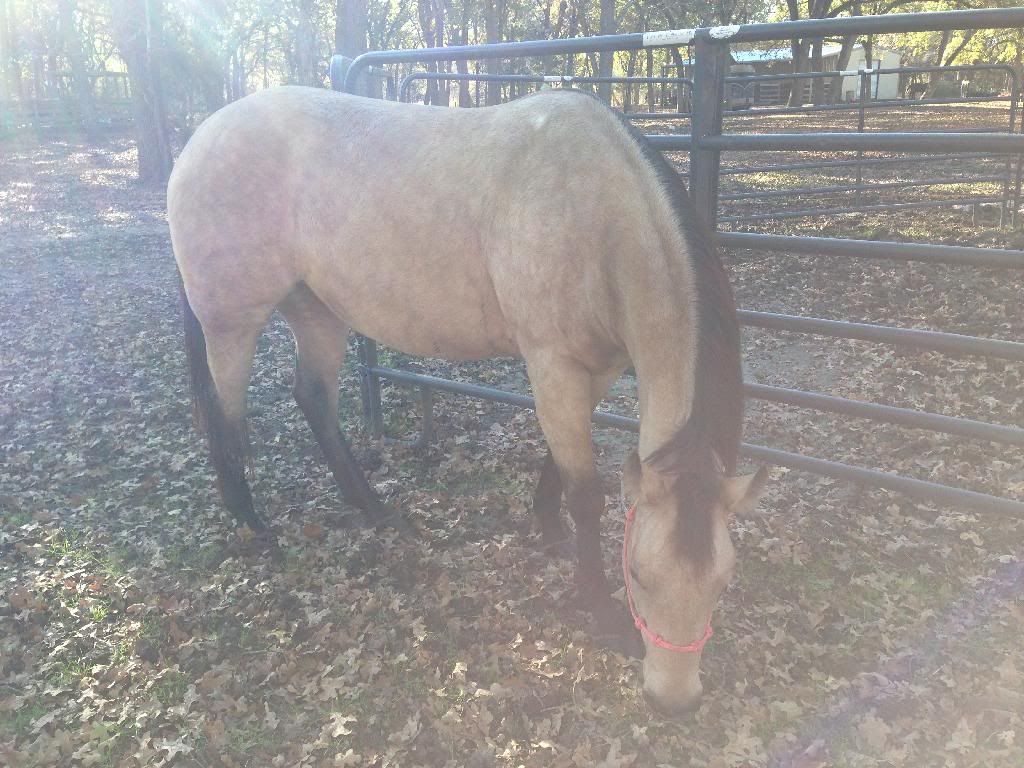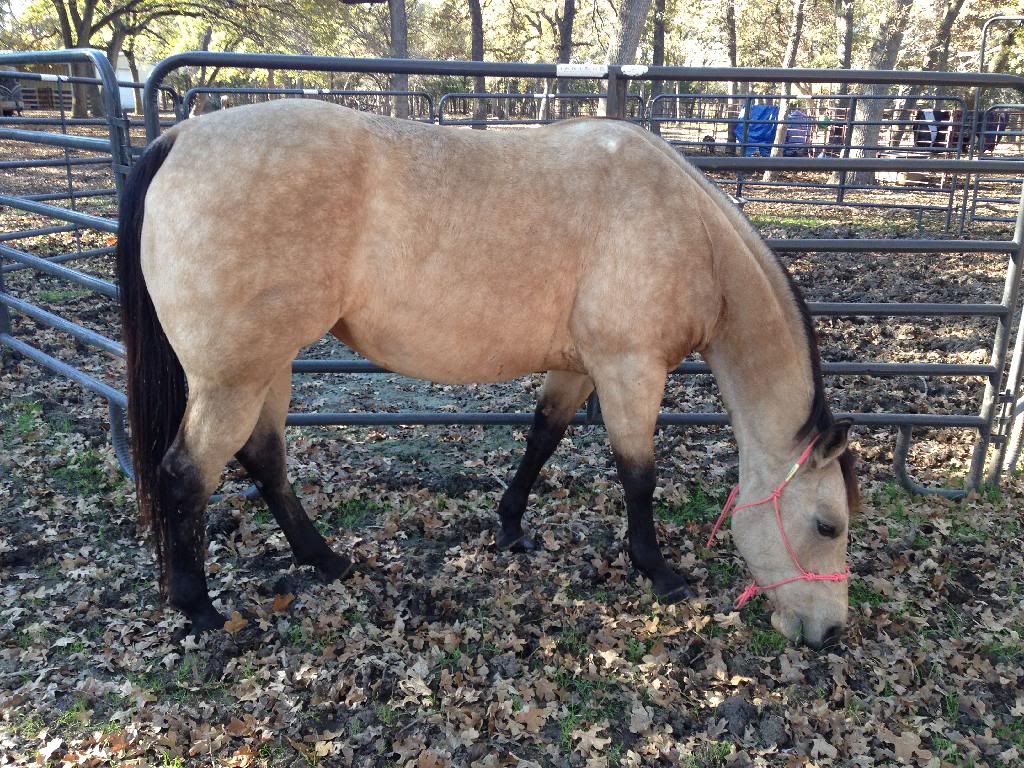 Posted via Mobile Device
Josie looks wonderful! She is definitely carrying different then her did last time! She will be a blimp by the end I think...
Posted via Mobile Device
I definitely see a baby bump in the makings in that last picture! She is such a pretty little mare.
Thank you guys! I think the main different is perhaps that she isn't in a pasture like she was before and is also not getting worked as often! I think we've only ridden probably 10 times in the last 4 months =/ I think she'll be moving to a bigger place where she'll have a little 3 acre pasture to chill in 24 hours a day, but that is pending until the beginning of the year! Its sooooo cold in Texas right now, idk how people deal with snow and sub zero temps, lol. I didn't blanket the horses Wednesday because it was so hot, came back Thursday and it was freezing! Sheesh! Josie was sooooooo waiting to be blanketed, she didn't even want to go run around during her turnout, just followed me around til I brushed/blanketed her and put her up to feed. Even spoiled rotten I still love her a lotta bit :)
Isn't it funny how you get acclimatized in different climates? When the temperature starts to drop here in the fall to a few degrees below zero, it feels so cold. Right now, it is -42C with the wind. If it went up to just a few degrees under 0, I'd probably wear shorts.

Josie is looking really good. I hope everything goes well for you!
Posted via Mobile Device