$100 tb!!
---
I got a call yesterday that a local TB breeder (long retired) was down to one last colt and he wanted me to have him. Talk about your pat on the back!
Cost me a tank of desiel (and the pumps will only let you get $100) to go get him! I've been calling him Benjamin.... $100 bill... ya'll get it.... =) His name is Jacks Cracker-something... I think his show name will be "Stole My Last Benjamin" since they didn't do registration on him after retiring.
Both sir and dam have a proven track record and multiple wins. Can't remember the sirs name right now but the dam is Cracker Jack D (Or Cracker Jack something...) I don't know anything about tb blood lines, but I know the breeder and he only had the best. All of his breeding and training produced winners.
He is 3 years old, 16+hh, gelding, halter broke only, which I will use for my "Starting Young Horses" class at school this fall. My plan so far is to make it threw my class without falling off! (That's a LOOONNGG way down!) then I have a friend who rides English and jumps, so she is going to work with him in spring and try to show him a little if he's any good. I should mention here that he already jumps 4-5ft fences since he's the only horse on thier place, he doesn't like being seperated from the cows! From inside his corral area, he has about 3 strides to get momentum and jump, and he sails over the fences like they aren't there! So I think he's gonna be a great jumper/eventer. If he doesn't like that, I can always make a barrel horse out of him. If he doesn't like that, maybe he would like to be a trail horse! =) We'll see what he says!
So on to the pictures! I'm sorry they are so big! I took these today, what do ya'll think??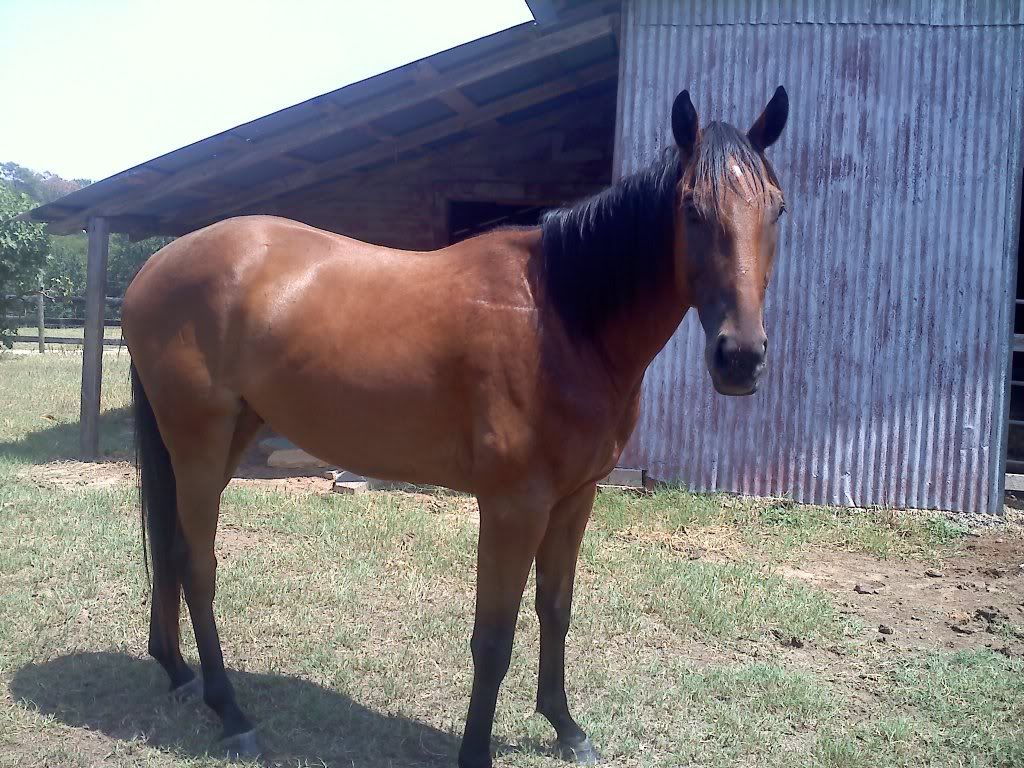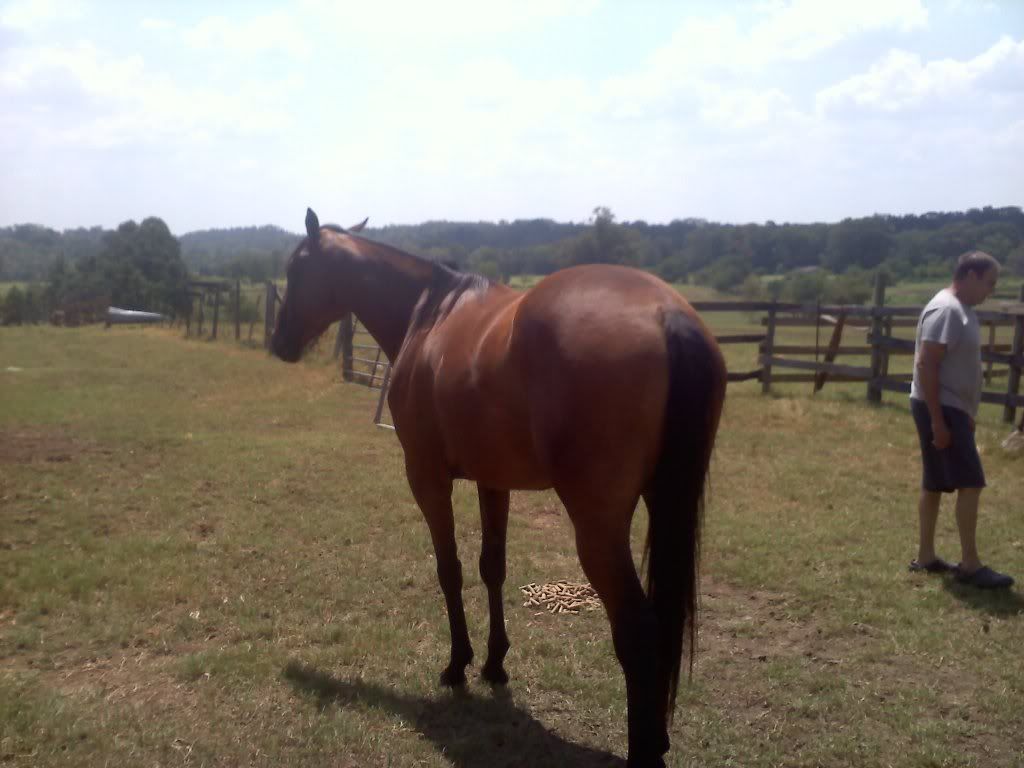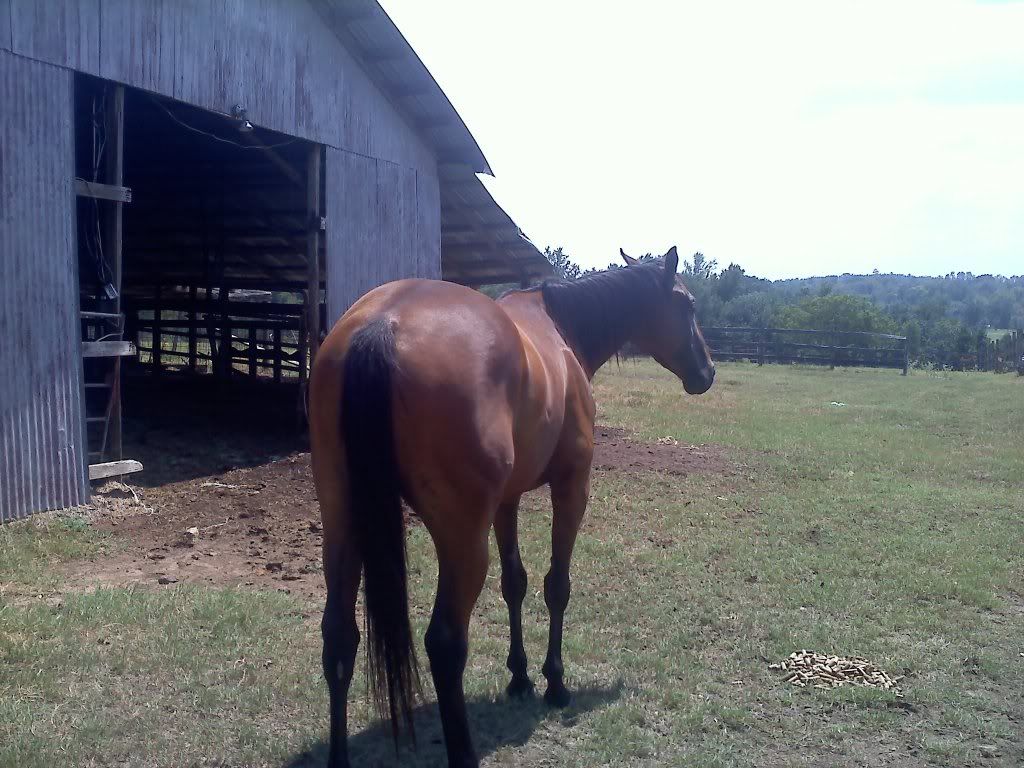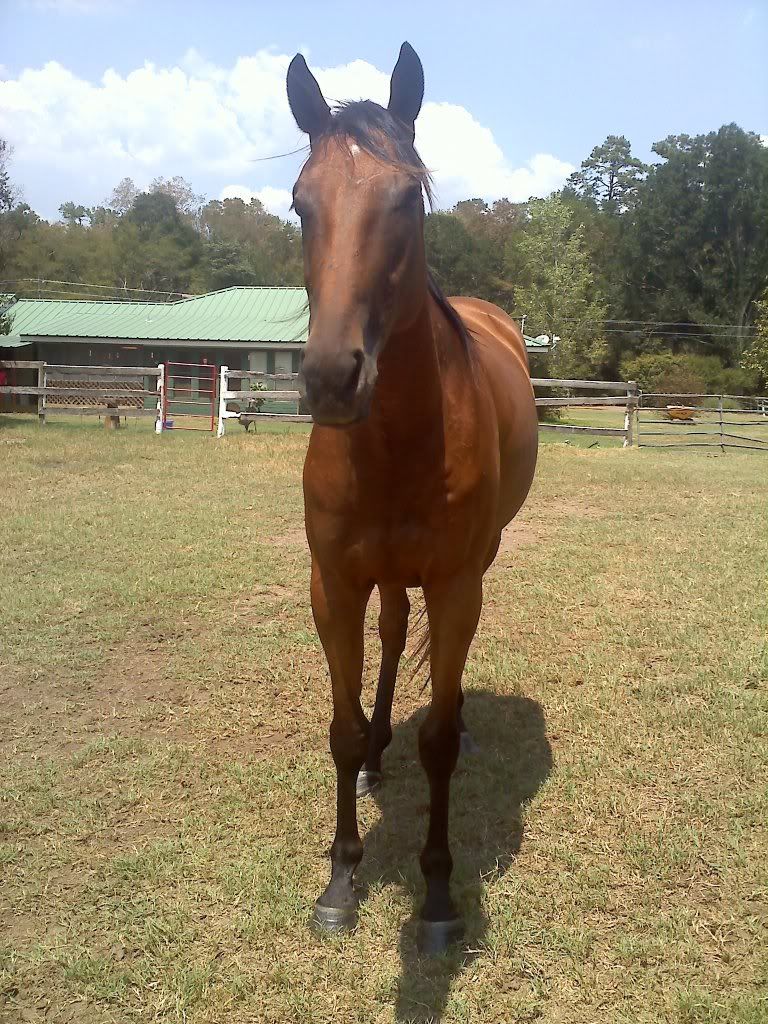 ---
One is closer to God's heart on a horse than anywhere else on earth!
Beautiful boy!
---
People with true credibility and integrity don't need to tell other people how great they are.
What is that on the ground?

I think you got lucky; Just be careful with those super-long ottb pasterns!
---
Every great dream begins with a dreamer. Always remember, you have within you the strength, the patience, and the passion to reach for the stars to change the world. ~Harriet Tubman
Not bad for a freebie! He looks like a very, very nice horse.
Youre not in Kentucky are you? He looks JUST like my TB gelding... only mine has a touch more white and slightly different facial structure... same bay tone and build... even the hind legs LOL

Do keep in mind that alot of TBs elevators dont go all the way to the top until they get a bit older... Dont push him past where he's ready, it could be bad if he has a not-totally-working-yet elevator :P

(Personal experience... horses like that have to take it slower as young ones... but DANG are they amazing a few years later!)
Thanks everyone! I've never had a TB, so I am off to the book store tomorrow to see what info I can gather! I liked him immedietly because he is cautious but curious.

Eliz- those are cow cubes. His owner pulled him up into the cow feed lot for me to look at him and they were in a bucket so he just poured them out and put the bucket away. What you can't see is 20 black cow faces standing on the other side of the barn saying "why does the horse always get the good food!?" and patiently waiting thier turn! =)

Def going to be careful with the never-ending paterns! I have a pair of boots for him to work in to try to add some support and protection. He's not crazy about the velcro sound yet, which is where the elevator comment comes in! I'm glad that I'll have an instructor and mulitple aids helping me with him for this class, they wont let me over work him or get myself into an dangerous situation. He's the biggest colt I have ever started! I'm going into this class acting as though I have never attempted this before! My yearling and 2yo quarter horse babies seem so easy now! =)
---
One is closer to God's heart on a horse than anywhere else on earth!
He is not at all bad for the price of a tank of gas. Congrats!