All of em!!
---
I may not own you, but you are the only thing that keeps me going, the only thing that keeps me getting up in the morning, not dying in bed, if it wasnt for you, my life would be wasted away - ILY Puzzle xxxx
I don't know what it's called, but my friend at the barn has a Paint who is just beautiful! She's brown and white, but has black shadowing around the brown spots, and black/white mane and tail...she's so pretty!!
Actually, just found a photo of her - well, her head at least, can't really see the shadowing much here:
But of course besides that color, I have to say solids since I own a solid Buckskin Paint!
---
"The times when you have seen only one set of footprints in the sand, is when I carried you..."
---
Last edited by Hoofprints in the Sand; 01-25-2009 at

10:30 PM

.
that's more like a tobiano, I have 2 tobiano's and a white and black which looks like an overao, but the face is black. have no pics up yet.
I like all paints but I think Tobiano's would have to be my favorite. That's what my first horse was. I own two tobiano's two overo's and one solid.
---
Quote:
i love the high white stockings, and i might be partial but i love the flaxen mane and tail
Me too I love when the white goes all the way up the leg. I also love flaxen manes too! Sooo pretty!! my boy has a flaxen mane and tail and he is a really deep sorrel he is really dark and its really pretty and makes his flaxen mane and tail stand out even more.
For me though:
1. Overo
2. Tovero
3. tobiano
Quote:
I love overos!!!!!!! My stallion Zip is one.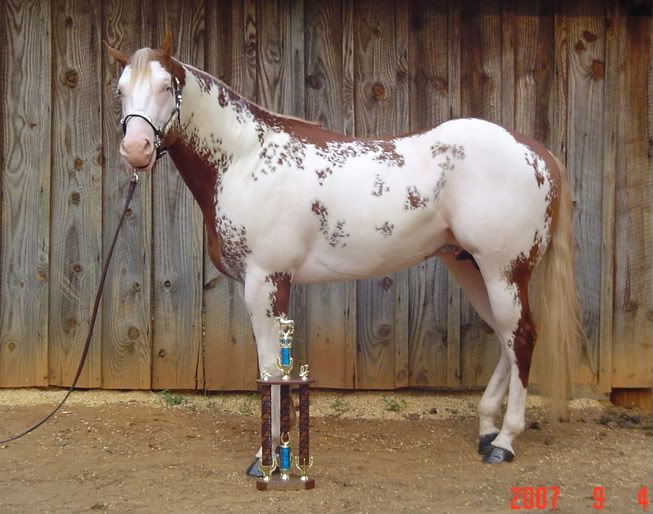 Very gorgeous boy you have there!!!!
I love Overos and also the Sabino color.
---
I love tobiano piebalds or tobiano palomino & white. I like when the horse has large markings as opposed to lots of little scattered ones. The more unique and fewer the markings, the better.
---
"'For I know the plans I have for you,' declares the Lord. 'Plans to prosper you and not to harm you, plans to give you a hope and a future'" ~ Jeremiah 29:11
I'm Totally For Pinto I Just Love The Color Of Them Just Felled With Beauty:)
Overo's!!!
---
Dixon's Red Hot Ember