The Amazing American Saddlebred
---
Figured I would start a new thread on my favorite breed.
American Saddlebred- All American Athlete
This is what they made for the World Equestrian Games
The Amazing American Saddlebred
One of THE BEST, CH Skywatch. There will never be another like him.
The stallion we are standing is out of a mare by CH Skywatch.
The story of Singsation! A Saddlebred star.
Saddlebreds Are FUN! Pics of Saddlebred Versatility.
Saddlebreds Sporthorses
The half Arabian, Elmer Bandit, who within recent years achieved the highest mileage record for competitive trail ride surpassed a horse by the name of Wing Tempo, who was... a saddlebred. :)
The Horse | Whose Record is Elmer Bandit Trying to Break? More on Wing Tempo
If you would like to try a Saddlebred for free, there is a "Learn to Ride or Drive a Saddlebred" Promotion, sponsored by Equestrian Life!
Equestrian Life : Ride and Drive - Get Your Free Horseback Riding Lesson
Some Equestrian Life Videos.
Here is the history of the Hackney and Saddlebred. These breeds go hand in hand. You will never have a Saddlebred Show without Hackneys and Standardbred Roadsters.
Equestrian Life - Videos: For The Love of Horses - Ride and Drive In Style
Haha, this stallion is cute. He loves that unmowed patch.
They play this before the Five Gaited Stake every year at the World Championships. The best of the best.
ASHA - American Saddlebred Horse Association
We breed for the high neck carriage and the high stepping motion. We breed for "gameness" and snort. We want a horse with a fiery personality, that is willing and controllable. We are pretty good at getting what we want. When we don't, we have to find other avenues for the horses. If they have good minds, they may find themselves as lesson horses, or academy horses. Others go into Western Pleasure or become sport horses, most of the non show horses are sold as pleasure riding horses.
Here is my one month old baby right now. He's a tank!
Here is his sire.
This was a yearling we had just brought in. This was before he was broke to lead. Playing in the arena.
And here was my trail horse as a young two year old. He died last year, but he was the BEST horse you could have asked for. He was not built to be a show horse. No amount of anything would have let him lift his head up more, or pick his feet up, so he was my trail buddy. I miss this horse like none other.
Gorgeous horses! My sister loves her American Saddlebred mare beyond measure. And I have a wonderful Friesian/American Saddlebred cross, he's awesome!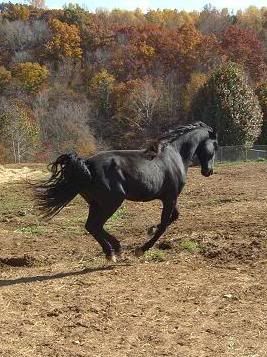 great post! i love this breed. I only own a cross myself, but she is the most loving and gentle horse i have ever met. She loves children and showing off in the ring.
Wow. Just plain Wow!!!! those are just awesome videos. I am very moved to watch that Singsation one (haven't watched the others fully yet). What a horse! he was so very balanced pulling that "cart" (not sure the correct name). And even with his his head up, he has the althletisism to pull them uphill, turn corners, flying lead changes. his responsiveness is unreal. and he seems to truly be enjoying himslef. He looks like one of those once in a lifetime horses.
Thank you so much for posting this, LadyDreamer. You bring back wonderful memories for me.
I am old enough to remember the days when Carol Smith-Shannon, Michelle McFarlane and Cynthia Woods were competing against each other. Such exciting shows. What a blast we had.
I remember the fabulous gelding, Denmark's Aquarius in the ring, with Royce Cates. He brought the house down at the end of the shows, as he thundered around the ring at the rack. I tried to buy him many times and visited him secretly, at night for a long time. Even when he was old and broken down, they still wanted $75,000 for him. He knew me and I would have loved and given him a good home until he died. I shall never get over not having been able to buy that lovely old boy. I have a strange story about him, but cannot tell it right now, because it will bring too many tears.
My heart horse though, whom I did own, was Denmark's Monarch. He was a 5 gaited gelding. Here he is at 17. I shall miss him for ever.
Lizzie
pretty horses, I dont personally care for the tail set on the show horses, not natural. not starting a debate. Just my opinion, but they are pretty.
I like the natural step, over the exaggerated high step.
Ever since I went to the World Grand Championship here in Louisville back when I was little, I fell in love with ASB instantly. Thank you for sharing this!
I used to own an ASB gelding that was the kindest soul, he just knew when a rider was uncertain or afraid. What a great guy, I sold him to a lil bit of a girl to do 4H and local shows with. The had a blast until she reitred him at age 23 :)
Never seen a saddlebred but they look so..weird like..
I love my 4yr old Saddlebred his sire is Capitol Fire and his dam is Mallory Queen. He is in training to become my mini prix horse because as his trainer said. You could spend a million bucks and this horse wouldnt turn out to be a show horse!