Anglo Arabians?
---
On my quest for finding a horse, and my perpetual craigslist ad, someone emailed me about an anglo arab today. Hadn't heard of those in a while.
My question...has anyone on here had an anglo? I'm assuming with the genetics of the TB they're tall..but also that combo might have a...um..tendency to be really hotheaded.
The horse in the reply email they say is really mellow...I'm just curious. Seeing as how I had my weekly dose of crazy (think rearing, charging, biting horse and freaked out emily. lol) already, I'm wondering..Is an anglo arab worth a look for someone who's not an experienced rider? Or is it almost a given she's more than I can handle?
If you've had an anglo, what was your's personality like?
Def worth a look !!! I had an Anglo years ago and he was a fantastic horse!!
---
May we all see horses through the eyes of children
The problem with anglos is that they can vary. A LOT depends on how it was bred and handled right from the start.

No not all anglos are big and again because the genetics are not under an INSPECTED breed requirement they will vary in size and temperament. I personally would not normally recommend one as a first horse for a beginner but then again I have seen some pretty mellow ones that would be suitable.

The dam of my horse was an anglo and most of the time she was very laid back..and then a spook would come when you didn't expect it...LOL

Breeding her to a warmblood stallion renown for his easygoing temperament got me exactly what I wanted.
I LOVE Tb's and arabs... might as well combine them! :)

They're not for everyone though, try and spend lots of time with the horse before you make any decisions!
Like Spyder said, arabs, tbs, and anglos are very sensitive horses and it depends on how they are treated from the beginning.
---
Every great dream begins with a dreamer. Always remember, you have within you the strength, the patience, and the passion to reach for the stars to change the world. ~Harriet Tubman
Yearling
Join Date: Jun 2010
Location: On my horse's back! Obviously!
Posts: 925
• Horses:
2
Quote:
I LOVE Tb's and arabs... might as well combine them! :)
Same here! The height and heart of a TB with the personality, stamina and heart of an Arab. What more could you ask for? Yet again... I've had an Arab before and know what they are like, and I've have a TB right now! I don't know if one would be okay for a beginner, but it depends on the horse. Doesn't hurt to check!
I have one currently and my god when they want to go its like your on a rockey sure ther hot heded but i could find you a shire that was hot headed each horse is different give her a blast sure!
---
To give a horse your heart guarantees a love that will last forever undamageable
We have a little Anglo Arab in our herd. She is 4 years old and teaches beginners to ride twice a week. She is one of the quietest horses we own. And only 14.3hh too!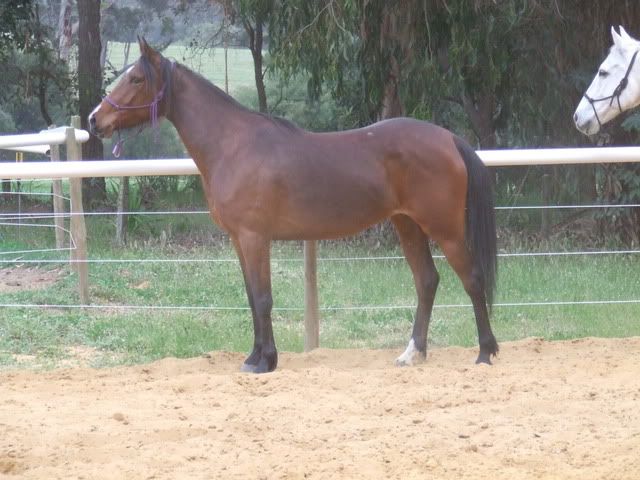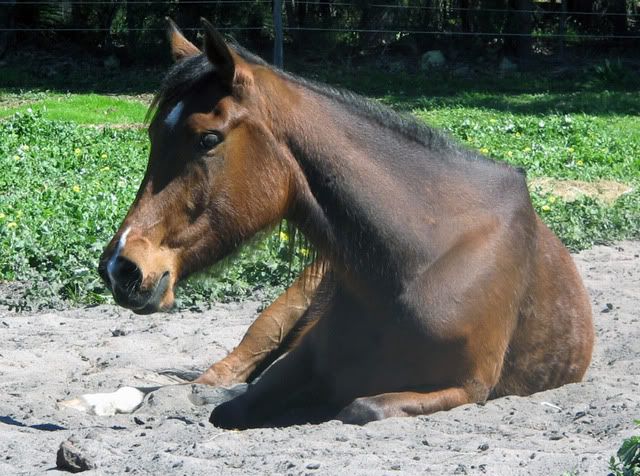 ---
Flirt-Hugo-Phoenix-Romance-Fanta-Nippa-Shiloh

Trojan 09.11.02 - 26.10.10 // Kody 01.09.89-25.06.12 // Rex 05.11.95-21.12.12

I leased an anglo-arab this past summer, and he was great. He good be a little jumpy, but I think that had to do more with him as an individual, not his breed. He was very talented, had an amazing trot on him, and the smoothest canter I have ever ridden. He is about 15.3 or so.
---
RH Queen O Anywhere "Sydney"
2009 Sugarbush draft
Anglo Arabs are worth the look. I had one from a rescue that was about 17 yrs old and he was a wonderful mount. He was about 16 hands and flea bitten grey. Very calm and sensitive horse. He spooked once with a scary plastic bag that was blowing across the pasture.*LOL* That was the only time I had seen him startled. I'd get one again if I find the temperament for me. As with all breeds you can find a hot one in the bunch it seems....Good luck with your horse finding adventure.
I have worked with two anglo geldings. Both have TB dams, and Arab sires. Both are tall, around 17hh. Both are wonderful horses with lots of personality, and both are great movers. Both are crazy smart, and love to have a job. I have nothing but great things to say about the two I've encountered, but I will say they would not be suitable for a beginner.
I would like my own someday.